🎄☕ Start With the Purpose
Make each room count.
This email was sent
Hello and welcome back to Declutter Fast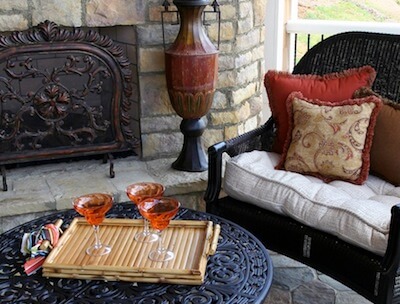 Decluttering means the difference between feeling good or feeling bad when you look around you.

Decluttering can be made so much easier by simply emptying a space before you fill it up again!

The best way to declutter any space is to clear the room of everything except the furniture.

So first, empty a room of ALL "stuff"!

Then, for your own happiness and sanity, allow the room to have only the furniture that you actually use and LIKE.

Then the room takes on a useful life that serves YOU, and not the other way around!

Then you can decide the PURPOSE of each room.

Ask yourself: what exactly do I want to use each room for - and what do I NOT want to do in that room, too?

Some rooms are for working, and some aren't.

Some rooms are possible for exercise equipment, and some are not.

Some rooms can be okay for watching movies, and in others, absolutely not!

Thinking about the plan for each room will help you make your home the place you enjoy... your personal haven that you have created with love!

Life can certainly be tough at times. But a home that brings us cheer is a gift to ourselves that gives us strength to face the challenges of life.

For more fast ways to declutter your world, I invite you to check out the "Declutter Fast" methods!

Get started decluttering today.

Find out about the Declutter Fast Methods Here

With love,


Mimi Tanner


Declutter Fast: How To Get Your Home In Order Almost Immediately

P.S. From readers:

Dear Mimi,

I look forward to your Newsletter! It's so easy to accumulate "things." Parting with them is another story! Now that everyone has become a "picker," we need to "just say no" sometimes to the cool stuff we come across. We can't and shouldn't keep it all.

~Susan~

Dear Mimi,

You are so Inspirational. You have made me get rid of not only items lying around the house creating chaos, but also negative thoughts. Now I see a clean beautiful home and think positive thoughts.

- Eve

P.P.S.

I want to invite you to subscribe to my relationship tips for women!

I write a legendary email column for women. It's called "With Love" and it's all about your love life.

It is read by women of all ages (and men are listening in too).

Sign up here:

With Love Mimi Tanner


Declutter Fast is the original program on how to declutter. Declutter Fast has helped and inspired tens of thousands of people to declutter their homes since 2006.

This message may not be shared, copied, or published anywhere without written permission from the copyright holder. Be sure you adhere to all copyright law.

Copyright Mimi Tanner. All Rights Reserved. This is intellectual property protected by copyright, trademark, and other laws of the United States, as well as international conventions and the laws of other countries.

Please note: use the email-address you check daily when reading these messages, because if my message reaches "mailbox full" or if your service is temporarily blocking certain messages, your address will be removed from this group. This is the only way this important advice can arrive at its destination and reach the people who most want to receive it.

Thank you for reading. I appreciate you.
This message has been sent to -

These messages are sent only to VIP readers & friends who signed up to receive them.

Unsubscribe

Mimi Tanner
450 Lexington Ave. Floor 2
POB 4668 #34690
New York, NY 10163-4668