💙☕ Storage units - for better or worse
Breaking up is hard to do.
This email was sent

Hello and welcome back to Declutter Fast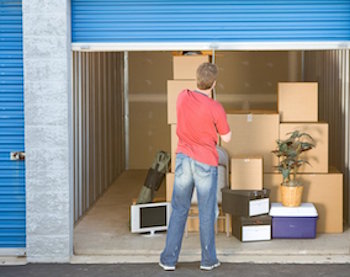 Do you have a storage unit?

If you don't pay for storage, then you richly deserve a pat on the back!

If you are paying for a storage unit, then at least you know - you're not alone.

When it comes to storage unit companies - business is good, very good!

Maybe you and your storage unit have been "married" for years....

And you need to get a divorce!

In fact, you'd like nothing better.

So make a plan to tackle that storage unit.

Then you can say to it, "We're breaking up at last!"

Storage units are expensive these days. They take up a huge chunk of your budget.

Many people have had their storage unit longer than some of their marriages....

That's not uncommon at all... which is why I'm saying, instead of "for better or worse, till death do us part" - let's annul this sham of a marriage!

A storage unit should only be temporary.

But that's not how it usually works out.

However... it's definitely not all bad - by any means!

Storage units do have a role in getting you decluttered!

I do recommend them - but I want them to be the last frontier you tackle.

Storage units can jumpstart the decluttering process.

The reason? They get all your "stuff" away from you for a while, so you can live decluttered in your home - and tackle those things later on.

Meanwhile, you feel the wonderful feeling of having only needful things around you!

Your home is healthier and easier to clean!

So there is no right or wrong when it comes to decluttering.

Whatever works for you, is what works!

So... you can flirt with your storage unit for as long as you need to - just don't marry it!

Because when it's time to file for your Storage Unit Divorce, it may get ugly! 

I wish you the best in tackling your storage unit and getting this huge task done!

Here's to the joy of order in your life!

With love,


Mimi Tanner


Author of Declutter Fast: How To Get Your Home In Order Almost Immediately

P.S. From readers:

"Dear Mimi, you have given me so much inspiration. I have been decluttering by category - containers, books, movies, etc. and things look so much better in my house. Thanks!"

"Mimi, I love getting the declutter emails."


Declutter Fast is the original online book on how to declutter. Declutter Fast has helped and inspired tens of thousands of people to declutter their homes since 2006.

This message may not be shared, copied, or published anywhere without written permission from the copyright holder. Be sure you adhere to all copyright law.

Copyright Mimi Tanner. All Rights Reserved. This is intellectual property protected by copyright, trademark, and other laws of the United States, as well as international conventions and the laws of other countries.

Please note: use the email-address you check daily when reading these messages, because if my message reaches "mailbox full" or if your service is temporarily blocking certain messages, your address will be removed from this group. This is the only way this important advice can arrive at its destination and reach the people who most want to receive it.

Thank you for reading. I appreciate you.
This message has been sent to -

These messages are sent only to VIP readers & friends who signed up to receive them.

Unsubscribe

Mimi Tanner
450 Lexington Ave. Floor 2
POB 4668 #34690
New York, NY 10163-4668