☕💙 The horror of horizontal surfaces
Scary but fixable.
This email was sent

Hello and welcome back to Declutter Fast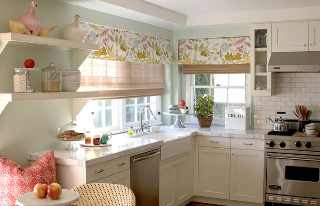 You've got clutter when things are piled on the horizontal surfaces of your home.

You've got clutter when things are piled on the floor, too. (That's just one more horizontal surface - and a big one.)

It's oh-so-tempting to pile things on those horizontal surfaces - tables, countertops, desk tops, tops of furniture!

Things can get piled there and stay there for literally months - sometimes even years.

Horizontal surfaces are your own personal clutter horror show.

The good news is that there is only so much that you can actually put on any one table or desk or chair.

When you finally start venturing through your horizontal horror show, it can be a real trip down memory lane.

"Oh, so HERE are those keys I've been looking for!"

But don't get sidetracked by photographs or even that long-overdue library book you have finally located...

Take each item and put it where it belongs. You don't need to rush this job. Lots of things will get tossed out - and that means fewer things in your home!

Even if you take more than one day working on one horizontal surface, you are making significant progress.

It feels good! And remember to clean the item also - if it's a wood surface, give it a wonderful polishing so it will shine.

You can even accomplish ALL your decluttering with this one project - because MOST of the clutter will be found on horizontal surfaces!



When you declutter your home, it liberates you like nothing else.



Find out how with my Declutter Fast methods here:

Get the Declutter Fast methods now



Here's to the joy of order in your life.



With love,


Mimi Tanner


Author of Declutter Fast: How To Get Your Home In Order Almost Immediately



BY THE WAY:

Did you know that I write one of the longest-running emails on relationships for women?

It's called "With Love" and it's all about your love life.

You can sign up for that column at

With Love Mimi Tanner

I hope to see you there.

P.S. From readers:

Dear Mimi,

I so relate to [the emails from your readers. I am so overwhelmed with clutter that it is messing my life, and I feel has impacted badly on my family's lives.

I clean up when someone is coming, but it only gets dumped in some other room (my office ....can hardy be entered, let alone used.

I have moved three times in the past 10 years, but my clutter drags along like a daggy lamb's tail. I need to clear stuff, and your newsletter is my light at the end of the tunnel.

I have actually started, and I am planning to make good use of my bins and to recycle used items.

Thank you for your inspiration, and thank you to your readers for sharing, it helps to know one is not alone, and stops me from beating myself up about it, too.

Hugs!
Maxine
Australia

Dear Mimi,

You are so Inspirational. You have made me get rid of not only items lying around the house creating chaos, but also negative thoughts. Now I see a clean beautiful home and think positive thoughts.

- Eve


Declutter Fast is the original online book on how to declutter. Declutter Fast has helped and inspired tens of thousands of people to declutter their homes since 2006.

This message may not be shared, copied, or published anywhere without written permission from the copyright holder. Be sure you adhere to all copyright law.

Copyright Mimi Tanner. All Rights Reserved. This is intellectual property protected by copyright, trademark, and other laws of the United States, as well as international conventions and the laws of other countries.

Please note: use the email-address you check daily when reading these messages, because if my message reaches "mailbox full" or if your service is temporarily blocking certain messages, your address will be removed from this group. This is the only way this important advice can arrive at its destination and reach the people who most want to receive it.

Thank you for reading. I appreciate you.
This message has been sent to -

These messages are sent only to VIP readers & friends who signed up to receive them.

Unsubscribe

Mimi Tanner
450 Lexington Ave. Floor 2
POB 4668 #34690
New York, NY 10163-4668