Picnic favourites from 3.95
Email sent: May 4, 2021 9:06am
Fill up your picnic basket with al fresco favourites  |
Enjoy delicious food in the great outdoors...
Picnic Selection for 2
Make the most of the summer with this hand-chosen selection of gourmet picnic foods.
Deep Filled Quiche Lorraine
Scottish Smoked Salmon
8 Pork, Porchetta & Smoked Bacon Sausage Rolls
20 Pork Cocktail Sausages
2 Lemon Meringue Cheesecakes

Signature picnic nibbles from £3.95

15 Canapé Quiches
5 flavour varieties

A selection of flavoursome fillings encased in
crisp, delicate pastry. From our rich confit duck
to tangy tomato and basil, there is a variety for
you to enjoy.
British beef brisket, hand prepared and cured to preserve the naturally rich flavours and create the soft, delicate texture.
Can be eaten hot or cold.

Our luxury sausage rolls now £5

4 Artisan Sausage Rolls

460g pack

The rich flavours of our expertly seasoned
British sausagemeat are enhanced with
onion and Wiltshire cured ham, all wrapped
by hand in flaky puff pastry for
a delicious sausage roll.
8 Mini Artisan Sausage Rolls

460g pack

Our award-winning sausage rolls have a delicate combination of Wiltshire cured ham and sweet onion mixed with our pork sausagemeat. All wrapped in a a crisp puff pastry, making them deliciously rich and flaky.
8 Pork, Porchetta & Smoked Bacon Sausage Rolls

460g pack

Crumbly puff pastry wrapped around our delicious, exclusive sausagemeat recipe, made with porchetta, pork and smoked bacon.
8 Pork, Cheese & Pickle
Sausage Rolls

460g pack

Delicious handmade pork sausage rolls,

layered with mature Cheddar and tangy
pickles encased in a buttery puff pastry.
NEW deep filled quiches for £2.65

Deep Filled Quiche

Lorraine

185g
All-butter shortcrust pastry filled with smoked bacon, sweet caramelised onions and Cheddar cheese, then topped with free-range egg and freshly roasted tomatoes.
Deep Filled Mature Cheddar

& Onion Quiche

185g
Tangy Cheddar cheese, spring onion
and sweet caramelised onion inside
a crumbly, all-butter shortcrust
pastry.

Delicious desserts for your picnic

2 Blackcurrant Cheesecakes
180g each

Creamy baked cheesecake

on a crunchy base, topped

with tangy blackcurrants and glazed by hand. In individual servings, ready to defrost
and enjoy.
2 Lemon Meringue Cheesecakes

180g each

Our own recipe double cheesecake mix on a crunchy base, topped with tangy

lemon curd, crispy meringue pieces, and creamy

chocolate strips.
2 Chocolate

Brownies

125g each

Our Belgian Chocolate Brownies are prepared to a new and improved recipe. Crispy on the outside with a soft, gooey centre. Serve with freshly whipped cream.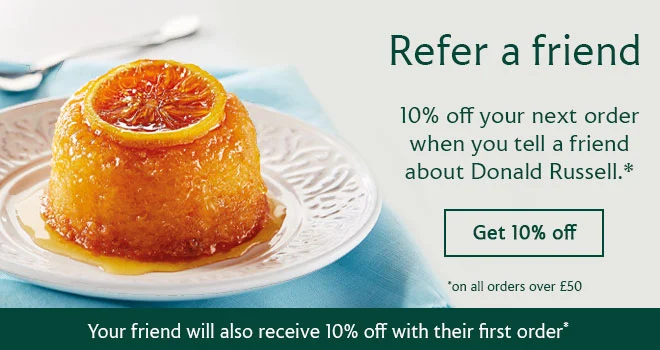 *Voucher must be redeemed before Sunday 9th May 2021 and cannot be used on half price steak selections,
Gift Vouchers or in conjunction with any other promotional code.
*Free standard delivery on orders over £40.
*Additional surcharges may apply. Saturday delivery is postcode applicable.
*Special offers end 9th May 2021.
To ensure our emails are delivered to your inbox, please add
[email protected] to your email Address Book.
Please do not reply to this email address.
To personalise your email preferences please visit our Preference Centre
If you would like to unsubscribe from receiving our special offers by email then please click here

Other emails from Donald Russell
Shop without the noise.
Get our free newsletter of hand-picked sales you need to hear about from the web's best brands.