Let's begin the expedition to South Korea!! ✈️
Email sent: Jul 27, 2020 6:20am
We have finally reached 'The Land of the Morning Calm', popularly known as South Korea. Our 2 week long vacation has finally begun.
Hello, Asian Food Lovers,

We have finally reached 'The Land of the Morning Calm',
popularly known as South Korea.
our 2 week-long vacation has finally begun.  
Fasten your seatbelts as this is going to be an experience of a lifetime. 
SOUTH KOREA: DREAMING A DREAM VACATION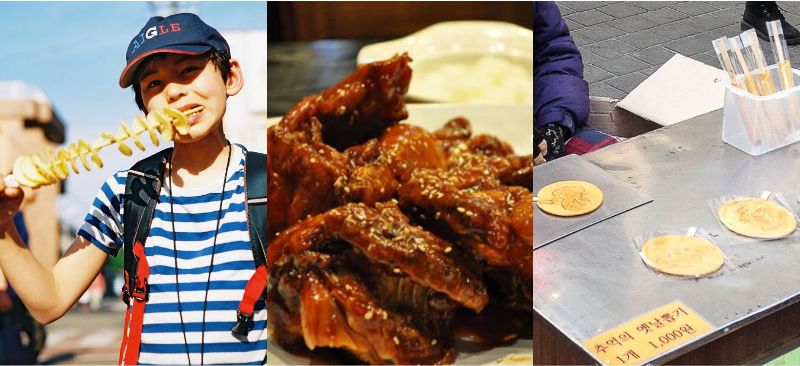 It all began a year ago when Akshit visited a Korean restaurant with his Korean friends. Who would have imagined that a mere dinner conversation would inspire and motivate Akshit to plan a trip to South Korea. What could have been a dream vacation, got ruined because of COVID-19. Join Akshit on his journey of dreaming his dream Vacation............(read more)
KOREAN SUMMER DELICACY AND MELODY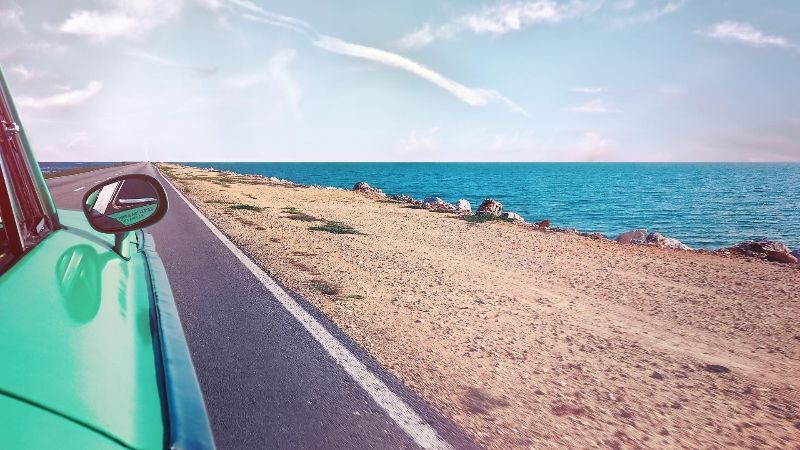 BTS? Psy?, these are the two things that may come to your mind when you hear the word 'K-Pop' or even 'Korea'. Right? But for Ara, that is not all. With the passage of time, she has become passionate and fallen in love with Korea. And now, Korea has become a part of her daily life. This actually worked extremely well for her during the global lockdown when she couldn't go outside her home. Want to know how she was able to keep her peace of mind? ......... (Read more)
Minchul met the Customer, see what happen!
"
Well, I can proudly say that last week, we came 1 step closer to our goal."
-Minchul, CEO
I always say that we are not here to sell food but to give our customers something to create memories with and bring happiness in their lives. We are here to share our culture and break the barriers.
What happened was I received a message from my client saying she needed a South Korea cooking box by Saturday. This was impossible as DHL would deliver it on Monday. But it was extremely important for her that the delivery is made on/before Saturday.

What could be the reason? What did I do in such a situation?
Copyright © 2020 Easy Cook Asia, All rights reserved.
You are receiving this email because you opted in to our email newsletter list
at our website, social media channels, or one of our events.
Our mailing address is:
ECA Food GmbH
Birkenstrasse 22,
10559 Berlin, Germany

Want to change how you receive these emails?
You can update your preferences or unsubscribe from this list.
Other emails from EasyCookAsia
Aug 8, 2021

Taiwan, das Land der Kulturen: Nachtmarkt Food & Film Festival mit Giveaway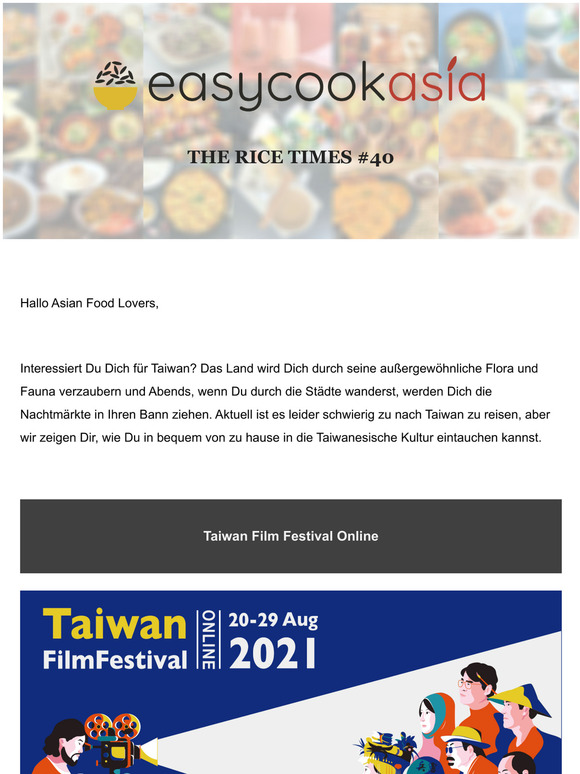 Jul 25, 2021

Zur Erffnung der Sommerspiele in Japan 15% Rabatt auf alle japanischen Produkte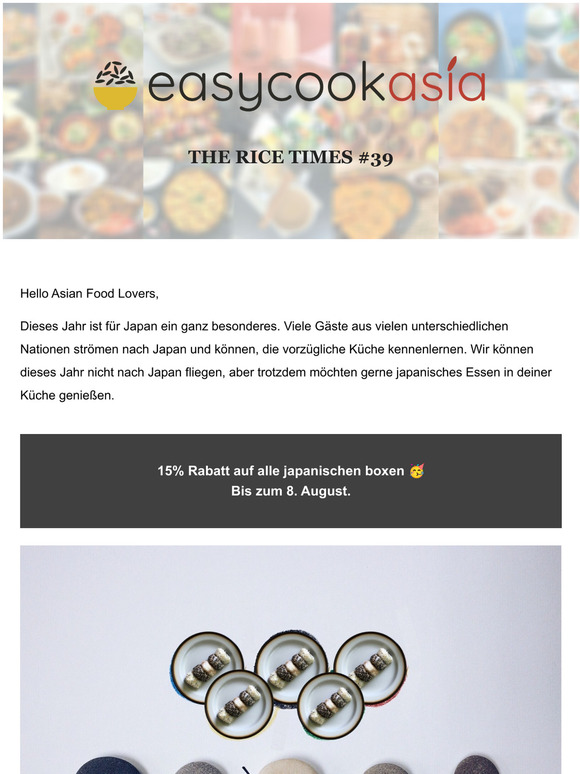 Shop without the noise.
Get our free newsletter of hand-picked sales you need to hear about from the web's best brands.