Brazil's mobility app 99 sees its digital wallet skyrocket
Email sent: May 4, 2021 9:30am
Issue #69 • May, 4th • 06 min read
Brazil's mobility app 99 sees its digital wallet skyrocket
In this 69th edition of A Cup of Stories, LABS' weekly newsletter, you will see:
➪ Our main story: What the hell does 99, a pioneer and leader in mobility in Brazil, want with payments?

➪ In Things to Keep an Eye on this week: Vaccine tourism? Latin Americans are traveling to the U.S. to get vaccinated

 

➪ In Tech and Entertainment Tips: HBO Max promises more than 100 originals for Latin America.


 

➪ And in Latin America Stories to Watch: The Brazilian startup Mottu rides two rising waves: the gig economy and the delivery services
Enjoy it! Any complaint or suggestion, please let me know: [email protected]
Here is the shareable link to this newsletter.
Maurício Orsolini Filho, 99 Pay's director. Photo: 99/Courtesy.
99 Pay digital wallet hits 1.3 million users
99 Pay, the digital wallet from Brazilian ride-hailing pioneer app 99, owned by the Chinese giant Didi Chuxing since 2018, hit 1.3 million active users less than a year after its launch. Available in more than 25 cities, 99 Pay arrived in Rio de Janeiro in April and is already accelerating its expansion schedule due to the good acceptance of the service by the startup's community. The goal is to reach São Paulo ( the city and its metropolitan area) in the first half of 2021 and be in all Brazilian cities by the end of the year, even in those where the ride-hailing app 99 does not operate.
The company does not disclose the amount handled via digital wallet but says that the service has already generated more than BRL 22 million in savings to customers through cashback, discounts on rides, and bonuses for balance held in the wallet.
In an interview with LABS, Maurício Orsolini Filho, 99 Pay's director, said that the platform's goal is to be a leader in popularizing digital payment methods, adding value to 99's service platform, and generating more security for the user.
99 Pay digital wallet is focused on passengers – drivers have another app – and it is the 99's first bet in the financial services area. Orsolini Filho stresses that 99 has no plans to become a financial institution at the moment, but confirms that the strategy related to the financial solutions portfolio is bold and includes, in the future, the development and launch of a credit card. "Business evolves and so do demands."

The launch of its own digital wallet was a natural step for 99, which wants to grow as an ecosystem, operating in several segments and not just in the urban ride-hailing service. "99 provides mobility and delivery services, and the digital wallet is a product that generates more value for our users. In addition to being a solution for external payments, our e-wallet is part of a broader service platform," says the executive.
99 is committed to capillarity and the recurrence of the platform to boost its 99 Pay digital wallet. Today, 99 is in 1,600 Brazilian cities and has more than 20 million monthly active users.
How 99 Pay works
The 99 Pay digital wallet also offers cashback, discounts on rides paid with the digital wallet and a 220% CDI bonus on the wallet balance.
In addition to serving as a payment method for other services offered on 99's platform, 99 Pay also allows payments through boleto bancário (a type of cash voucher or bank slip largely used by Brazilians), cell phone recharges, and transfers between individuals (P2P).
New features will be added in the first semester, such as PIX (Brazilian instant payment system) and the payment of boletos in installments.
As we say in Portuguese, 99 Pay is with um olho no peixe outro no gato¹. According to Orsolini Filho, 99 Pay is not only interested in expanding the portfolio already offer to its community but also invests in features to attract unbanked users or poor access to banking services, and they don't even have to be 99's users.
Generally, users need to add money to digital wallets through a deposit or the payment of a boleto bancário. "99 Pay allows the money to be added by paying an extra amount for the race via 99, and so that amount is transferred to the e-wallet; or transferring change from the race to the e-wallet. It is a unique feature that only 99 can offer because of its integrated platform," he explains.

Orsolini Filho explains that the digital wallet could have been launched with more features, but the company concluded that before expanding its portfolio it was more important to conquer the users, showing how simple and efficient 99 Pay is.
***
LABS Collections #8 is here!
Did you read the last edition of A Cup of Stories? If your answer is no, then you may not know that the new edition of our digital magazine, LABS Collections, is here. In this issue, we talk about open banking and the ongoing fintech revolution in Latin America.
Click on the button below and download LABS Collections' newest edition before all of our other readers.
Latin Americans (at least those who can) are traveling to the U.S. to get vaccinated

Last week we told you that Latin Americans find it difficult to get vaccinated. Well, some of them, the ones who can afford a trip to the U.S. are being vaccinated while visiting the country. According to Folha de S.Paulo, Venezuelans, Mexicans, and Colombians are taking this route. In the case of Brazilians, who cannot enter the U.S., it is necessary to spend at least 15 days in Mexico before going further North. Travel agencies promoting this type of tour package are also multiplying. This is a consequence not only of the slow process of immunization against COVID-19 in the region but also of the advanced campaign in the U.S., where more than 53% of the population has already received at least one dose of the vaccine, a percentage only surpassed by Israel and the UK. President Joe Biden originally promised to administer 100 million doses by his 100th day in office and later raised that goal to 200 million doses. The U.S. met that goal on April 22, a week before the deadline. After the growth of this kind of "vaccine tourism", some states have said they will limit immunization to residents. Others, like Florida, however, have argued that, as they have many temporary residents, mostly elderly people, they "cannot limit vaccines" to people who do not live there all year.
Read the latest info about COVID-19 in Latin American in LABS' live blog.
HBO Max promises more than 100 originals for Latin America

HBO Max announced that for its debut in Latin America in June it will invest in local productions, with at least 100 originals. Of these, at least 33 are already in production. All titles will be exclusive to the HBO Max platform under the Max Originals brand. Read more about it on LABS.
BTG Pactual wants to boost tech companies with special credit line and mentoring program

Every six months, Brazilian investment bank BTG Pactual, through boostLAB, its hub focused on technology companies, starts a new round for an advanced mentoring program for startups, called Scale-ups. This week, BTG started to receive registrations for the new round. The idea of boostLAB is to connect those startups, entrepreneurs, funds, or other startups that want to make a good deal, as the head of the hub, Frederico Pompeu, told LABS. In other words, BTG's agenda behind the initiative is for each of these startups to remember the bank when, in the future, they decide to go public. It is a long-term investment, focusing mainly on relationships. Learn more about it on LABS.
Méliuz acquires fintech Acesso for BRL 324.5 million to expand the offer of financial services
Brazilian Méliuz, a technology company that offers digital solutions through an integrated marketplace and financial services platform, announced on Monday the acquisition of fintech Acesso for BRL 324.5 million. As disclosed by the company in a statement to investors, Méliuz advances in its strategy of expanding its financial services ecosystem, enabling the development of solutions related to digital accounts and payments, among others. Read more about it on LABS.
With motorcycle rentals, Mottu rides two rising waves: the gig economy and the delivery services

›› LABS "Serve the unserved." With this motto, the Brazilian startup Mottu has been trying to surf the delivery market expansion in LatAm. Mottu is a mobility and motorcycle rental startup whose target audience is the workers of the so-called gig economy, especially those who work with delivery. Read the full article on LABS' website.
¹ um o
•lho no pe
i
•xe, ou
•tro no ga
•to
:
An expression that literally means "one eye on the fish, the other on the cat" is used to point out that one is aware of everything that happens around him. It also serves to emphasize that a person is focused on achieving two goals at the same time.


Other emails from EBANX
Apr 29, 2021

On the edge of becoming Latin America's new unicorn, NotCo gives baby steps in the U.S. plant-based market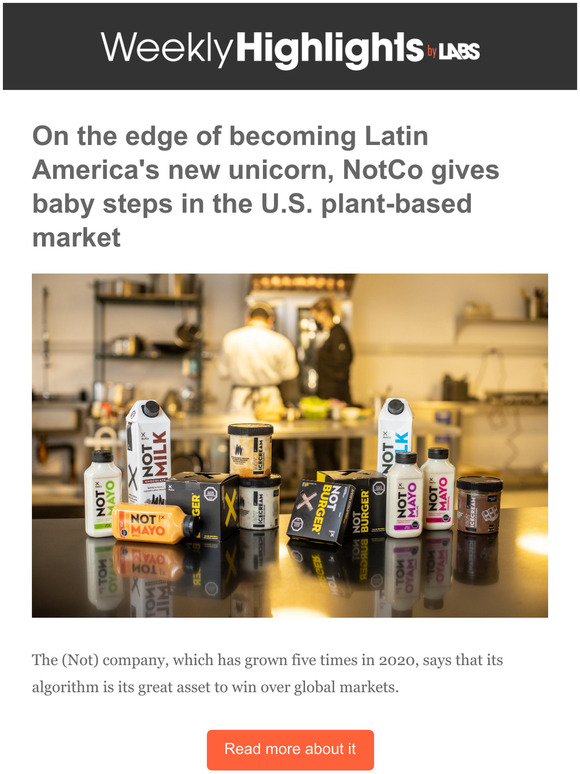 Shop without the noise.
Get our free newsletter of hand-picked sales you need to hear about from the web's best brands.