Set your 2021 sleep goals
Email sent: Jan 9, 2021 7:03pm
Simple suggestions for a year of better sleep.
‌ ‌ ‌ ‌ ‌ ‌ ‌ ‌ ‌ ‌ ‌ ‌ ‌ ‌ ‌ ‌ ‌ ‌ ‌ ‌ ‌ ‌ ‌ ‌ ‌ ‌ ‌ ‌ ‌ ‌ ‌ ‌ ‌ ‌ ‌ ‌ ‌ ‌ ‌ ‌ ‌ ‌ ‌ ‌ ‌ ‌ ‌ ‌ ‌ ‌ ‌ ‌ ‌ ‌ ‌ ‌ ‌ ‌ ‌ ‌ ‌ ‌ ‌ ‌ ‌ ‌ ‌ ‌ ‌ ‌ ‌ ‌ ‌ ‌ ‌ ‌ ‌ ‌ ‌ ‌ ‌ ‌ ‌ ‌ ‌ ‌ ‌ ‌ ‌ ‌ ‌ ‌ ‌ ‌ ‌ ‌ ‌ ‌ ‌ ‌ ‌ ‌ ‌ ‌ ‌ ‌ ‌ ‌ ‌ ‌ ‌ ‌ ‌ ‌ ‌ ‌ ‌ ‌ ‌ ‌ ‌ ‌ ‌ ‌ ‌ ‌ ‌ ‌ ‌ ‌ ‌ ‌ ‌ ‌ ‌ ‌ ‌ ‌ ‌ ‌ ‌ ‌ ‌ ‌ ‌ ‌ ‌ ‌ ‌ ‌ ‌ ‌ ‌ ‌ ‌ ‌ ‌ ‌ ‌ ‌ ‌ ‌ ‌ ‌
The Reset Sale: Save over $300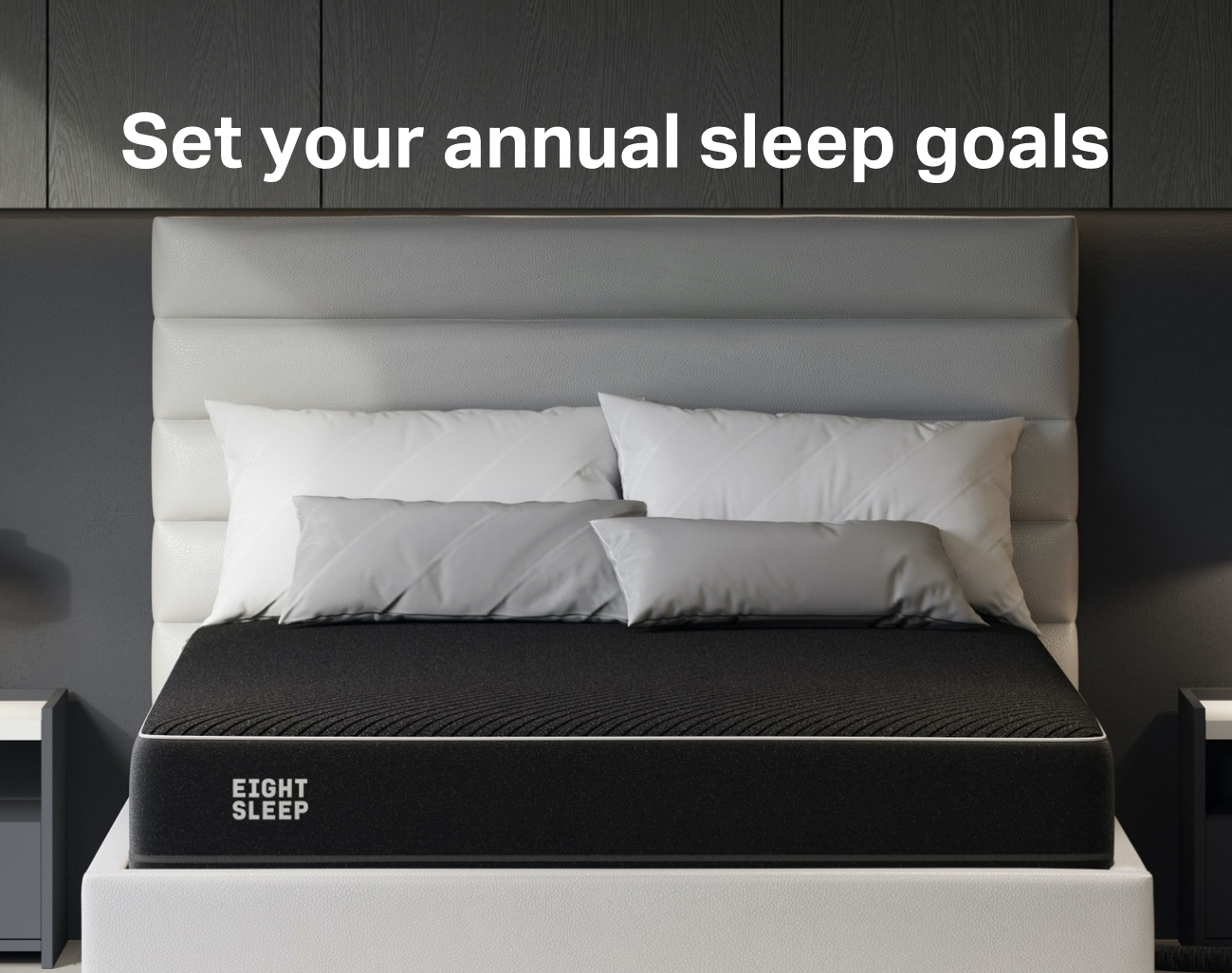 Sleep habits can be controlled by you, and there's never been a better time to commit to some improvements to your sleep routine. Here are a few tips from the Mayo Clinic to help achieve the sleep of your dreams.
| | | |
| --- | --- | --- |
| | | Maintain a consistent sleep schedule |
While it sounds simple, it's one of the best things you can do to optimize your body's internal clock.* Use the goal times in the Eight Sleep app to set your routine.
| | | |
| --- | --- | --- |
| | | Eat dinner well in advance of bedtime |
Eating too close to when you go to sleep, or eating too much right before bed can cause you to feel uncomfortable as you try to doze off.* Eat your last meal a few hours before bedtime to help minimize sleep disruptions.
| | | |
| --- | --- | --- |
| | | Optimize your sleep set up |
Keep your bedroom cool and clean to maximize sleep.* Get the Pod to sleep at the right temperature for your body, as sleeping too hot or too cold can cause a decrease in REM sleep and deep sleep, making you feel less restored each day.

The Reset Sale
The Pod - $300 off
Sleep Accessories - 20% off
Eight Sleep
25 West 26th St, New York, NY 10010
©2019 Eight Sleep All Right Reserved

Other emails from eightsleep.com
Shop without the noise.
Get our free newsletter of hand-picked sales you need to hear about from the web's best brands.