Why Product Photography requires a different Lens & Light and Jewellery Photography - How to capture each precious detail.
Email sent: Jul 22, 2021 9:00am
Two new blog posts dedicated to specific Photography fields ‌ ‌ ‌ ‌ ‌ ‌ ‌ ‌ ‌ ‌ ‌ ‌ ‌ ‌ ‌ ‌ ‌ ‌ ‌ ‌ ‌ ‌ ‌ ‌ ‌ ‌ ‌ ‌ ‌ ‌ ‌ ‌ ‌ ‌ ‌ ‌ ‌ ‌ ‌ ‌ ‌ ‌ ‌ ‌ ‌ ‌ ‌ ‌ ‌ ‌ ‌ ‌ ‌ ‌ ‌ ‌ ‌ ‌ ‌ ‌ ‌ ‌ ‌ ‌ ‌ ‌ ‌ ‌ ‌ ‌ ‌ ‌ ‌ ‌ ‌ ‌ ‌ ‌ ‌ ‌ ‌ ‌ ‌ ‌ ‌ ‌ ‌ ‌ ‌ ‌ ‌ ‌ ‌ ‌ ‌ ‌ ‌ ‌ ‌ ‌ ‌ ‌ ‌ ‌ ‌ ‌ ‌ ‌ ‌ ‌ ‌ ‌ ‌ ‌ ‌ ‌ ‌ ‌ ‌ ‌ ‌ ‌ ‌ ‌ ‌ ‌ ‌ ‌ ‌ ‌ ‌ ‌ ‌ ‌ ‌ ‌ ‌ ‌ ‌ ‌ ‌ ‌ ‌ ‌ ‌ ‌ ‌ ‌ ‌ ‌ ‌ ‌ ‌ ‌ ‌ ‌ ‌ ‌ ‌ ‌ ‌ ‌ ‌ ‌ ‌ ‌ ‌ ‌ ‌ ‌ ‌ ‌ ‌ ‌ ‌ ‌ ‌ ‌ ‌ ‌ ‌ ‌ ‌ ‌ ‌ ‌ ‌ ‌ ‌ ‌ ‌ ‌ ‌ ‌ ‌ ‌ ‌ ‌ ‌ ‌ ‌ ‌ ‌ ‌ ‌ ‌ ‌ ‌ ‌ ‌ ‌ ‌ ‌ ‌ ‌ ‌ ‌ ‌ ‌ ‌ ‌ ‌ ‌ ‌ ‌ ‌ ‌ ‌ ‌ ‌ ‌ ‌ ‌ ‌ ‌ ‌ ‌ ‌ ‌ ‌ ‌ ‌ ‌ ‌ ‌ ‌ ‌ ‌ ‌ ‌
Product photography is a particular type of photography where objects are displayed and carefully lit in a way that highlights their features. These pictures are meant to be taken in the best possible light in order to convert any casual viewers into shoppers.
While it is true that anyone with a smartphone can take a good quality photo to promote their products, one cannot discount the technique, lighting, editing, experience of a professional photographer with a product portfolio. It's challenging to get the same detailed effect that can be achieved with high-quality professional lenses than with a standard smartphone camera. The key to producing jaw-dropping product images that entice consumers to purchase the latest product is through using proper lighting techniques and lenses that can make any product stand out, whether it's being promoted on a website or e-commerce site. 
A stunningly lit product photograph can create interest in consumers and make them spend more time browsing your product portfolio, so companies choose to work with professional photographers who can make their product stand out and add a lot of value to the business. As a professional photographer, this is a great subset to work in as it pays relatively well, and once you've nailed your technique and found the right equipment, you can develop a solid online portfolio that can attract future business.
Lenses
An essential piece of equipment that every photographer needs is a set of good lenses with different focal lengths that can take pictures at different magnifications to provide the desired effect. Every genre of photography requires a different lens with a specific aperture, speed, and build specific for its purpose. Some lenses will be more appropriate for capturing the detailed product images you're looking for in product photography.
When it comes to product photography, jewellery photography has a reputation for being the most difficult. It does not matter whether you are photographing a heavy white-gold necklace or an intricate diamond ring; you will struggle to capture all the fine details of the product unless you have the correct equipment and techniques.
What makes this different but certainly achievable is the depth of field required to make sure the correct size and features are captured. In addition, you might struggle with lighting that is key to making it a successful venture. Because jewellery itself has a smooth and shiny surface, it will reflect light onto your lens. To resolve this issue, you will need to control light and create high-quality visuals.
Here are some tips and products that will make the most of your photographic skills and capture each precious detail.
Tripod and Lighting
Of course, having a tripod is essential, but we wanted to reiterate this point because of its significance. If you are using a product photography kit (which we will discuss later in this article), you need a sturdy tripod to support your camera movement and angles
You can go with a Table-Top Compatible Tripod if you only use digital cameras. But, if you are using smartphones to photograph jewellery, the extendable Mini Tripod with Smartphone Bracket will suit your needs.  
Now, on to lighting. Because of the proximity to the products, using flash is not recommended. Not only does it create excess brightness, but it also leads to harsh shadows, and you will never be able to capture full details of the jewellery.
Using continuous natural-coloured lights will have a more authentic and soft effect, and you have to make sure you are leaving any effects on the image.
To view the full versions of these Blog Posts, and our collection of other Blog Posts we have available, please click the image below.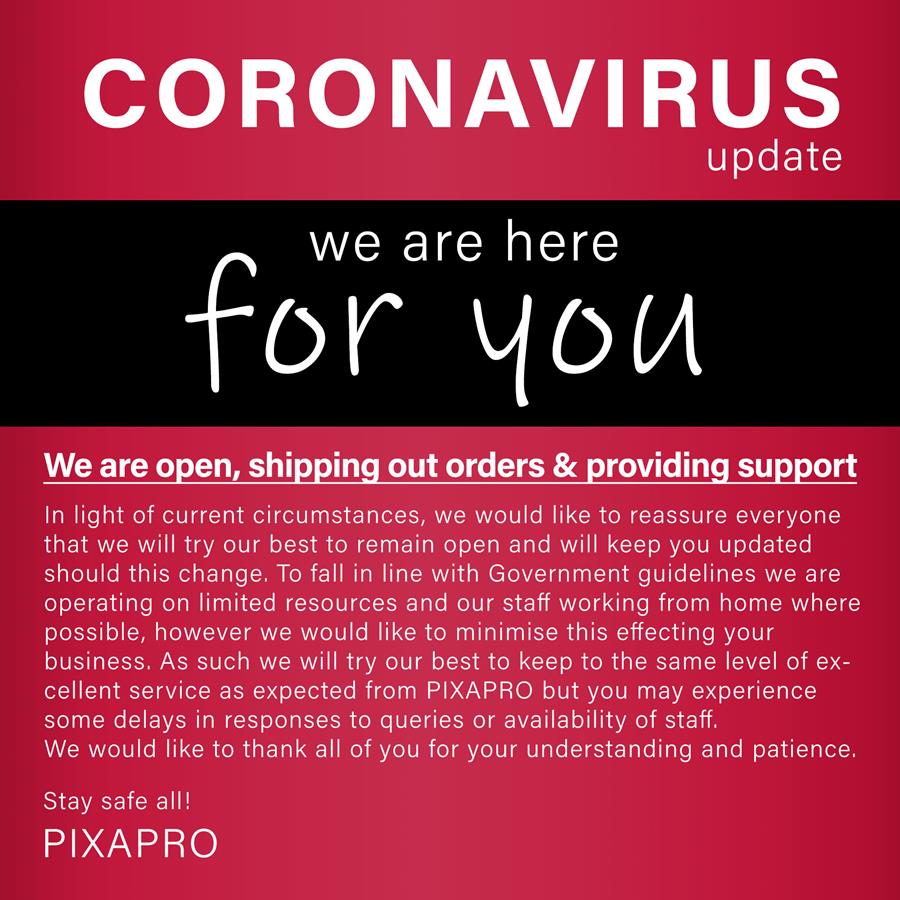 *Free Standard Delivery on order over £150. Only available for UK Customers.

Essential Photo Ltd. Registered company number 07601334
UK: +44 (0) 0121 552 3113

You are receiving these emails as you have registered an interest at our website www.essentialphoto.co.uk. You can adjust your preferences, or unsubscribe using the links below.
Other emails from Essential Photo
Jul 26, 2021

Summer Sale Featured Products 300cm C-Stand with Boom Arm and 1.35x10m Paper Background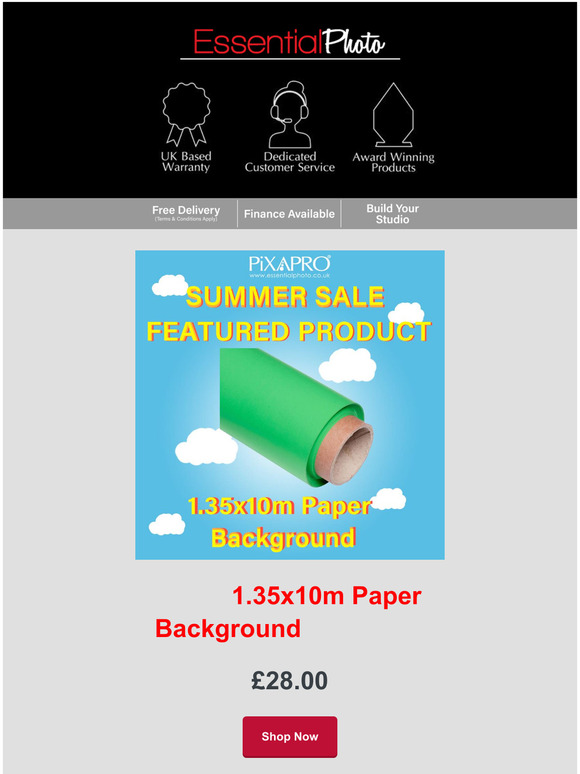 Jul 15, 2021

Essentials for Perfect Product Photography & Must-Have Equipment for Newborn Photography
Shop without the noise.
Get our free newsletter of hand-picked sales you need to hear about from the web's best brands.