Is There An Error In The Bible
This email was sent
Is 1 Mistranslated Word In The Bible Killing You?
According to Pastor Andrew, the answer is YES
And in his short video, he provides very strong evidence to support this controversial (but rapidly growing) theory.
At first, we were quite skeptical, and I even asked the pastor point blank…
"Are you saying that God made a mistake?"
The pastor was quick to respond, and said –
"God doesn't make mistakes. But 1800 years ago, we believe a biblical translator DID."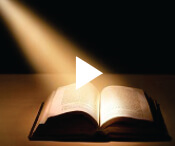 The pastor then went on to explain his theory…
"It is our belief that ONE, single, mistranslated word in the bible – which occurred about 200 years after the death of Jesus – is responsible for an incredible amount of needless suffering."
I felt that the pastor

truly

believed what he was claiming…
So I decided to watch his video.
And frankly, it was as shocking to me as it was eye-opening.
But you be the judge for yourself.
PS: According to the pastor (and maybe he's just being paranoid but...)
certain left-leaning departments of our government are actively trying to Suppress.
Watch the secret he exposes in his controversial video






PS: The above message is a paid advertisement and the above links will take you to an external page. The use of paid advertisements is part of how Blue Heron Health News funds its operation and makes it possible to serve free, high quality daily health articles


PPS: You have received this e-mail because you have signed up for information from Blue Heron Health News. If you believe that you have received this e-mail by mistake or wish to no longer receive further mailings please follow the unsubscribe link below. Should you wish to update your contact details please follow the change details link below.



9450 SW Gemini Dr, Beaverton, Oregon 97008,United States