Awe-inspiring ED152 added to the auction block!
Email sent: Apr 9, 2021 3:17pm
We've also got great deals on eyepieces, binoculars and more!

• Massive 152mm aperture • Air-spaced Triplet Refractor in Carbon Fiber • 3.6-inch XL focuser custom made for Scott Roberts • Focus Lock • 2 Synta / Orion / Celestron finder bases • Two adapters: 94 mm to 2-inch compression ring; 94 mm to 3-inch compression ring • Losmandy D Plate AND Vixen-style dovetail • 2-inch and 3-inch Explore Scientific Diagonal • Telescope and focuser are signed by Explore Scientific founder Scott Roberts
  With its 44% increase in light grasp and image brightness compared to the ED127 Air-Spaced Triplet, and 125% increase compared to the ED102 Air-Spaced Triplet, the ED152 Air-Spaced Triplet FCD1 Series in Carbon Fiber is a research-class instrument, ready for high-productivity assignments.
  Observe moon transits with their shadows across the face of Jupiter, as well as structural detail and color variations within the wake of the Great Red Spot and at the boundaries of numerous equatorial cloud belts; resolve Cassini's and Enke's Divisions of Saturn's rings and substructures within the rings themselves. Nebulae stand out in splendid detail, giving one the impression they are looking through a much larger aperture telescope, with filamentary structures observable even under less than optimal seeing conditions. The ED152 Air-Spaced Triplet FCD1 Series in Carbon Fiber is a true work-horse optical instrument ready for any observing or imaging requirement.
• 102mm achromatic refractor • f/9.8 • 2" Rack and Pinion Focuser • 8x50 Illuminated Finder • 1.25" Eyepiece
  The Bresser classic 4" achromatic refractor will introduce you to a plethora of Earth's most influential neighbors! Drop by Saturn and see his famous rings with your own two eyes, or visit Jupiter, who boasts the largest planet on the solar system's block. If you have a mind to do it, you can get to know the Moon like the back of your hand. 
  The Messier 102mm telescope uses a two-element, air-spaced crown & flint glass objective as its light-gathering source. The optics are fully anti-reflection coated for contrast and sharpness. To help increase contrast even further, the optical tube assembly has a long dew shield installed. A 2" rack and pinion focuser is included with this telescope. The draw tube is etched with a millimeter scale to help with repeatable focusing performance and the focuser is made with brass compression rings so that accessory barrels are not marred by a rogue set-screw. Additional accessories include an eyepiece and diagonal. 
  A one-piece tube ring assembly cradles the optical tube and makes mounting your Messier 102mm telescope a breeze. At the top of the tube ring, you'll find a built-in carry handle that is designed with the ability to attach a DSLR camera for piggyback astrophotography. At the bottom of the assembly is a stainless steel rail that slides into Vixen-style mounts.
  Warmer weather is just around the corner, which means it is a great time to gear up for some spring exploring! Right now, you can buy a new 8x42 or 10x42 Alpen Shasta Ridge binocular and get a free 8x32 MagnaView series compact binocular for free! To activate this special offer add the MagnaView 8x32 binocular to your cart followed by the new Shasta Ridge model of your choice - 8x42 or 10x42. 
  If you have purchased or received an Explore Scientific product, we strongly encourage you to check out all of the valuable benefits that await if you become an Explore Alliance member. We offer two different membership tiers — a free Legacy level and a paid Platinum level. If you join the Platinum level, you will get additional benefits AND receive an Explore Scientific digital gift card in the amount equal to the cost of your membership. It's a win-win! Click the logo to learn more!
Explore Scientific LLC
1010 S. 48th Street, Springdale, ar 72762, United States
This email was sent to - because you've subscribed on our site or made a purchase.
Unsubscribe
Other emails from Explore Scientific
May 24, 2021

Global Star Party XLVII: Join us to celebrate the Total Lunar Eclipse!
May 20, 2021

We've updated our Certified Pre-Owned stock! Check out the latest additions now!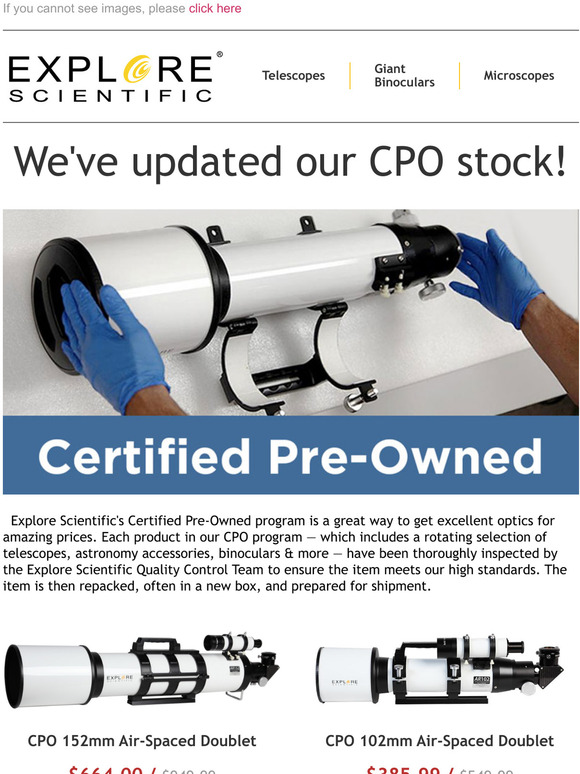 May 14, 2021

Global Star Party XLV: Get ready to celebrate International Astronomy Day!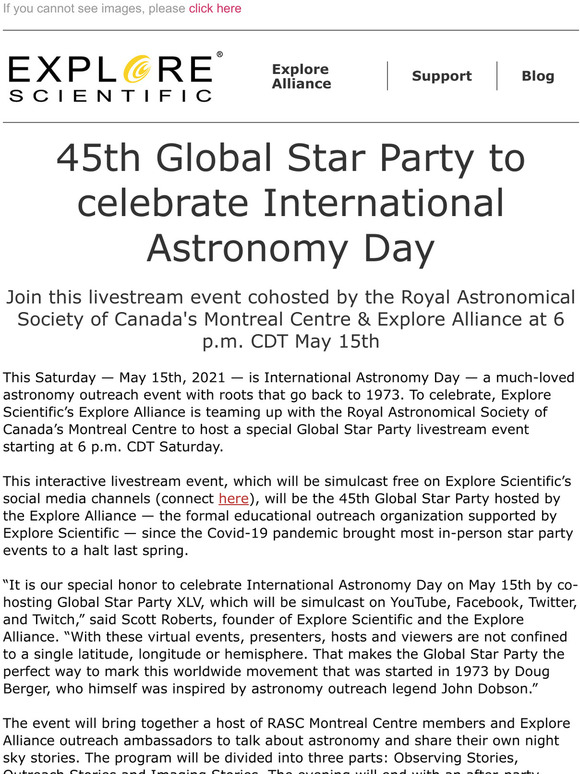 May 10, 2021

Looking for great optics at AMAZING prices? Check out our Certified Pre-Owned Program!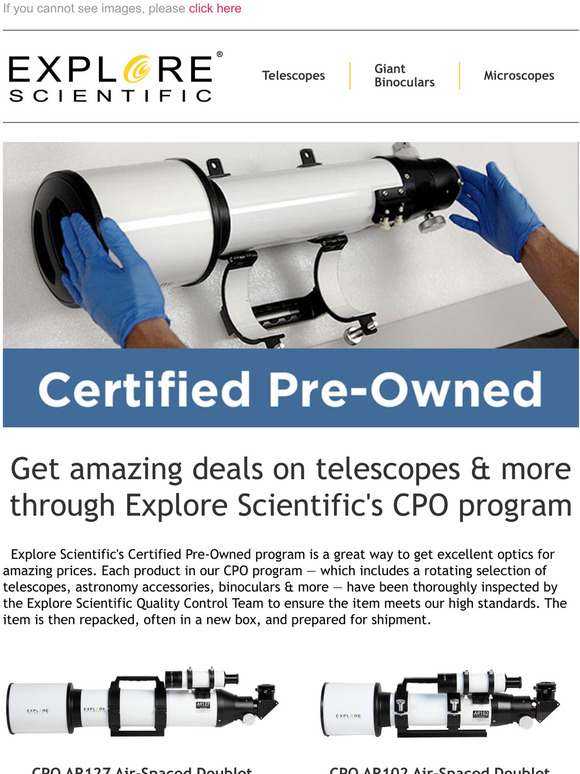 Shop without the noise.
Get our free newsletter of hand-picked sales you need to hear about from the web's best brands.