Look & learn with new National Geographic StarAPP telescopes!
Email sent: Apr 16, 2021 3:47pm
New app-integrated telescope series includes 50mm & 70mm refractors, 114mm reflector

  Discover fascinating facts about the constellations and planets as you navigate the night sky with one of the new National Geographic StarApp telescopes. 
  The telescopes in this new series — which include a 50mm refractor, a 70mm refractor and a 114mm reflector — are all great choices for those wanting to begin their journey into the world of amateur astronomy. Each are outfitted with a special mount that allows users to attach their smart phone to the top of the telescope tube and use the ARTelescope App to locate and learn about constellations and planets. As they move the telescope, users will hear facts about the objects in the app's database as they come into view. 
  Each telescope comes with two eyepieces and a 2x Barlow lens for multiple magnifications as well as a full size tripod with an accessory tray.  
• 102mm achromatic refractor • f/9.8 • 2" Rack and Pinion Focuser • 8x50 Illuminated Finder • 1.25" Eyepiece
  The Bresser classic 4" achromatic refractor uses a two-element, air-spaced crown & flint glass objective as its light-gathering source. The optics are fully anti-reflection coated for contrast and sharpness. To help increase contrast even further, the optical tube assembly has a long dew shield installed. A 2" rack and pinion focuser is included with this telescope. The draw tube is etched with a millimeter scale to help with repeatable focusing performance and the focuser is made with brass compression rings so that accessory barrels are not marred by a rogue set-screw. Additional accessories include an eyepiece and diagonal. 
  A one-piece tube ring assembly cradles the optical tube and makes mounting your Messier 102mm telescope a breeze. At the top of the tube ring, you'll find a built-in carry handle that is designed with the ability to attach a DSLR camera for piggyback astrophotography. At the bottom of the assembly is a stainless steel rail that slides into Vixen-style mounts.
  The Bresser Callisto 70mm is an easy-to-use starter telescope, and a perfect choice for viewing the planets and moon. This complete system includes an equatorial mount and a tripod that is adjustable to allow users of all sizes to observe comfortably. Accessories include a red dot finder to help observers pinpoint objects in the night sky, a star diagonal for additional viewing comfort and an erect image prism for upright daytime viewing of wildlife.
  If you have purchased or received an Explore Scientific product, we strongly encourage you to check out all of the valuable benefits that await if you become an Explore Alliance member. We offer two different membership tiers — a free Legacy level and a paid Platinum level. If you join the Platinum level, you will get additional benefits AND receive an Explore Scientific digital gift card in the amount equal to the cost of your membership. It's a win-win! Click the logo to learn more!
Explore Scientific LLC
1010 S. 48th Street, Springdale, ar 72762, United States
This email was sent to - because you've subscribed on our site or made a purchase.
Unsubscribe
Other emails from Explore Scientific
May 24, 2021

Global Star Party XLVII: Join us to celebrate the Total Lunar Eclipse!
May 20, 2021

We've updated our Certified Pre-Owned stock! Check out the latest additions now!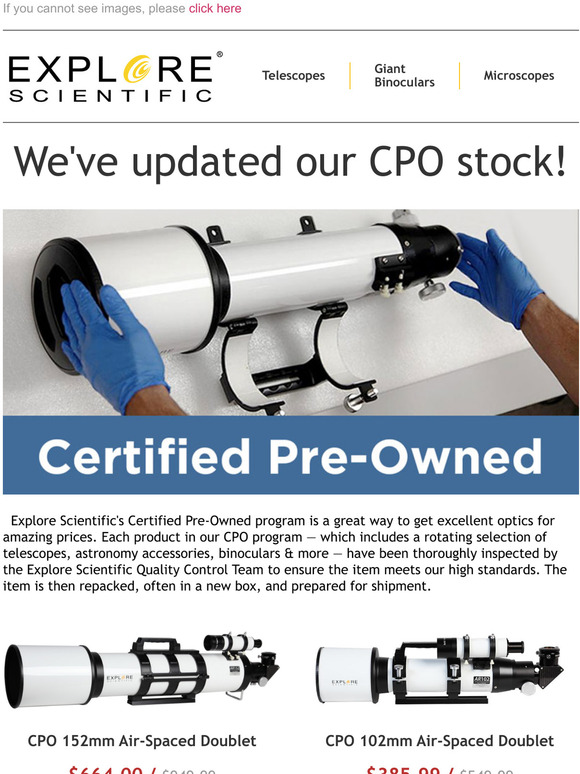 Shop without the noise.
Get our free newsletter of hand-picked sales you need to hear about from the web's best brands.