Business Class Fares to worldwide destinations. Starting at just $1141 R/t
This email was sent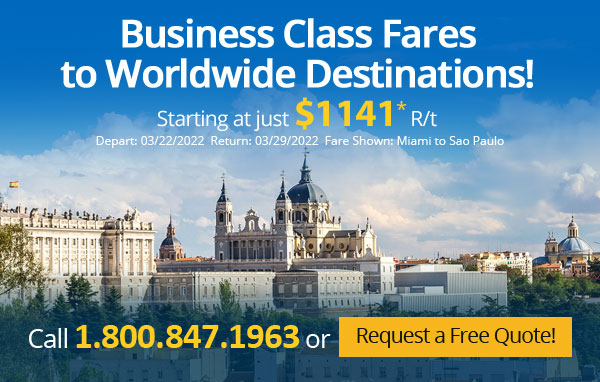 Dear Partner in Travel,



As a leading Industry Supplier, Fare Buzz has attractive fares for most worldwide destinations. We have Net Rates and Commissionable fares. We encourage you to check with us every time you book International Travel for your clients.
Sample Fares

(March Travel)
Destination
R/t Fare*
Sao Paulo
$1141
Rio de Janeiro
$1256
Buenos Aires
$1832
Dubai
$3040
Singapore
$3094
Delhi
$3734
Mumbai
$3809

| | |
| --- | --- |
| *Including taxes & fees | |

Destination
R/t Fare*
London
$2261
Amsterdam
$2287
Paris
$2311
Rome
$2537
Milan
$2680
Madrid
$2888
Zurich
$3270

| | |
| --- | --- |
| *Including taxes & fees | |
Airlines with Flexible Rules


Keep following our newsletter for more Airline updates and flexibility rules.
What our Customers are saying:
Awesome awesome awesome...great...
Awesome awesome awesome....great prices....keep them coming Read More
Terms & Conditions
*Above fares are for travel dates March 22, 2022 - March 29, 2022. Fares are round trip and include fuel surcharge, taxes and our service fee. Fares are subject to availability and can change without any prior notice. There is a higher probability of seats being available on Tuesday, Wednesday & Thursday. Weekends and Holidays may have a surcharge. Blackout dates may apply. Tickets are non-refundable, non- transferable, non-assignable. Other restrictions may apply. Displayed fares are based on historical data, are subject to change and cannot be guaranteed at the time of booking.

Copyright © 1994 - 2022, Fare Buzz Inc., USA. All Rights Reserved.
UNSUBSCRIBE from email communications.

Fare Buzz
137W 25th Street
11th Floor
New York, NY 10001