[Skylighter] $25 off your new Fountain Tooling - Ends soon
Email sent: May 4, 2021 5:09pm
Big-Daddy 3# Fountain ("Gerb") Tooling
*$25 discount ends tonight*

Hey, 
Fountains (or Gerbs as fireworks makers like to call them) are highly underrated! When used in creative ways fountains can really set the tone for a display. They can punctuate changes in pace, they can bring the audience's eyes down to ground level to begin a slower section of the display.
And if you're really clever using them in the finale you can create a wall of fire, where fireworks completely fill the spectator's field of view. Plus because fountains can be placed closer to your audience they can really add an element of depth and surprise.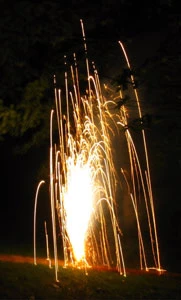 But fountains are not limited to fireworks displays. Fountains are the ideal safe, quiet project that you can shoot almost anywhere. Sure you may not be able to light big shells in the backyard year-round, but chances are a fountain will not start any neighborhood feuds. 
And we aren't talking about the itty-bitty little safe and sane fountains that you find at the fireworks stands. No sir, we are talking about the big-daddy. The 3-Pound fountain, made with 3-pound fountain tooling!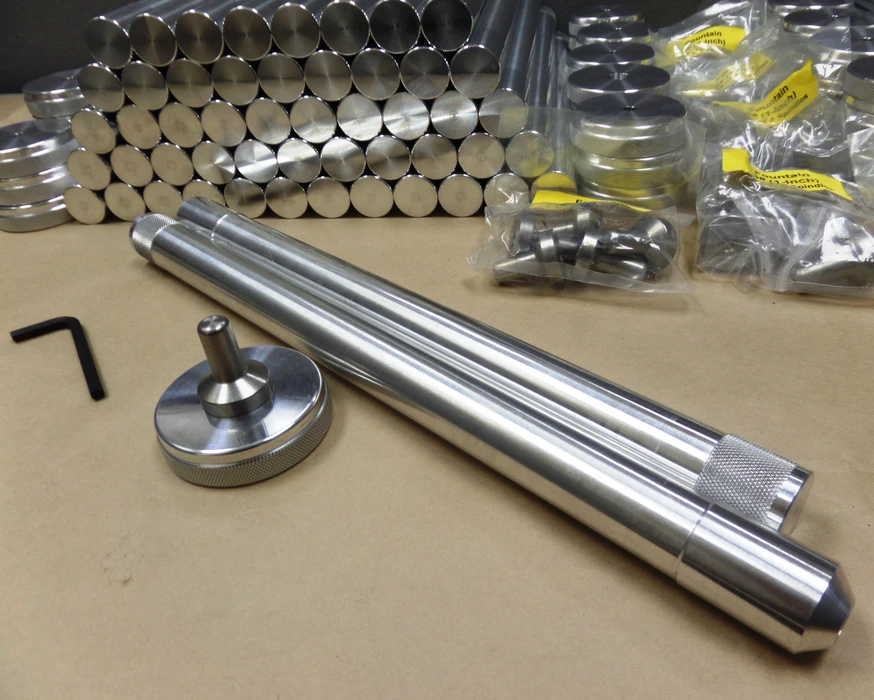 If you've ever had the pleasure of making 3-Pound (1-Inch ID) fountains you know they are anything but small. These are the big-boy toys of the fountain world. 
When built right you can send a stream of white-hot titanium sparks raining down from well over 50-feet in the air. The roar alone is impressive! 
Fountains are a very versatile firework too. By adjusting the formula you can create long-duration fountains that woo or roaring fountains that impress. You can find dozens of formulas on Skylighter's website for everything from brightly colored to glittering fountains. 
One of my favorite fountain formulas is made by pushing rubber star comp through a 10-mesh screen and adding the resulting micro stars to a black powder fountain comp to create a color-changing shower of colored pearls. Starting with blue, then green, then yellow then red. It's always a hit and they are dead simple to make. 
Really, If you've never made one of these big fountains you are really missing out. 
Today Only...
American made fountain tooling is on sale
Truly a great deal, $25 off - Now only $99.99
Each of these 3-Pound tools sets comes with a removable stainless steel spindle, knurled aluminum base, and two rammers (one, 14-Inch nozzle former and one, 13-Inch solid rammer). These tools are some of the nicest fountain tools we have ever had. They are built to last and will provide you with a lifetime of fun. Like everything Skylighter sells they are fully backed with a 365-day guarantee. 
Jump on this sale right away so you can start making breathtaking 3-pound fountains next weekend! 
Thanks, 
Mike Gerson
PS: No promo code is needed to get the $25 off sale price. Simply add a 3-Pound Fountain Tool Set to your shopping cart and the discount will be applied. But jump quick my friends ...this sale Ends Tonight (5/4).
PPS: I can't wait to hear about your next 3-Pound Fountain! Tag us on facebook when posting your pictures! We love to see and read about your creations!
 
If you wish to stop receiving our emails or change your subscription options, please
Manage Your Subscription
Skylighter, Inc., PO Box 1143, Morro Bay, CA 93443, US
Other emails from Fireworks & Pyro Projects Ebook
May 13, 2021

[Skylighter] Easy Red & Green Stars - Perfect for Beginners!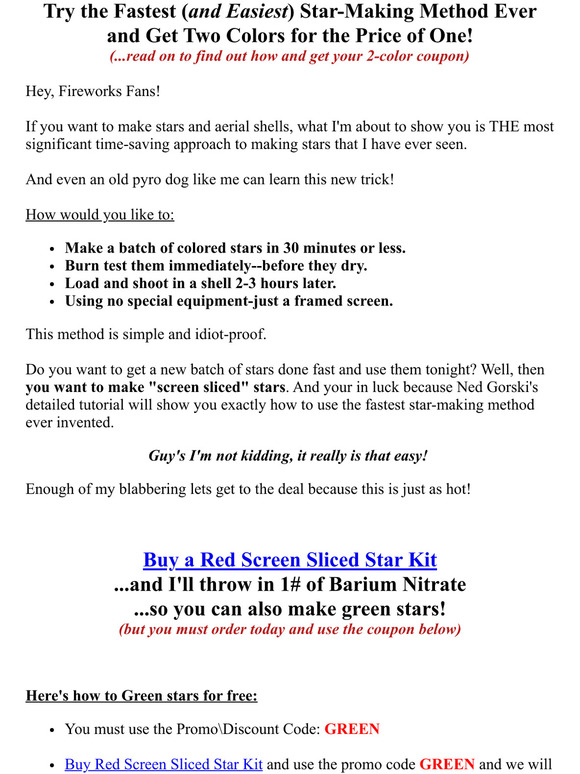 Shop without the noise.
Get our free newsletter of hand-picked sales you need to hear about from the web's best brands.