Our Black Friday Sale Starts NOW!
50% OFF All Candles! No Images? Click here
This email was sent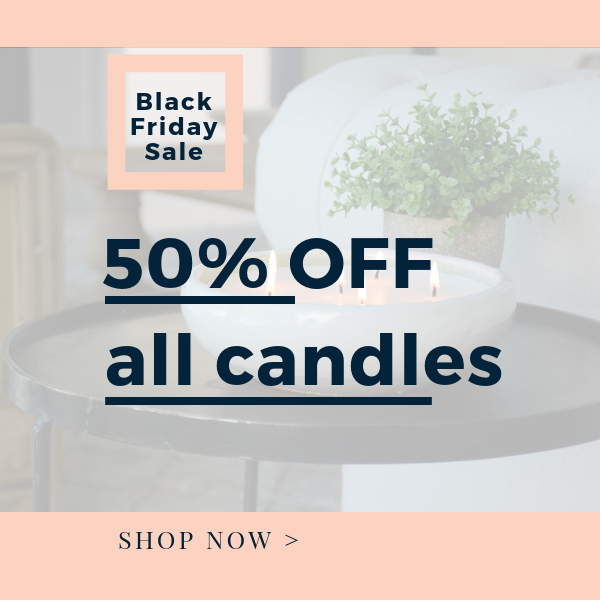 Shop our Black Friday Sale and save 50% on all your favorite candles. With our wide selection of styles and number of wicks, there's something for everyone on your holiday shopping list!
Our Posh Pot Collection features uniquely-shaped vessels made to stand out. These 2-wick candles are available in either vivid or neutral hues and can be repurposed after the wax has burned into the perfect catch-all or planter.
Our Painted Marble Collection features colorful marble-inspired painted pottery that is both trendy and stylish. The elegance of marble on this handmade Earthenware clay pottery will elevate your home décor and add a sophisticated touch to any space. Available in 6 colors accompanied by luxurious aromas
Our Scandi Knit Collection features classic, hand-hatched Scandinavian knit patterns, giving nod to traditional Nordic designs while white geometric detailing adds a modern twist. Each fragrance in the Scandi Knit Collection has been carefully balanced for a sophisticated and luxurious experience. 
Our Bennett Collection features beautiful, hand poured artisan candles in Earthenware pottery. Bennett candles are great for both indoors and outdoors, for the home or apartment, and as decor or a special gift. Each piece in the Bennett Candle Collection is handmade and poured with soy blend wax, 12" diameter with 12 wicks.
FlashPoint Candles are hand-poured by American artisans using soy wax and sprinkled with cotton wicks, then balanced with finely blended fragrances.