Make Every Moment Special and Enjoy 10% + 5% Discount for All Items!
Email sent: Jun 11, 2021 12:01pm
Celebrate Gemini's Birthday with 10% Off On Your Gift Purchases! ‌ ‌ ‌ ‌ ‌ ‌ ‌ ‌ ‌ ‌ ‌ ‌ ‌ ‌ ‌ ‌ ‌ ‌ ‌ ‌ ‌ ‌ ‌ ‌ ‌ ‌ ‌ ‌ ‌ ‌ ‌ ‌ ‌ ‌ ‌ ‌ ‌ ‌ ‌ ‌ ‌ ‌ ‌ ‌ ‌ ‌ ‌ ‌ ‌ ‌ ‌ ‌ ‌ ‌ ‌ ‌ ‌ ‌ ‌ ‌ ‌ ‌ ‌ ‌ ‌ ‌ ‌ ‌ ‌ ‌ ‌ ‌ ‌ ‌ ‌ ‌ ‌ ‌ ‌ ‌ ‌ ‌ ‌ ‌ ‌ ‌ ‌ ‌ ‌ ‌ ‌ ‌ ‌ ‌ ‌ ‌ ‌ ‌ ‌ ‌ ‌ ‌ ‌ ‌ ‌ ‌ ‌ ‌ ‌ ‌ ‌ ‌ ‌ ‌ ‌ ‌ ‌ ‌ ‌ ‌ ‌ ‌ ‌ ‌ ‌ ‌ ‌ ‌ ‌ ‌ ‌ ‌ ‌ ‌ ‌ ‌ ‌ ‌ ‌ ‌ ‌ ‌ ‌ ‌ ‌ ‌ ‌ ‌ ‌ ‌ ‌ ‌ ‌ ‌ ‌ ‌ ‌ ‌ ‌ ‌ ‌ ‌ ‌ ‌ ‌ ‌ ‌ ‌ ‌ ‌ ‌ ‌ ‌ ‌ ‌ ‌ ‌ ‌ ‌ ‌ ‌ ‌ ‌ ‌ ‌ ‌ ‌ ‌ ‌ ‌ ‌ ‌ ‌ ‌ ‌ ‌ ‌ ‌ ‌ ‌ ‌ ‌ ‌ ‌ ‌ ‌ ‌ ‌ ‌ ‌ ‌ ‌ ‌ ‌ ‌ ‌ ‌ ‌ ‌ ‌ ‌ ‌ ‌ ‌ ‌ ‌ ‌ ‌ ‌ ‌ ‌ ‌ ‌ ‌ ‌ ‌ ‌ ‌ ‌ ‌ ‌ ‌ ‌ ‌ ‌ ‌ ‌ ‌ ‌ ‌
Celebrate Gemini's Birthday with 10% Off On Your Gift Purchases!
The Hidden Benefits of Indoor Hanging Plants

Hanging plants are a type of ornamental plant that you can place by dangling from a rope in a small pot. They have many varieties ranging from leaves to flowers. Usually, people put it on the front and side of the house to add to the aesthetic side of the house. But you can also hang them inside your home to make it more beautiful and fresh. However, you cannot use any plant to hang at home. The characteristic that a dangling plant must have is the type of vine that grows. It is because they have to grow dangling over the pot. So, the dangling leaves will look elegant. Growth on the plant itself tends to be slow and not dense. So, they will not make it difficult for us to trim them often. The leaves also tend to be small.

Read More
STAY TUNED
Copyright © 2008 - 2020 FlowerAdvisor
If you want to unsubscribe from our mailing list click here
This email was sent to -. If you are no longer interested you can unsubscribe instantly.
Other emails from FlowerAdvisor (MY)
May 31, 2021

10% + 5% Discount is Yours! Share the Happiness with your Friends and Family!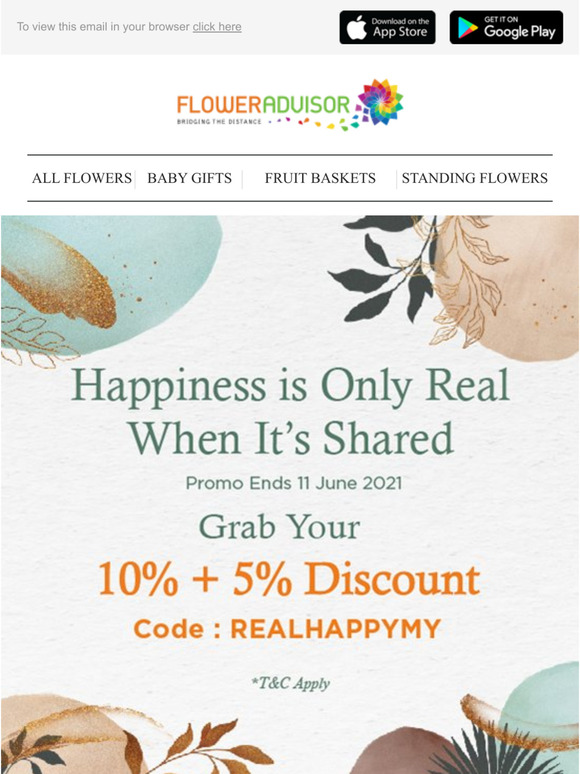 Shop without the noise.
Get our free newsletter of hand-picked sales you need to hear about from the web's best brands.