Inter, Heading Now, Coco Sharp, ALL 60% OFF!
Email sent: May 4, 2021 8:25am
Check out these new and top deals of the week! ‌ ‌ ‌ ‌ ‌ ‌ ‌ ‌ ‌ ‌ ‌ ‌ ‌ ‌ ‌ ‌ ‌ ‌ ‌ ‌ ‌ ‌ ‌ ‌ ‌ ‌ ‌ ‌ ‌ ‌ ‌ ‌ ‌ ‌ ‌ ‌ ‌ ‌ ‌ ‌ ‌ ‌ ‌ ‌ ‌ ‌ ‌ ‌ ‌ ‌ ‌ ‌ ‌ ‌ ‌ ‌ ‌ ‌ ‌ ‌ ‌ ‌ ‌ ‌ ‌ ‌ ‌ ‌ ‌ ‌ ‌ ‌ ‌ ‌ ‌ ‌ ‌ ‌ ‌ ‌ ‌ ‌ ‌ ‌ ‌ ‌ ‌ ‌ ‌ ‌ ‌ ‌ ‌ ‌ ‌ ‌ ‌ ‌ ‌ ‌ ‌ ‌ ‌ ‌ ‌ ‌ ‌ ‌ ‌ ‌ ‌ ‌ ‌ ‌ ‌ ‌ ‌ ‌ ‌ ‌ ‌ ‌ ‌ ‌ ‌ ‌ ‌ ‌ ‌ ‌ ‌ ‌ ‌ ‌ ‌ ‌ ‌ ‌ ‌ ‌ ‌ ‌ ‌ ‌ ‌ ‌ ‌ ‌ ‌ ‌ ‌ ‌ ‌ ‌ ‌ ‌ ‌ ‌ ‌ ‌ ‌ ‌ ‌ ‌ ‌ ‌ ‌ ‌ ‌ ‌ ‌ ‌ ‌ ‌ ‌ ‌ ‌ ‌ ‌ ‌ ‌ ‌ ‌ ‌ ‌ ‌ ‌ ‌ ‌ ‌ ‌ ‌ ‌ ‌ ‌ ‌ ‌ ‌ ‌ ‌ ‌ ‌ ‌ ‌ ‌ ‌ ‌ ‌ ‌ ‌ ‌ ‌ ‌ ‌ ‌ ‌ ‌ ‌ ‌ ‌ ‌ ‌ ‌ ‌ ‌ ‌ ‌ ‌ ‌ ‌ ‌ ‌ ‌ ‌ ‌ ‌ ‌ ‌ ‌ ‌ ‌ ‌ ‌ ‌ ‌ ‌ ‌ ‌ ‌ ‌
Introducing Inter, Heading Now, and many more! Offers up to 60% off - plus, a sale ending soon - don't miss out!
Introducing Inter by Latinotype

Imagine a sans Rockwell…Well, we did it. That's how Inter was born—as a reinterpretation of Rockwell. However, as the process moved forward the font took on its own personality, adapted to current market and needs. Inter is a new geometric sans with an early 20th century smell, soft curves and generous counterforms that give it a fresh look—a friendly font that communicates sincerity.

It's always an interesting situation when you have a defined final product in mind, yet you also want to go beyond the brief. We wanted more than just a simple Rockwell without serifs. So a major part of the process was to create something distinct from Rockwell and all other fonts on the market. By far the biggest challenge of this project was discovering a unique voice and personality. This took a lot of trial and error, but I'm quite happy with the result.

Inter is well-suited for web use, apps, corporate use and short text (publishing). The font contains 439 glyphs—Latinotype's basic character set plus alternative letters and signs—and supports over 200 languages that use the Latin alphabet.
"We started imagining a Rockwell sans typeface, and a geometric grotesque with a lot of latin flavor was made, a modern but warm touch is necessary in branding, text or titles." — Latinotype
18 fonts for $139 $55.60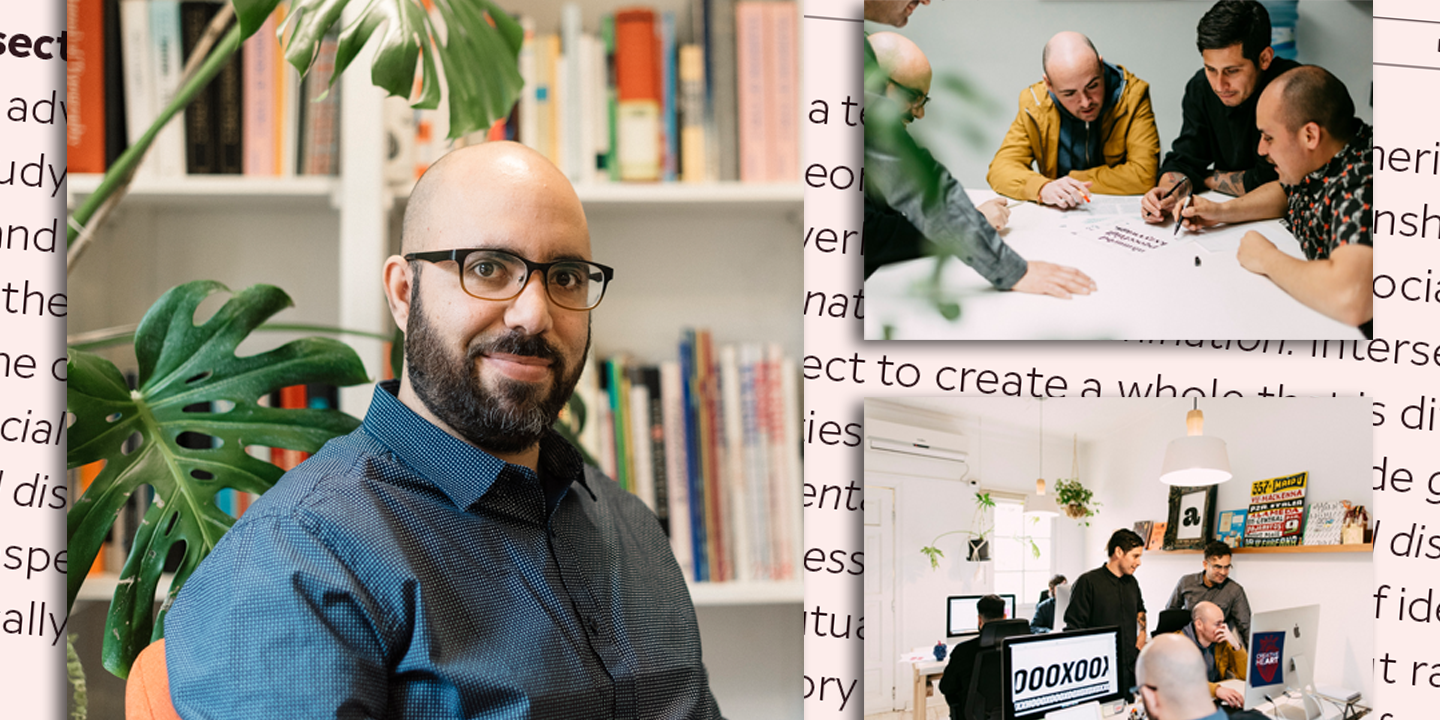 Alfonso García has horrible handwriting so when he found typography, it was a love at first sight, "Now someone will be able to read my letters." Since then he moved from San Juan to Buenos Aires, México and Chile, in the quest for learning how type design is done and working as a graphic designer. He works now at Latinotype and has been there since 2015, as type designer, being responsible for several projects. Often he still uses his handwriting in poems or notes that no one, but his partner Julieta, is able to understand.

Latinotype is based in Concepción and Santiago, Chile, Latinotype's founders say, "Our goal is to design new typefaces remixing diverse influences related to our South American identity with high quality products for the contemporary design industry." And the duo have been doing just that since their foundry's creation in 2007. One of the most successful foundries on MyFonts in recent years, Luciano Vergara and Daniel Hernández, have put together a rapidly growing collection of typefaces in a wide array of genres. Specializing in colorful display and script faces, the group's name "Latinotype" emphasizes the strong tie they feel to their cultural identity.
18 fonts for $139 $55.60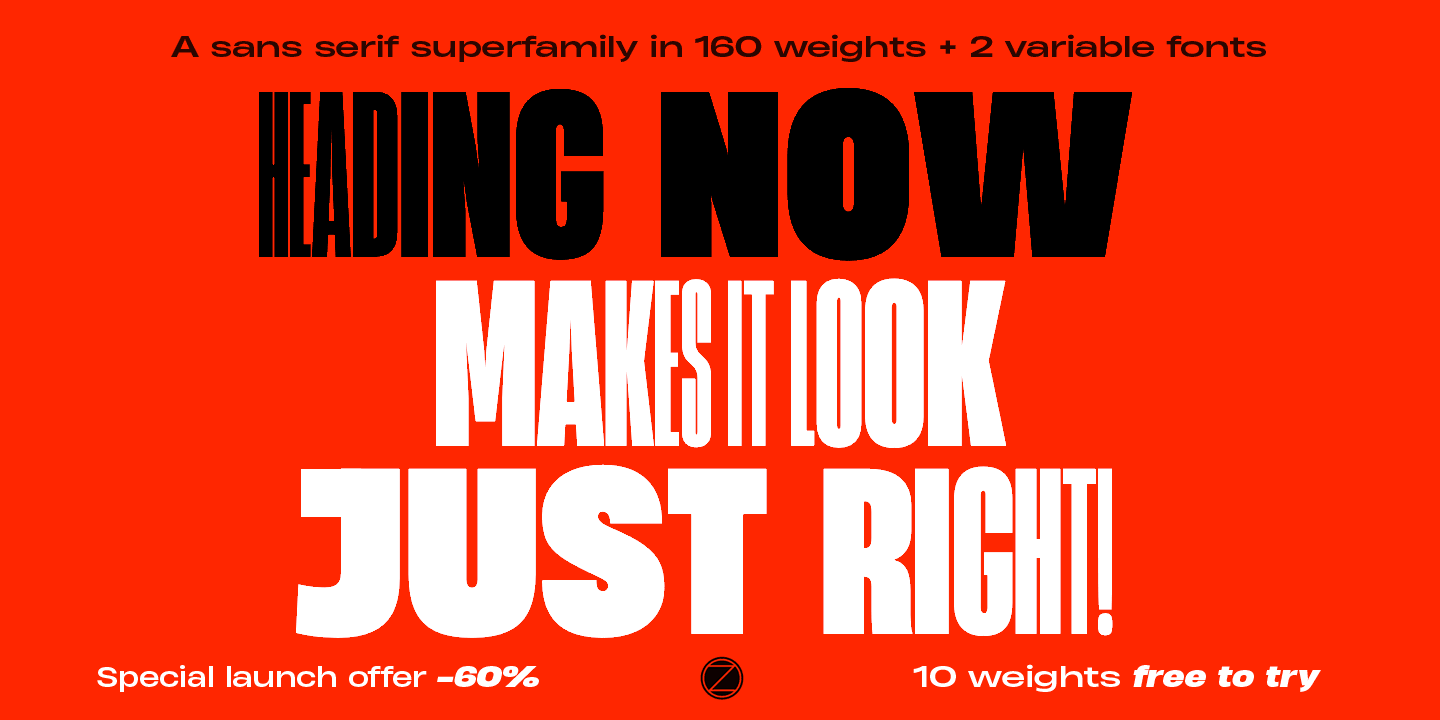 Introducing Heading Now by Zetafonts

Heading Now is the new incarnation of Heading Pro, developing the original typeface family designed by Francesco Canovaro for Zetafonts into a superfamily with 160 variant combinations. Built around 10 different widths, ranging from ultra-compressed to ultra-wide, and eight weights from thin to heavy, Heading Now provides a full spectrum of sans serif type solutions to your design problems.

Born as a space-optimizing typeface for headers and titles, Heading Now can be used in its compressed widths to manage space on the printed page and on the screen. In these widths Heading Now excels in titles and subheadings, timetables, infographics and in situations of exuberant and excessive copywriting. On the other side of the width spectrum, you can find extended width variants, ready to be used for titling where style and energy matter more than pixel or paper economy.

Heading family is not only made of extreme widths: you can use the medium width range to design body text. Matching italics provide versatility in text use, as well as a dynamic display alternate to the bolder weights.
"Heading Now was born as a space-optimizing typeface for headers and titles, but can be used in its compressed widths to manage space on the printed page and on the screen. Perfect for contemporary branding, web design, packaging and countless other projects." – Zetafonts
162 fonts for $300 $120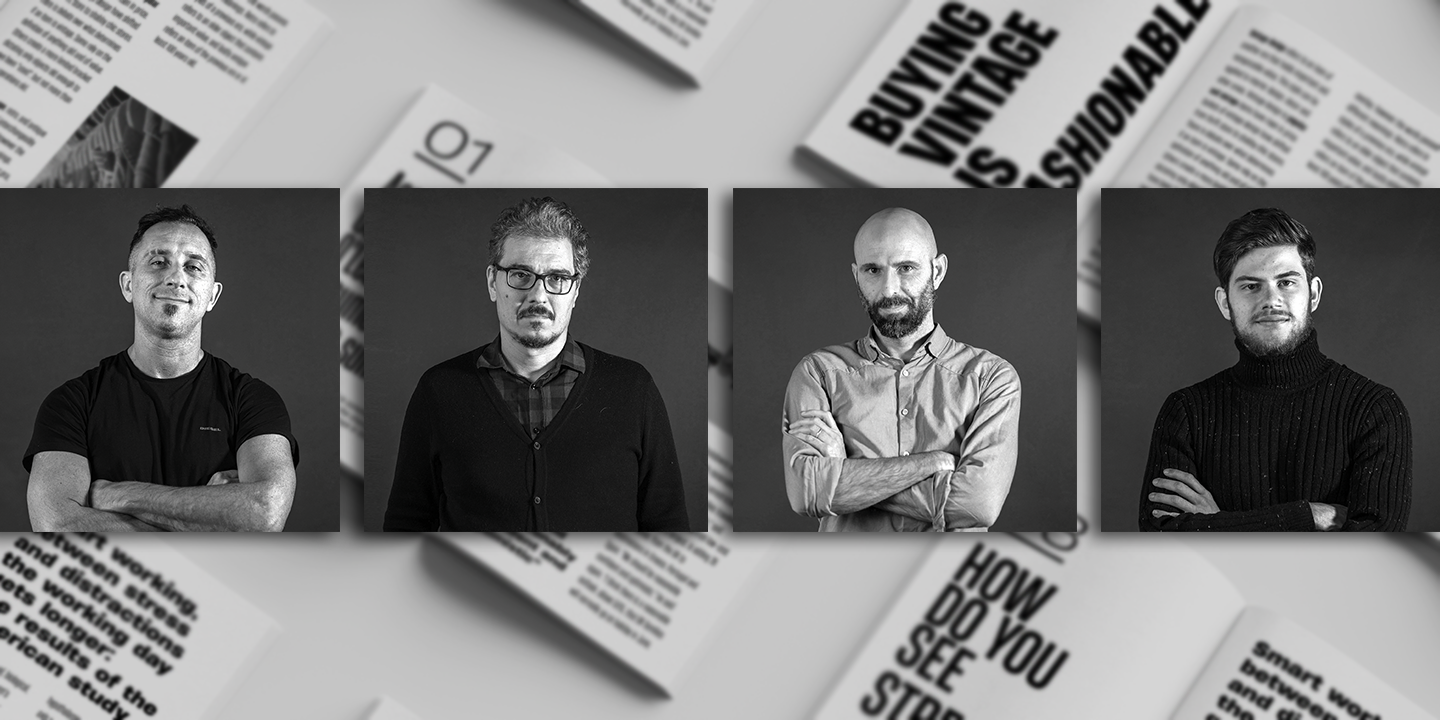 Cosimo Lorenzo Pancini - Partner & Project director. Cosimo bought his first typeface, an Arnold Boecklin letraset transfer, when he was nine years old. He has since then kept playing with letters both written and drawn, working as a type designer, visual arts teacher and art director for print, digital and video. He has designed over fifty typeface families for Zetafonts foundry that he co-founded with Debora Manetti and Francesco Canovaro. He lives in Florence with his wife, a cat named Bodoni and too many books.

Francesco Canovaro - Partner & creative director. Francesco has found in visual design and typography the natural evolution of his studies in painting and computer programming. With Debora Manetti and Cosimo Lorenzo Pancini he founded the transmedia branding agency Kmzero and the digital type foundry Zetafonts, a label under which he has designed over forty typeface families and countless custom fonts. As much feared as loved by his students in creative direction and typography courses, he is often seen at type conferences listening to talks while creating new typefaces on his laptop. He lives in Florence with his wife Debora and two kids whose names end with consonants.

Andrea Tartarelli - Type director. Andrea studied at the Academy of Fine Arts of Carrara and worked as a marble sculptor until he discovered graphics and typography. Since then, he has dedicated himself to the creation of typefaces, hoping that it would be not as tough as marble carving. It turned out he was terribly wrong. Afterwards, he went deeper into his typography studies at the Plantin Institute at Antwerp, and teaches Type Design at IED Florence. He works and lives in Tuscany, Italy.
Mario De Libero - Font developer. Mario was born in Livorno, on the coast of Tuscany. During his studies in visual communication at IED in Florence he fell in love with typography and soon joined Zetafonts as lead designer on the Italian Type label. Mario sees every letter as a music instrument that can do its best when playing well with the others in harmony: a typeface designer is like an orchestra director that must make sure all the voices are balanced. Always on the look for typography as a mean to rise empathy in others, he's been focusing lately on historical re-designs.
162 fonts for $300 $120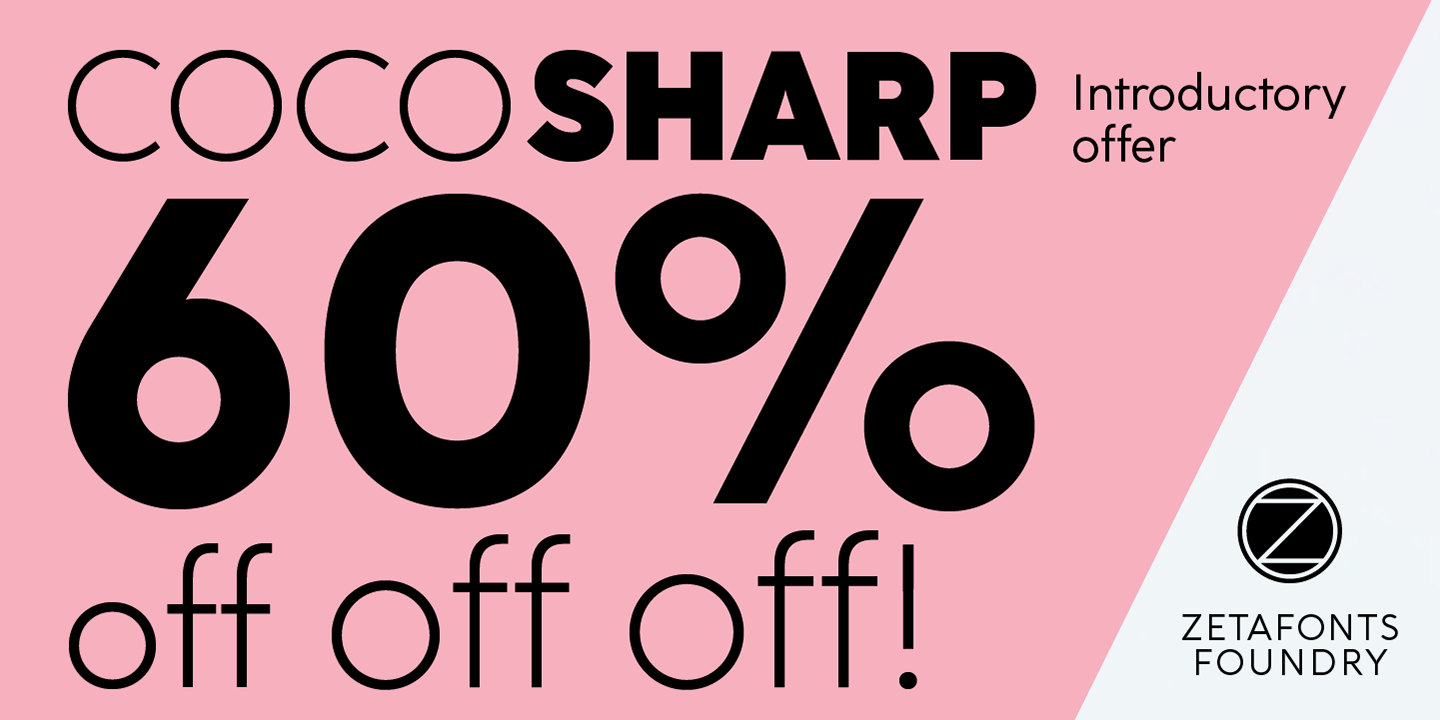 Last chance to save - Sale ends soon! Coco Sharp is the newest evolution of the Coco typographic project, developed since 2013 by Cosimo Lorenzo Pancini for the foundry Zetafonts, with the help of Francesco Canovaro and Andrea Tartarelli. Influenced by vernacular grotesques sign-painting and modernist ideals, and inspired by the classy aesthetic of fashion icon Coco Chanel, Coco is drawn on a classic geometric sans skeleton but applies humanist proportions and visual corrections to key letters with the aim to create a warmer, subtly vintage texture on the page and on the screen.
Coco Sharp drops the rounded corners of previous incarnations (Coco Gothic and Cocogoose) to pair the typeface display and logo capability with a sharper definition for text use. As in the other Coco families, a wide range of alternate letterforms allows to express different historical moods, including elegant, quirky and unexpected designs able to transform a simple word into a memorable wordmark.
Last Call: Sale ends May 10th, at 11:59 p.m. EDT
62 fonts for $150 $60




Caldina

by Artegra

10 fonts for

$149

 

$74.50

Schwager Sans

by Latinotype

12 fonts for

$149

 

$74.50
Quador Display

by Fontador

12 fonts for

$139.99

 

$56

Styling

by Los Andes

20 fonts for

$189

 

$94.50
Don't see a font you love? Shop all font deals now!
Monotype Imaging Inc.
600 Unicorn Park Drive
Woburn, MA 01801 USA

New York, US | Chicago, US | San Francisco, US | Los Angeles, US |
Cordoba, AR | London, UK | Berlin, DE | Noida, IN | Seoul, KR |
Tokyo, JP | Shanghai, CN | Hong Kong, CN

The promotions featured in this email newsletter are only valid for purchases made online at Fonts.com. Other technologies, font names, and brand names are used for information only and remain trademarks or registered trademarks of their respective companies.

©2020 Monotype. All rights reserved.

Monotype.com

Unsubscribe | Preferences | Privacy Policy | View in Browser
Other emails from MyFonts
Shop without the noise.
Get our free newsletter of hand-picked sales you need to hear about from the web's best brands.