Enjoy May Without Sweating - NEW Products and Discounts on SweatStop, Manjana and More
Email sent: May 12, 2020 9:30am
If you can't properly read this e-mail then click on: Open in Browser

Dear Mrs. -,
We are happy to present you our new products against sweating. Furthermore, we offer you great discounts on selected items.
1. NEW - Manjana® Man-V-classic-PLUS-Shirt XXL Against Sweat Stains
2. SweatStop® Iontophoresis DE20 - Against Hyperhidrosis
3. 10% OFF - SweatStop® Antiperspirants for Every Need
4. 10% OFF - SweatStop® Foot Powder
5. 2,90€ OFF - Antiperspirant Set Against Foot Sweat
6. 2,90€ OFF - Antiperspirant Set Against Hand Sweat
7. 10% OFF - SweatStop® IXAL Against Axillary Hyperhidrosis
8. NEW - SIKOPED Soles Regulate Foot Perspiration
9. 50% OFF - SweatStop® Sock-in-Sock Functional Sock
10. manjana® Functional Socks with Silver Against Sweaty Feet
11. manjana® SWEAT PADS Washable - Black & Skin Coloured
12. manjana® SWEAT PADS Washable PLUS - Black & Skin Coloured
13. 10% OFF - manjana® Functional Bodywear Against Sweat Stains
14. Underarm Sweat Pads Against Sweat Stains
15. Up to 50% Off on Selected Items
  Other Popular Products
Your Functional Cosmetics Team

Functional Cosmetics Company AG

Nauenstrasse 67

CH-4052 Basel

www.functional-cosmetics.com/en


This e-mail may contain confidential and /or privileged information. If you are not the designated recipient (or have received this e-mail in error) please notify the sender immediately and delete this e-mail. Any unauthorized copying, disclosure or distribution of the information in thise-mail ist strictly prohibited

Notice: The expedition of the e-mail newsletter applies according to Swiss Law, Basel
Other emails from Functional-cosmetics.com
Jul 27, 2020

New Studies on Antiperspirants - BfR states Aluminium is Harmless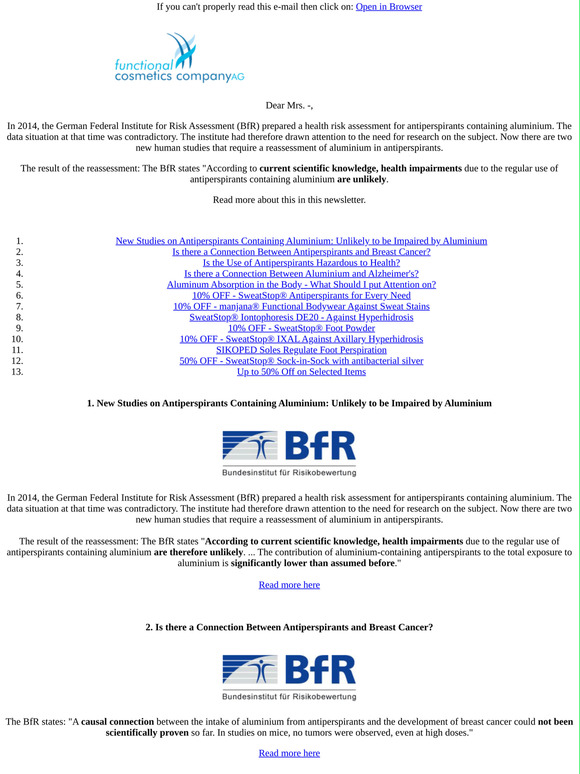 Jun 29, 2020

Enjoy Summer Without Sweat Stains - Discover New Products and Discounts Now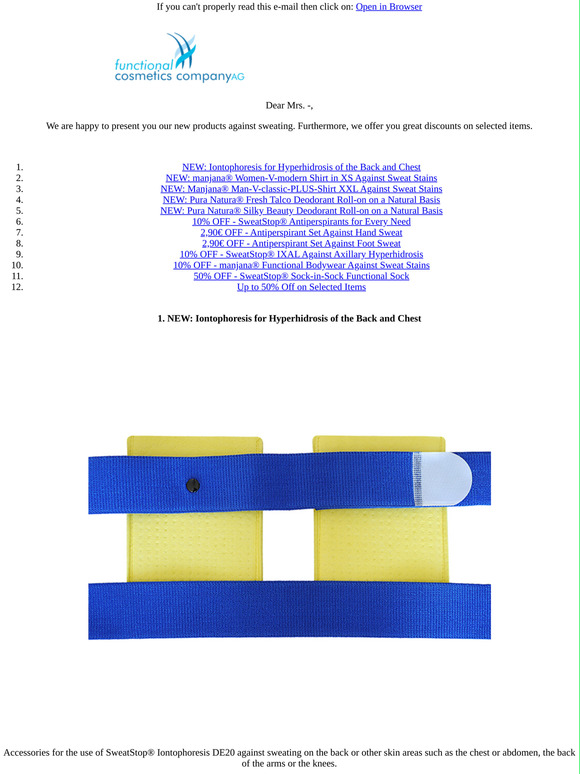 Jun 21, 2019

NEW Against Sweaty Feet - manjana Functional Socks with Silver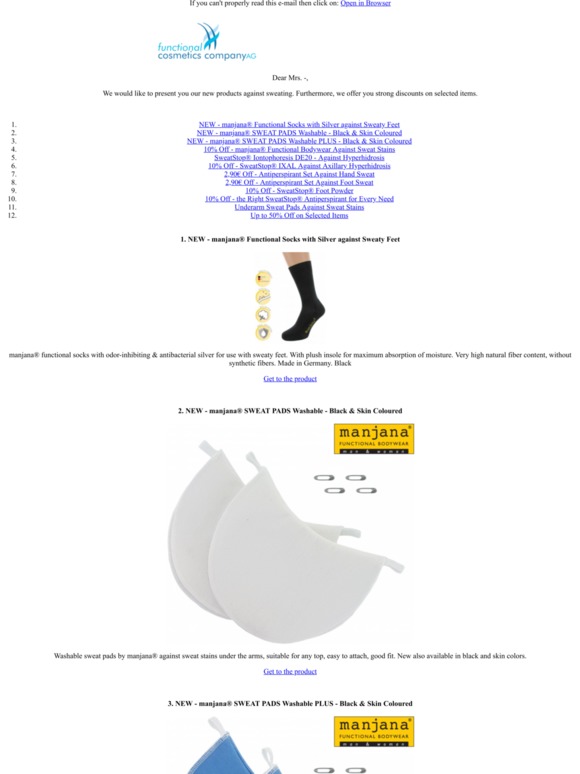 Jun 7, 2019

Enjoy Summer Without Sweating - NEW Products Against Sweating and Strong Discounts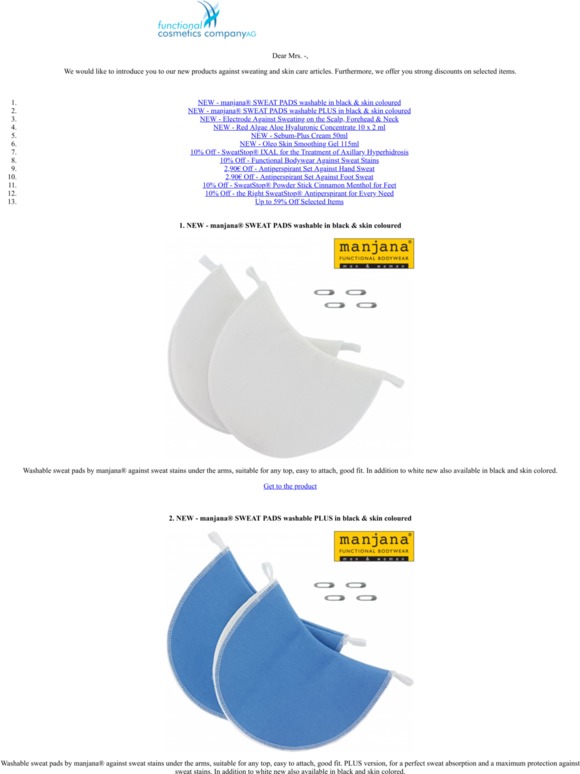 Apr 4, 2019

Big Discounts on our Products Against Sweating, ENT, Shaving and Hair Removal Products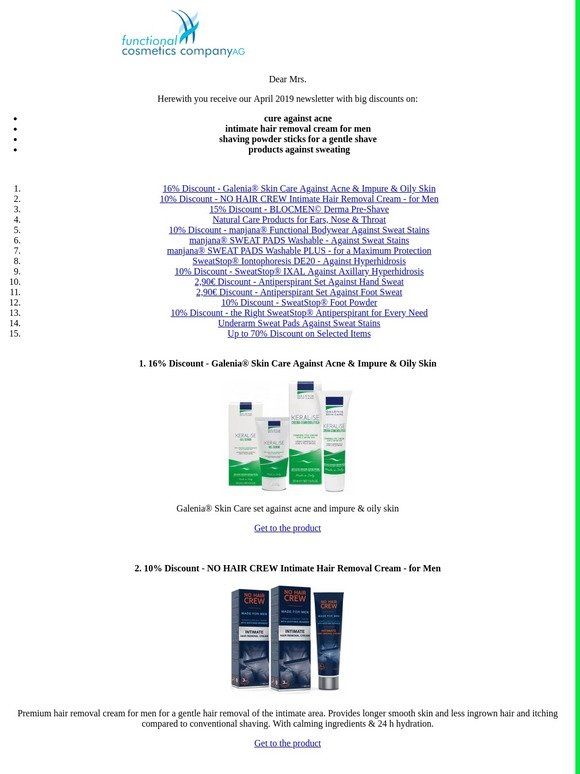 Shop without the noise.
Get our free newsletter of hand-picked sales you need to hear about from the web's best brands.