💃 What era are you in right now?
No images? Click here
This email was sent
<
![endif]-->
We talk about work—a lot. But in the spirit of sunnier days and summer long weekends, we're bringing that Summer Friday spirit to this newsletter. It's all fun: from road-trip playlists to the best rosé bubbly (oh and SPF, so much SPF), amazing giveaways (who doesn't love free stuff?) and absolutely no work talk allowed! 🦩🏖️🍦🩴
Victoria, Girlboss' staff writer, here to write the last Summer Friday's newsletter main story… don't cry, don't cry, don't cry. If you want to see this super-fun series come back next year, let us know. We'll be very upset if you say no (kidding! But are we?). Anywhoo, today I'll be reflecting on my different eras: from my business casual, corporate attire-wearing era (in high school, no less) to my "I'm going to move to Paris and start a fashion blog era." Ah… those were the days.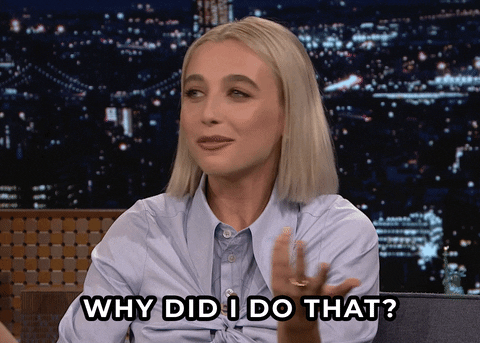 A Love Letter to All of My Different Eras
It's basically science (it's not) that if you put the word "era" after a phase in your life, it sounds 10x cooler. Watch: I'm in my "reckless spending" era. Sounds so chic and badass, right? Or: I'm in my "sit on the couch and eat Hot Pockets" era. I would Pin that.
If you've spent any time on the internet lately (of course you have), then you've probably seen this terminology floating around. "In my villain era." "In my bad bitch era." "In my flop era." "Era" is basically a fancy, Gen Z way of saying "season" or "chapter" of your life—but it's different because you're very aware about the place that you're in and you're not afraid to make fun of it.
"There are only so many ways that you can deal with being in such a weird place in your life before you have to cultivate an ironic detachment from it, and a coolness to be like, 'This is just temporary. I'm just in this romantic era of my life where I have no money, or where I am making all of these mistakes,'" stand-up comedian and TikToker Keara Sullivan told The Washington Post. "And just kind of embrace it in this ironic way. Because how else are you supposed to deal with it?"
So, in honor of the WP article and Summer Fridays coming to a close, I decided it would be fun to expose myself and my many different eras from the past 10 years. Enjoy!
My Business Casual Era
What was it with us girlies wearing corporate attire to high school?! My school wardrobe was a constant rotation of peplum tops, oversized, colorful blazers, chunky necklaces, structured skirts and "sensible shoes." I was ready to take a business meeting at any possible moment. Like who did I think I was? Dolly Parton in 9 to 5?
My "Paris Is My Whole Personality" Era
I had this fantasy: I was going to move to Paris, start a fashion blog and live out my single 20s hopping from café to café, riding on vespas and learning French from some hot boulanger. It was basically Emily in Paris before Emily in Paris was a thing. My laptop's background was a different picture of Paris every season and I had this rose-colored glasses view of The City of Lights. But then, I thought about the logistics: being across the pond from my family, not knowing anyone, not speaking the language—and realizing that the city is actually quite dirty, smelly and busy (and not at all like my highly curated Pinterest board told me) made my dream slowly fizzle away.
My Crippling Anxiety Era
Oh, this one was a doozie. Disclaimer: I am not here to joke about mental health, but in the spirit of having an ironic detachment from hardship, I will laugh about my own anxiety diagnosis. This was before I got on an SSRI (love you, Cipralex!), dabbled in talk therapy and hypnotherapy and figured out my food sensitivities with a nutritionist which helped me stop feeling like an actual human garbage can after every meal. I was still finishing my university degree, and I was so anxious all the time, I could barely sleep or leave my house (emetophobia, aerophobia and being scared to move out on my own were like the evil stepsisters of my Cindererlla story). It was the lowest point in my life, but don't worry, I'm thriving now…
My Boy Obsessed, Newly Single Era
This girl was unhinged. She could not be stopped in the summer of 2019. I had just broken up with my boyfriend at the time (we had been dating for four years and he was the only person I had ever kissed), moved to a brand-new city and decided that I needed to finally have my hot girl summer. Mom, if you're reading this, I'm sorry! I started a Bumble, Tinder, Hinge and Jdate profile (surprise, I'm Jewish!) and serial dated my way through the city, kissing almost every mediocre man that came across my path. I kept a list and it totalled to about 20 in one summer.
My Domestic Dog Mom Era
This is my current era, and I'm still learning to love her. I have a 10-month-old puppy and I work from home, so my days usually consist of wearing crappy athleisure (because she likes to tug at my clothes to initiate play time and she's already ripped my favorite blouse), picking up poop, vacuuming every five seconds because of all the freakin' tufts of fur and being a homebody. What a stark contrast to the previous era, eh?
To all of my eras, I will cherish each and every one of you—but you could not pay me to relive any one. The next era I'm manifesting? Coastal niece who lives in Maine, and spends all day tending to her hydrangeas, making homemade peach crumble and only wearing a nautical color palette.

Saying Goodbye to Summer
If your group chat is constantly panicking at the last minute, trying to figure out what to do on the weekend, we got you. Every Friday, we'll bring you fun (and never basic) ways to fill your calendar this summer. Today? Resting and reflecting on the summer of 2022 and the kind of intentions you want to set for the rest of the year.
Being consistent with journaling can be hard, we know. Besides having a busy schedule, there could be many things that keep you from opening that $12 notebook you got from Target (we're obsessed with this one). You might be overwhelmed about maintaining an aesthetic (unfortunately, we can't all be Pinterest queens) or writer's block might be kicking your butt. And, of course, there are the all-or-nothing thinkers; missing one day doesn't mean you should stop altogether. If you're struggling with any of these issues, here are 10  prompts that'll make you fall in love with journaling once again.
What brings you joy?

What kind of day are you having, and why?
What is your relationship like with various members of your family?

What keeps you up at night worrying? Are your worries realistic? Is there anything you can do about them?

In what areas are you optimistic, and in what areas are you pessimistic?

Who is someone you miss?
When do you feel the most recharged?

What is something someone else has that you envy? Describe it and your feelings about it.

What is a mistake people often make about you?
How do you set and protect your boundaries?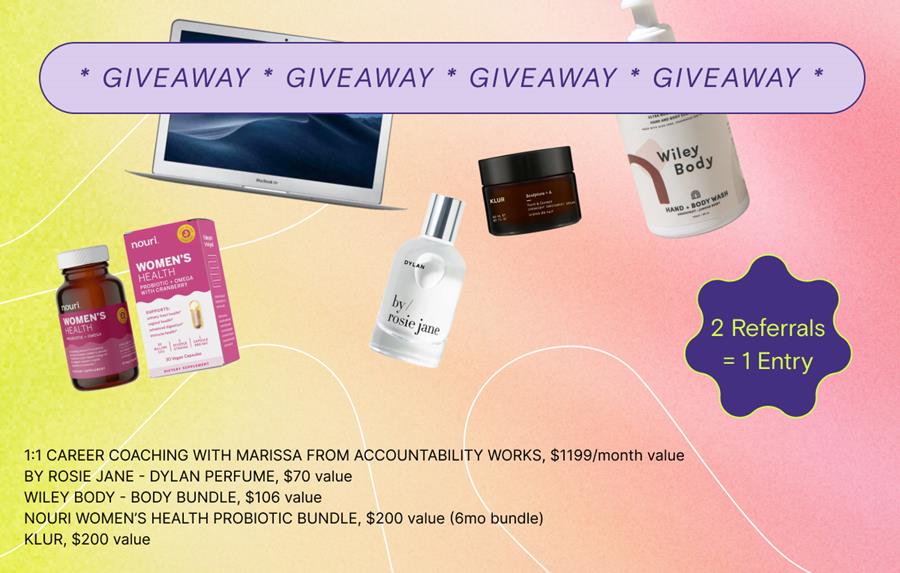 👋 Want to say goodbye to summer with our favourite brands? This is our biggest giveaway yet, and we're so excited! Our friends KLUR, Nouri, Wiley Body, Accountability Works and By Rosie Jane have the best prize pack for two lucky winners. 
How to enter? Simply share your unique referral link and get your friends to subscribe to Girlboss Daily. Every two referrals count as an entry to this giveaway, which closes next Friday, September 2nd. 
The best news? All of those referrals will not only enter you in the giveaway, they will still count towards our always-on referral program prizes (see below for details)!

The Multipurpose Planning Essential
"Like a helpful, encouraging friend, this notebook offers daily balance check-ins, positive affirmations, a thoughtful word of the day and even curated Spotify playlists. Who doesn't want that? Another thing I love? Simple Self is one of the few stationary companies supporting US-based printers and manufacturers. Every Simple Self product is 100% made in Los Angeles, California, at an FSC-certified printer using responsibly sourced and sustainable materials." — Victoria, staff writer
The Oprah-Approved Bed Sheets
"I'm a sheet-freak. There is absolutely no better feeling than flopping onto a bed topped with freshly laundered sheets (and if they're washed with The Laundress? Heaven). I'm usually partial to cotton, but this bamboo blend set from Cozy Earth is a wonderful switch-up from my go-to. They're super satin-y and cooling (great for hot summer nights). They also came in the most adorable zip-top canvas handle bag that, no joke, I've started carrying around in lieu of a purse." — Liz, editorial director
The Natural Stress-Relief Spray
"Carrying this small, pocket-sized rescue remedy (it fits seamlessly in my laptop bag or purse) has been a savior in high-stressful situations. I can balance myself quickly, whether it be day or night." — Jules, senior designer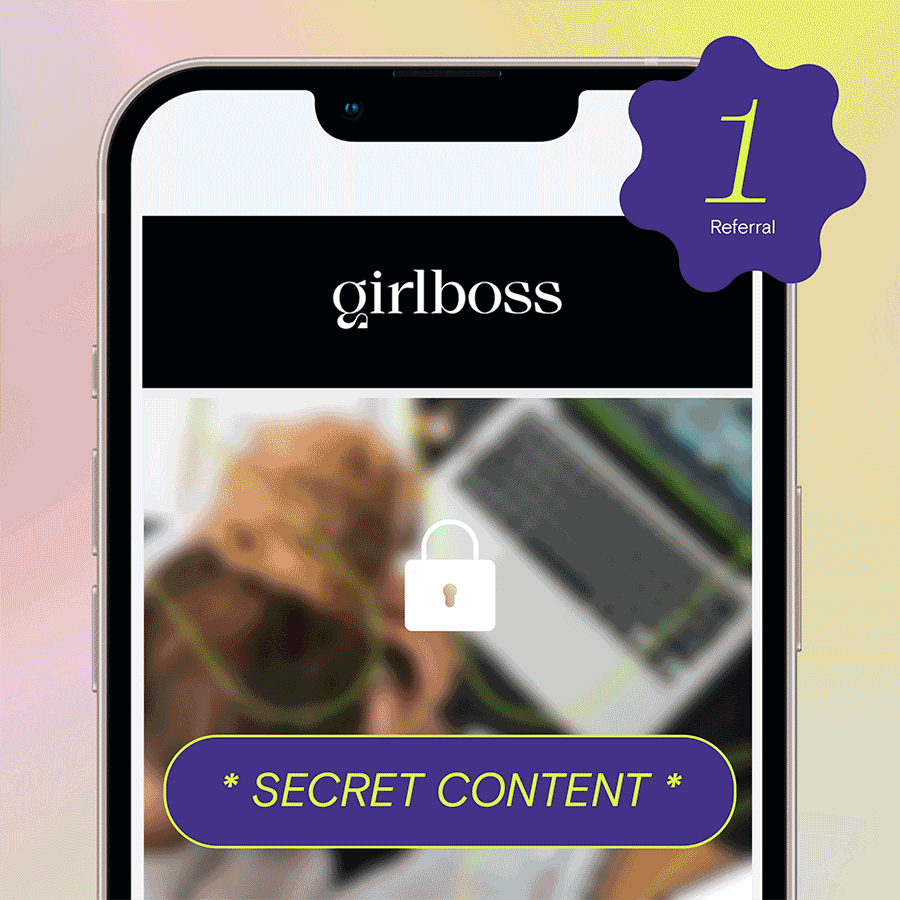 Share Girlboss Daily, Win Free Stuff
Love Girlboss Daily? We're flattered-seriously. So why not refer a friend? There are some pretty great prizes in it for you if you do.
Your unique sharing link is https://join.girlboss.com/a688a51e and you currently have 0 referrals. 
You can track where you're at in your referral hub here: https://hub.sparklp.co/sub_94253d6532
*Prizes only available in the US and Canada.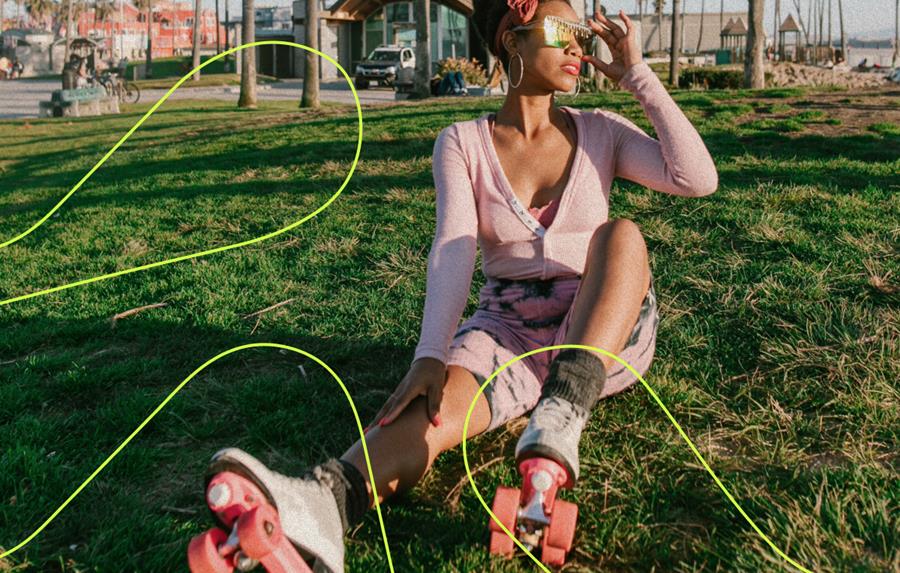 And just like that, our iconic (if we do say so ourselves) Summer Fridays series has come to an end.
We have had such a blast talking about low-stakes summer crushes, the August scaries and Bennifer's Paris tour that—just like summer itself—we don't want it to end. We'd love to know what other special weekly series you'd like to see us do this fall and into 2023. Let us know (don't worry, it's anonymous)! Now we're entering our Pumpkin Spice Latte era…
Copyright © 2022 Girlboss Holdings Inc, All rights reserved.
1209 Orange Street, Wilmington, DE, 19801
You're receiving this email because you signed up for it.