Apply By May 31, 2021 For Rates As Low As 4.29% APR
Email sent: May 4, 2021 11:43am

Whether you're buying a new or used RV, financing through the Good Sam Finance Center is as easy as 1-2-3!
Apply Today

RV financing options depend on the year, make and model of the RV you choose to purchase or refinance. Our website displays the current rates and terms available. 

A credit decision is generally provided in 1 to 3 business days.  If we need additional information from you, we may need more time to make a credit decision. If approved, you'll receive details about your loan offer and next steps.

You'll begin working with our team to submit required information on your RV. After that, our team will coordinate delivery of your loan document package. We'll fund your loan when we have verified completion of the returned signed loan document package.
Apply Today
or call 1-800-444-1476
TTY: 1-800-659-5495
and mention priority code 242


Want to lower your monthly payments?
Refinancing your RV loan at a lower rate means you could pay less monthly on an RV loan and have more for your next adventure. Plus, we're waiving the $399 loan processing fee when you apply to refinance your current RV loan before May 31, 20212!
Get Started Today

1 Estimated APR (Annual Percentage Rate) based on a 5 year loan term; individual rate may vary based on the loan amount, loan term, vehicle use, model year and type of RV. Subject to consumer loan program requirements and credit approval. Certain fees, closing costs, and restrictions may apply. Rates and terms are subject to change based on market conditions and borrower eligibility. APR applied to the loan is the APR in effect on the date the application is received and is valid for 60 days. Full-Timers do not qualify for this offer; see website for Full-Timer rates and terms . RV must be 2010 model year or newer; for RV model year 2010 to 2011, add .25% to rates disclosed on our website. Maximum loan term is based on loan amount. Maximum loan amount is calculated using an advance percentage determined by FICO score. For RV, collateral value established using NADA guide wholesale value (without add-ons) including mileage adjustment (+/-); multiplied by 110%. Example of a recreational use RV loan: A $60,000 loan for 5 years with a fixed interest rate of 4.29% would have an APR of 4.29% and 60 monthly payments of $1,112.86. This is only an example and the APR may differ for your specific transaction. Loans with longer terms may have higher rates. Information is accurate as of May 4, 2021, the date this email was sent.

2 Processing fee of $399 waived for applications received by May 31, 2021. Official fees such as state title, state registration, FL doc stamp fee and/or UCC filing fees will apply.

Good Sam Finance Center provided through Essex Credit, A division of Bank of the West © 2021 Bank of the West. Member FDIC. Equal Housing Lender

Doing business in South Dakota as Bank of the West California. NMLS ID # 19116.
This may be considered an advertising or promotional message from
Good Sam Finance Center, PO Box 6888 Englewood, CO 80155

Privacy Policy

To remove yourself from our email program
or update your email preferences, click here.

© 2021 Good Sam Enterprises, LLC. All rights reserved.

RFA023558_05042021 | 242 | 15



Other emails from Good Sam Roadside Assistance
Apr 21, 2021

How to Get Your RV Ready for Spring + Replace or Reupholster your RV Furniture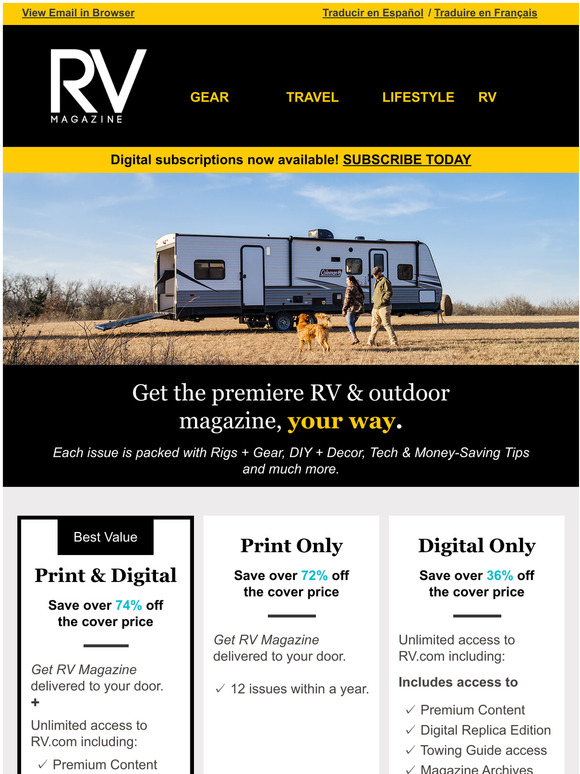 Shop without the noise.
Get our free newsletter of hand-picked sales you need to hear about from the web's best brands.