3 tools for finding love
Plus, ear seeds for at-home acupressure and the truth about decaf coffee.
This email was sent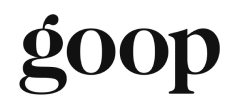 G. LABEL CORE COLLECTION: AT YOUR LEISURE

For Gwyneth, the perfect summer weekend involves relaxed "boyfriend breakfasts" with Brad, regular dips in the pool, trips to the Montecito Country Mart with the top down, and dinners with friends that stretch long into the night. Her uniform? Laid-back pieces in a neutral, mix-and-match palette. A cozy surf sweater to pull on post-swim. A cute linen dress for entertaining alfresco. And effortless separates for every soul-filling moment in between.
 

DOES DECAF COFFEE DESERVE ITS BAD RAP?

Decaf should be a welcome option for caffeine-averse coffee lovers, but it has a pretty bad reputation. We took a close look at the decaffeination process to find out whether that's deserved.
 

THE KEY TO UNLOCKING CREATIVE THINKING

Creativity is nature's way of encouraging us to break through the status quo, says Pulitzer Prize–winning journalist Matt Richtel, author of Inspired. In this podcast episode, Richtel joins cohost Erica Chidi to talk about where creativity comes from, how to harness it, and why mind-wandering is a valuable practice.
 

EAR SEEDS FOR EASY, AT-HOME ACUPRESSURE

Ear seeds are teeny gold beads that are placed at different points on the ear to support overall well-being. They look almost like a constellation of small earrings. And they're something you can apply at home.
 

3 TOOLS FOR FINDING LOVE

"Hands down the most frequent question I get is, 'Will I ever find love?'" says clairvoyant Deganit Nuur. But concerns of the heart are not unique to single people: Nuur says she fields as many love-centric questions from clients who are in relationships—both happy and not. She gave us a few easy tools anyone can use to attract love, keep it, or get more.
3019 Wilshire Blvd, Suite 206  |  Santa Monica  |  CA  |  90403
Goop Inc. 2022 All rights reserved.
Company No.
5406040