getting more out of digital note-taking
Plus, Gwyneth chats with Phillip Picardi, and how to use each Smile Makers vibrator.
This email was sent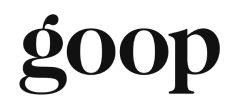 G. LABEL: THE JEWELRY COLLECTION

When designing our second jewelry collection, our intention was to build upon the foundation we've already laid: Sculptural hoops, a supremely stackable cuff, a glittering ball necklace to layer or wear solo—these seven pieces will play nicely with everything from your trademark chains to your inherited heirlooms. Everything here is so beautiful, you'll never want to take it off. And it's all so wearable, you won't have to.
 

HOW TO USE EACH VIBRATOR IN THE SMILE MAKERS COLLECTION

There are many reasons to love Smile Makers, a collection of vibrators that we've been carrying in the goop shop (and enjoying) for years. They're colorful. They're ultrasoft, made of body-safe silicone, and waterproof. And they deliver in the ways you'd like.
 

IS YOUR MARRIAGE WORTH SAVING?

Family therapist Terry Real is known for helping couples who've hit tough roadblocks—people often go to him on the brink of divorce and emerge from his office reconnected and reengaged. But if the relationship can't be transformed, his focus is on helping partners let go and, eventually, ready themselves for a second chance at love elsewhere.
 

GETTING MORE OUT OF DIGITAL NOTE-TAKING

Productivity expert and author of Building a Second Brain Tiago Forte explains his approach to managing—and making better use of—the vast amount of content that we consume every day.
 

DECONSTRUCTING THE BINARY

Gwyneth is joined by Phillip Picardi, former chief content officer at Teen Vogue. Picardi recently went back to school—Harvard Divinity School, where he received his master's degree in religion and public life. He and GP talk about his relationship to Christianity and queerness, how we can resist binary thinking, and why Picardi thinks of religion as a force. They end with a game: Picardi puts GP to the test with Pride Month trivia questions.
3019 Wilshire Blvd, Suite 206  |  Santa Monica  |  CA  |  90403
Goop Inc. 2022 All rights reserved.
Company No.
5406040