the best veggie sides for BBQ season
Plus, Gwyneth and Ali Wentworth make us laugh.
This email was sent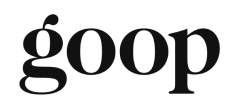 G. LABEL X FROMENTAL: ALONG THE WILD PATH

When reimagining the English textile brand's signature chinoiserie style for this collab, we chose meaningful motifs: hummingbirds to represent joy; butterflies, which are a symbol of hope and transformation; and doves to signify peace. And because we love a subversive twist, you'll also find magic mushrooms and cannabis plants sprouting from the forest floor. Is the result a little trippy? Sure. Traditional? Hardly. A true meeting of the minds? We like to think so.
 

HOW TO DRY BRUSH YOUR SKIN—AND WHY IT'S SO POTENT

The benefits of dry brushing—it wakes your senses up like no other practice, feels absolutely incredible, and leaves you with silky-smooth skin and an allover body glow—are noticeable instantly and over time.
 

CONNECTING TRANS YOUTH WITH GENDER-AFFIRMING MEDICAL CARE

Medical care for trans and nonbinary people isn't rocket science, says Izzy Lowell, MD, who specializes in transgender medicine. But a dearth of accessible, gender-affirming health care threatens their long-term well-being.
 

4 VEGETABLE SIDES FOR A BBQ

Sides are the unsung heroes of the BBQ spread. Bright, refreshing, and veggie-packed, they balance out the richness of those ribs, burgers, and sausages. Here's our take on four beloved classics: a chickpea salad with herbs, sweet roasted peppers, and bright red wine vinegar; mustardy potato salad with crisp green beans; crunchy sesame slaw; and grilled corn salad with lots of lime and cilantro.
 

WHEN WE LISTEN TO OUR ANXIETY

Gwyneth catches up with her good friend, actress and author Ali Wentworth. They chat about their daughters (they're best friends), and GP asks Wentworth for advice on how to cope when Apple leaves for college. Wentworth shares what has fueled her marriage over the years, and she explains how humor became her currency growing up and how she uses it during dark times.
3019 Wilshire Blvd, Suite 206  |  Santa Monica  |  CA  |  90403
Goop Inc. 2022 All rights reserved.
Company No.
5406040