the Thursday newsletter
How to make up after a fight, brew a better cup of tea, and wear stripes.
This email was sent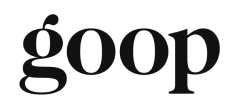 Therapist Terry Real is a master teacher in how to build healthy communication with your partner. He's also a self-described fighter. He and his wife are just really good at making up. He walked us through how to talk it out.
The six most common types (did you know there are dozens?), a brief history of the marinière, and three easy ways to wear stripes this summer.
3019 Wilshire Blvd, Suite 206  |  Santa Monica  |  CA  |  90403
Goop Inc. 2022 All rights reserved.
Company No.
5406040