The Drawstring Chino Short - Best Value Now | Floral Shirts | Silk Hemp Socks | $79 Italy Linen 5 Pocket | IndigoXPurple
Email sent: May 4, 2021 10:54am
The best of both worlds - classic chino short styling with a drawstring waist for pure comfort and usability. It's an all-American launch from sewing to fabric at the best value we've ever offered for a chino short. This is the new Drawstring Chino Short.
Chino shorts are a must have, that's why they've become one of our most popular warm weather styles over the last few years. Now we're taking the style one step further to make them even easier to love. The big change - a drawstring elastic waistband. Sounds simple, but the transformation in wearability and comfort is huge. We start in classic form by making one more refinement in fit to absolutely dial it in while retaining all the classic details from the slash front pockets, single back pocket with button closure and clean lines. These are the elements make the style so versatile - casual or slightly more formal depending on what you pair it with. The waistband gets finished with a thick inset elastic, plush cotton drawstring, and beautiful herringbone liner. Instant on, instant fit. They stay put with no thought and the movement in the waist means pure comfort whether you're sitting, walking or standing. Simple, classic style made even better.
For launch, we're using a timeless stretch twill made right in the USA. It's the sweetspot - 8.5oz weight, 3x1 construction for sturdiness, classic colors and just a touch of stretch for a surprising boost in comfort. It's the ideal way to introduce you to this new chino short. 
We're really excited to do all this in the USA at a value that's equally refreshing. Enjoy these.
Charcoal
Navy
Olive Drab
Khaki
Bone
Fun florals with class. We all need at least one and today we have fresh examples from Japan. Enjoy the summer. 
When done right, a great floral shirt brings colors and pattern together into a fun whole. When you can find versions that add in a degree of control that's truly the sweet spot. To us, that's what this version does so well. We start with our cleanly tailored and well-fitted short sleeve button down shape. We've dialed it in so it retains a level of comfort while still being clean. The fabric starts with a large scale floral pattern that features a nice balance of vines, leaves and big flowers. Color is used perfectly to add a level of class and we hit on new combinations for this year. The office favorite Army Mustard is a totally new combination bringing olive green together with deep orange. Classics dialed up include a great tonal blue with sky contrast and lively red on white. There's no bad choice and we recommend all three to get your warm weather shirting collection started right. 
Army Mustard Floral
Blue Sky Floral
Red White Floral
 feet in the form of a rare blend of silk and hemp transformed into a stellar pair of socks. These are the Japan Silk Hemp Socks. As always, offered at a value that's hard to pass up.
Our socks are woven by vintage Japanese machines that were built in the 1970's. While these are not the most efficient machines, they are uniquely capable of producing thick and durable socks that you just cannot find anywhere else. The cuffs are designed to fit snugly and stay in place. The heel and toe are reinforced to ensure comfort and durability.
Each sock in this pack is crafted from some of the most luxurious yarn we've found. Huge amounts of silk and hemp form the foundation of each pair. Silk lends comfort, hemp lends durability and breathability. A little cotton and poly add additional durability. It's a truly rare combination that creates a plush and comfortable sock. Beautiful color combinations from tonal blue to bright orange to grey to natural are each enhanced by a heather effect in the yarn. This is true vintage quality with highest level ingredients.
Japan Silk Hemp Sock 4 Pack
Italian style with linen comfort offered at one of the best values we've ever offered on a style like this. Meet the Italy Linen 5 Pocket. 
As the weather starts to heat up, we like to have styles that round out our pant collection. Linen plays a key role, and this is a completely fresh take like only Italy can do. It starts with a high 40% linen composition. You instantly feel that flowing hand and breezy drape. That's the big linen working its breathability and comfort magic. Cotton rounds out the yarn, giving it easier care and a bit of sturdiness. It's a great blend. This great composition is together in classic color-on-white denim form, but in this case the warp is a lively concrete grey. You can see nice tight slubs running throughout the surface lending this style subtle character. A sweet spot 9 ounce weight makes it usable all year. Dress it up with an oxford or go rugged with a jet black t-shirt. At this value, it's tough to beat. 
Italy Linen 5 Pocket
This style is so easy to love that you'll find yourself reaching for it daily. The value makes it even better.
If you don't already own one of our Henleys, it's one of those seemingly simple garments that's actually hard to get right. With roots as a functional piece used for athletics, clean lines define this garment and we've worked hard to stay true to that aesthetic. The fit is moderate and comfortable but by no means loose. Thick rib collar and cuffs respect the history of the garment. It's all made in the USA. We use lusciously soft five ounce cotton jersey knitted in California, and we garment wash each henley to enhance the feel even further.
3 Pack
Oxblood
|
Army
|
Concrete
A rare Japanese selvedge Sashiko fabric paired with our rugged workshirt makes for a truly special garment. Meet the Sashiko Selvedge Workshirt.  
We recently ran our first Sashiko style in a 5 pocket. We knew we were just scratching the surface on this historically significant technique. Now we have another absolute stunner. The inspiration for this style is the traditional Sashiko sewing style. Used as a functional sewing technique for repairs and for decorative effects, Sashiko is respected for its handmade style, prominent stitching and patterning effects. This version starts with a saturated and vibrant medium indigo blue base. A Dobby weave is deployed to recreated the prominent Sashiko stitch style. It takes the form of a patch work of small cross over stitches and grids in tonal dark indigo. All this detailed lends tremendous texture and depth to the fabric that you rarely find. The complexity comes together wonderfully. Even more special is the selvedge composition. This will be one of your most unique workshirts.
Selvedge Sashiko Workshirt
A perfectly fitted, classic t-shirt treated to the finest cotton and sewn right in the USA. This is the Gustin Pima T-Shirt. As you'd expect, we're able to offer a value you'll be hard pressed to find anywhere else.
At our core, we love talking classic garments and treating them to the best materials we can find. Something as useful and iconic as a t-shirt deserves the same treatment and respect as great denim. Pima cotton is the best. It is literally a rare breed, making up only about 10% of the cotton grown. As an extra-long staple variety, Pima has a rare combination of luxurious feel and enhanced durability over standard cotton. This is exactly what makes it such a great fabric for t-shirts. You can feel a smooth silkiness to these t-shirts right away. Wearing them is a pleasure and it's nice knowing the quality of cotton means they'll last for years and just get better in time. A classic dialed up and offered at a true value.
Pima T-Shirt 3 Pack
 (Black, White, Sky)
Pima T-Shirt 2 Pack - Black
Pima T-Shirt 2 Pack - White
Pima T-Shirt 2 Pack - Sky
Today is a good day for anyone who loves indigo dye in all the forms it can take. French Terry is a one of the best indigo recipients we've found after denim. These iconic styles show you why. From the classic athletic shapes to the spectrum of indigo shades, these are everyday garments that feel and look great. Each is carefully constructed in the USA and served up at a serious value.
Sweatshirt 3 Pack
Sweatshirt -
Dark
,
Vintage
,
Sun Fade
Sweatpants -
Dark
,
Vintage

Other emails from Gustin
May 11, 2021

Our Gift To You - Best Workshirt Value Ever | Linen Chambray Shorts | Cone Vintage Jacquard 5 Pocket | $66 Greensboro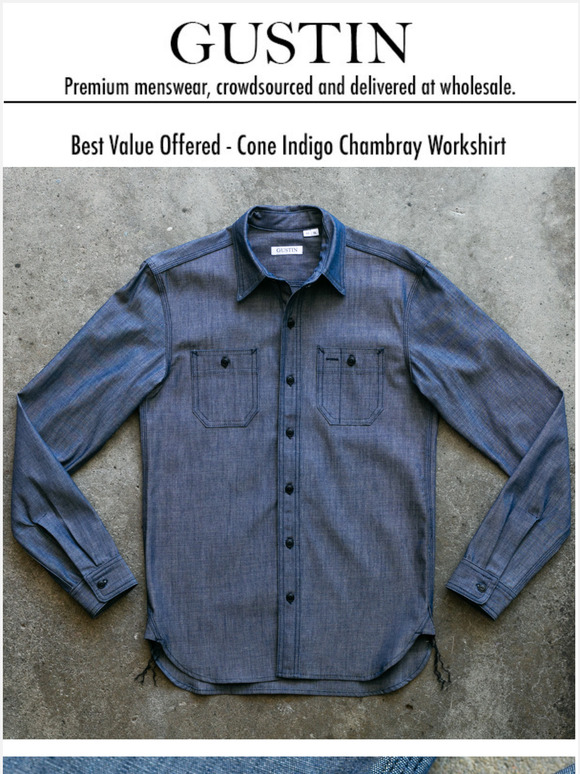 May 10, 2021

Linen Chambray Chino Short Values | Heavyweight Tee Earth Pack | Original Stretch 5 Pockets | Pinstripe Herringbones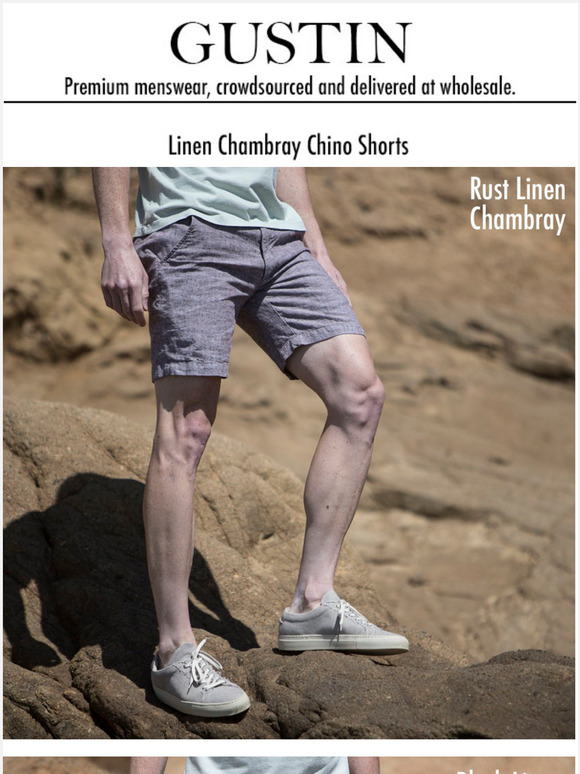 May 9, 2021

New Heavyweight T-Shirt Earth Pack | Pinstripe Herringbone Style | Ultrasoft Heather Polos | Hemp 100 2 Ways | Drawstring Chino Shorts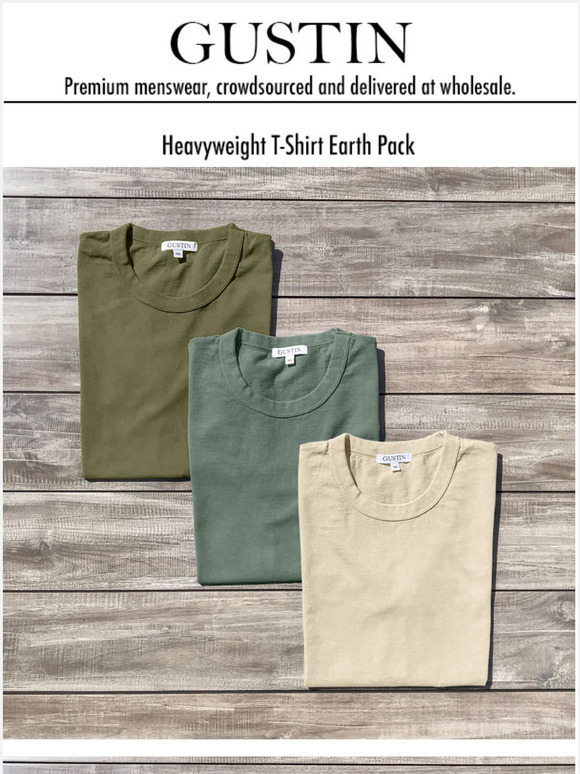 May 8, 2021

Pinstripe Herringbone Style | Ultrasoft Heather Polos | Hemp 100 2 Ways | New Florals | Japan Flame | Drawstring Chino Shorts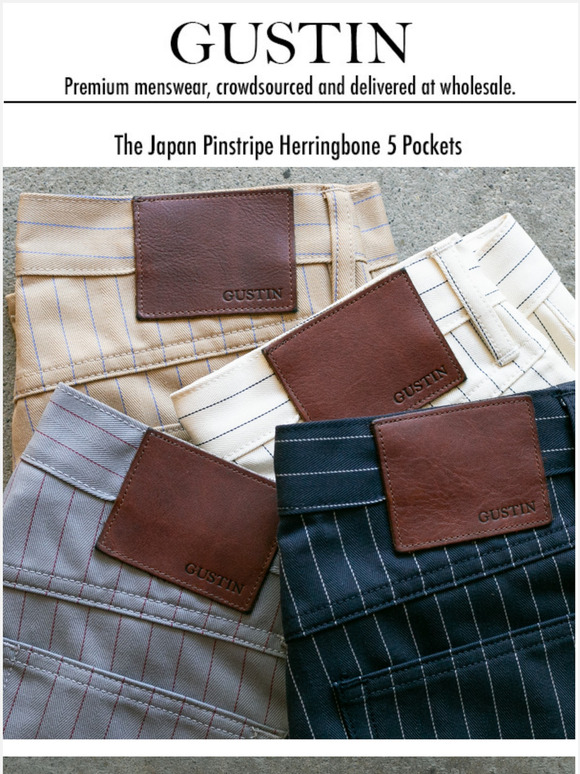 May 7, 2021

Classic Heather Polos | Hemp 100 2 Ways | Baseballs & Waffles | New Florals | Drawstring Chino Shorts | Silk Hemp Socks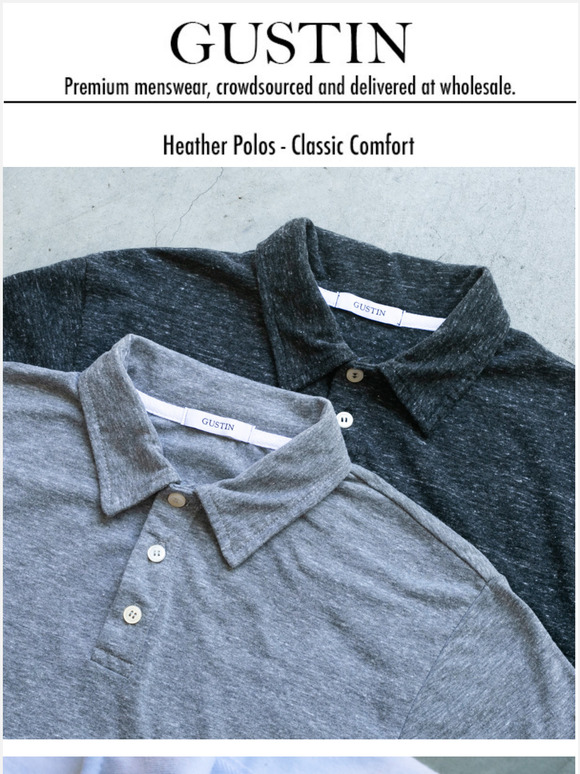 May 6, 2021

100% Pure Hemp 2 Ways | New Florals Added Today | Japan Flame | Drawstring Chino Shorts | | Silk Hemp Socks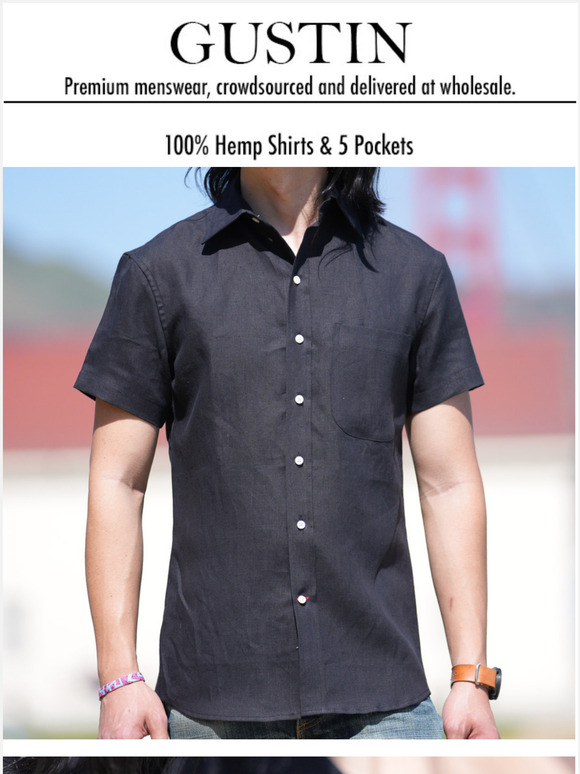 Shop without the noise.
Get our free newsletter of hand-picked sales you need to hear about from the web's best brands.