'A line that cannot be crossed'
Email sent: May 4, 2021 8:31am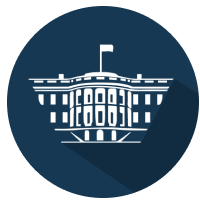 Written by Andrew Naughtie | May 04, 2021
Broken promises and watered-down plans are part and parcel of any US presidency, particularly in an era of two-year campaigns that force candidates to take bold positions if they want to stand out. But even in the face of that grim reality, Joe Biden's initial refusal to lift the cap on the number of refugees the US accepts each year was exceptionally galling.
He has now more than quadrupled the Trump-era limit and will admit 62,500 refugees per year – but only after weeks of consternation among his supporters, to say nothing of outrage to his left. He insists he remains committed to admitting 125,000 "fully vetted" refugees in the first fiscal year of his presidency, though he warns that the goal "will still be hard to hit" – cold comfort for those who took his pledge to "heal the soul of America" to heart.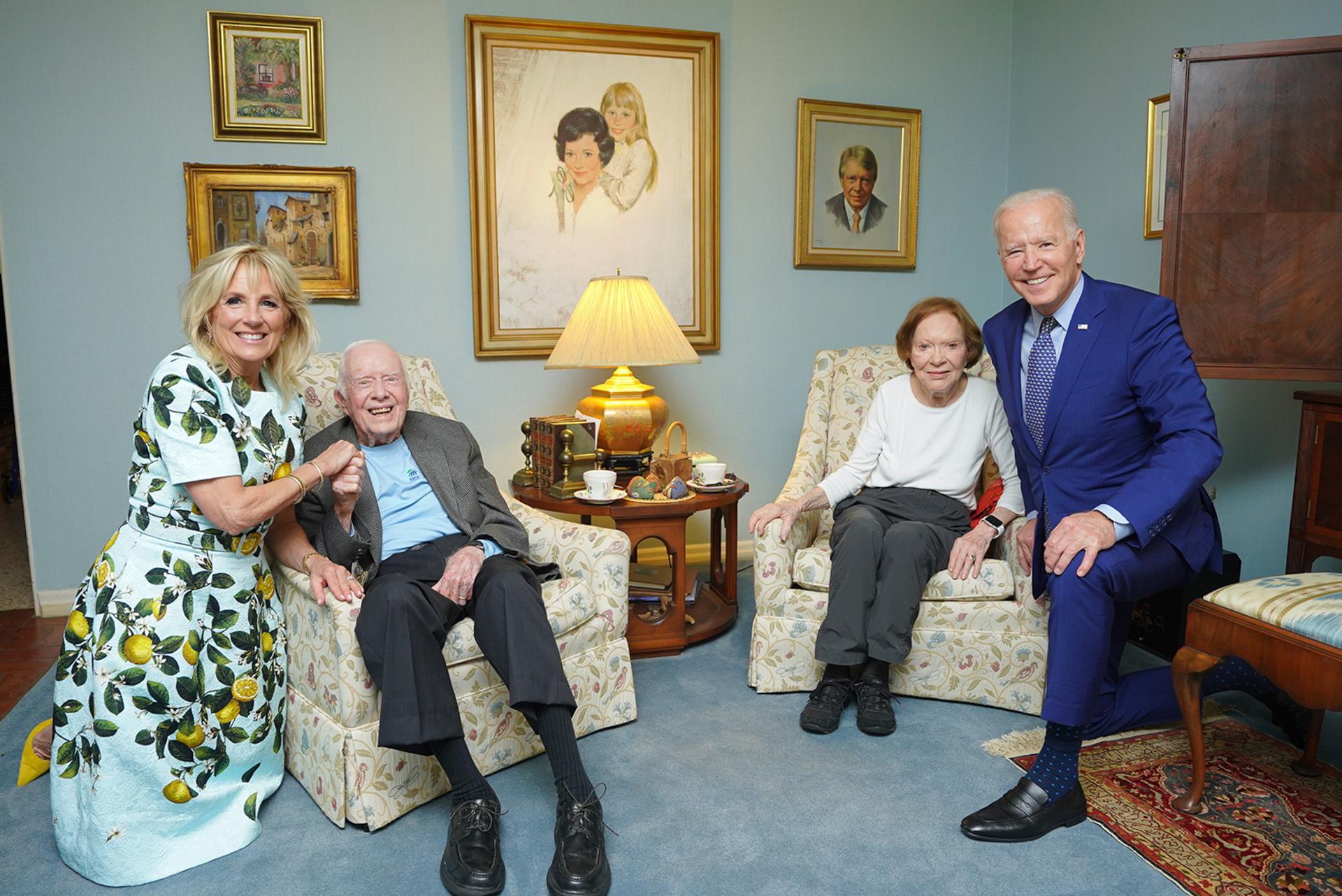 Jill and Joe Biden meet former president Jimmy Carter and former first lady Rosalynn Carter (The Carter Center)
Clémence Michallon has this analysis:
Over the weekend, Mitt Romney tried to tell a crowd of Utah Republicans just how much he dislikes the last Republican president. "You know me as a person who says what he thinks," he said, in an apparent – and, it soon turned out, ill-fated – attempt to gather some of the sympathy society reserves to straight talkers. "And I don't hide the fact that I wasn't a fan of our last president's character issues. And I'm also no fan–"
Here, Romney paused as the chorus of jeers escalated. "Aren't you embarrassed?" he asked, somewhat bewildered, before attempting to pick up where he left off with a safer jab at Biden: "And I'm also no fan of the president's..."
Derek Brown, the state party chair, stepped in at this point to ask the crowd to "show respect". His admonishment prompted cheers and claps, and Romney was able to finish his speech, but from a PR perspective, it was too late. Now, it's difficult to recall much at all from Romney's address other than the loud boos, his awkward silences in response, and his pained smiles.
It's not entirely surprising for Romney to be walking a tightrope within his own party. He was the only Republican to vote twice to impeach Donald Trump, even as most GOP figures let the former president get away with – well, you know, just about anything. And Romney's relationship with Trump has run a wide gamut: prior to the 2016 election, Romney (himself the 2012 Republican presidential nominee) readily condemned the then-presidential candidate as a "phony" and a "fraud". Eight months later, he was sitting down with Trump for dinner at Jean Georges, an upscale restaurant located inside Trump's International Hotel overlooking Central Park.
That dinner was immortalised in a photo that can only be described as Faustian. It's one of those images that reveals its full meaning in hindsight. Everything in its composition is remarkably foreboding: the light hitting Trump's face from below, "spooky campfire story" style; Trump's own cat-got-the-cream grin (except the cream is the most powerful political office in the world); Romney's supremely uncomfortable posture, and a tight smile that seems to confirm that his sense of self-respect is, in fact, the main item on the menu.
After the meal, Romney assured reporters he felt "increasing hope" about Trump's potential as a president. Those hopes, of course, have been dashed. Romney, either out of personal principle or political strategy or a mix of both, rescinded his brief moment of loyalty to Trump, and now he's getting booed for it.
To be clear, I have no interest in defending Romney against the scornful crowd. For those reasons, the video of Romney getting booed is complicated to unpack: It feels like someone getting his comeuppance, but from the wrong people, and for the wrong reasons. Don't boo the man for saying (possibly too late) that he disagrees with Trump! Boo him because he legitimized Trump in the first place. Boo him for refusing to accept a woman's bodily autonomy. Or even better, and in the words of one President Barack Obama: "Don't boo. Vote."
Schadenfreude aside, the clip of Romney's address is interesting to watch because it encapsulates so many of the opposing forces currently at play in the GOP. Joe Biden has been in the White House for almost four months, and the Republican Party has yet to find a clear sense of how it wants to handle this post-Trump phase. It doesn't know what it wants to be, and certainly not what it wants to stand for. And so it puts speakers such as Mitt Romney, the ultimate never-Trumper Republican, in front of crowds who readily and loudly condemn him.
It's tempting to ask: What did you all think was going to happen? No, really, what was the plan? I'm no leader, but even I can intuit that if you spend years pushing someone whom most people within your ranks can barely bring themselves to stomach, it doesn't bode well for the future.
Watching that video of Romney, and considering the overall state of the GOP right now, is like watching someone grunt their way through an utterly predictable hungover. Listen, you might want to say, I know headaches suck, but no one forced you to do all these shots. Now get yourself some electrolytes and a greasy breakfast sandwich, go sit in the dark, and think about what you've done.

This is an abridged version of a longer piece. Read the full article here.
SELF-DEFENSE: The US government is under increasing pressure to waive intellectual property rights that grant pharmaceutical companies monopoly rights over the production of their Covid-19 vaccines. With lower-income countries struggling to obtain or produce enough vaccine doses to inoculate even small proportions of their populations as local outbreaks accelerate, the WHO General Council will discuss a waiver at a meeting later this week. As the row gathers momentum, it has emerged that the US has already thrown away more than 180,000 doses of the various vaccines being delivered across the country – most of them discarded by pharmacies.
THE OUTCAST: Wyoming Congresswoman Liz Cheney, who has become one of the Republican Party's most unsparing Trump critics, has once again railed against him and his allies in public – this time insisting on Twitter that "The 2020 presidential election was not stolen. Anyone who claims it was is spreading THE BIG LIE, turning their back on the rule of law, and poisoning our democratic system." Additional comments reported by CNN from an off-the-record meeting will further fuel Trumpist Republicans' hunger to get rid of her for good: in a demonstration of the atmosphere on the party's far right, extremist representative Marjorie Taylor Greene tweeted at another anti-Trump colleague that "You sold your soul & sold out the GOP [because] you are clueless about what Republican voters think and feel, which is #AmericaFirst and loyalty to Trump."
DOUBLE STANDARD: A white male Trump supporter who pretended to be his dead mother in order to cast an extra vote for Mr Trump in November has been sentenced to five years' probation – this as a Black woman faces five years in jail for voting while already on probation, which is outlawed in her home state of Texas. She maintains she was unaware that her probation made her ineligible to cast a vote. While Black Americans make up only 12 per cent of the population, they represent 40 per cent of all those who have had their right to vote removed or restricted.
GIRD YOUR LOINS: Donald Trump has hired a lawyer to defend him against legal action brought by two Capitol Police officers who claim he "inflamed, encouraged, incited, directed, and aided and abetted" the "insurrectionist mob" who stormed the Capitol on 6 January. One of the two officers ended up fleeing the House Crypt when it was overrun and found himself locked in a committee room with members of Congress who stubbornly remained unmasked for hours; the other says he was "crushed against the doors on the east side trying to hold the insurrectionists back. Over and over, he tried to tell the insurrectionists that the doors opened outward and that pressing him into the door would do no good". Mr Trump is also facing at least two other lawsuits over the insurrection, including one that names his son, Donald Trump Jr, as a co-conspirator.
AIR WAR: Whatever conciliatory language might be coming from the White House, duelling TV ads from groups across the partisan divide indicate that the mutual loathing of the last several years is alive and well. The anti-Trump Lincoln Project, for one, is still going after the ex-president, launching an ad entitled "Swamp Thing" that addresses him personally and muses that "Maybe what McConnell and the rest of Washington is saying is true: that Trump is done." Fox News, meanwhile, has booked airtime during Chris Cuomo's CNN show to run ads accusing the host and his scandal-wracked brother, New York Governor Andrew Cuomo, of plunging "from dynasty to disgrace".

STOPPED IN HIS TRACKS: An armed intruder who tried to drive into CIA headquarters has been shot after an hours-long standoff with FBI agents. The man, who is said to be suffering from unspecified mental health issues, claimed to have a bomb in his car, though this has not yet been confirmed by authorities; no agents from the FBI or CIA are thought to have been injured.
"We can't rebuild the party or the convservative movement on a foundation of lies. We can't embrace the notion that the election is stolen. It's a poison in the bloodstream of our democracy... We can't whitewash what happened on 6 January or perpetuate Trump's big lie. It is a threat to democracy. What he did on 6 January is a line that cannot be crossed" – Liz Cheney on the state of the Republican Party
"How do you spot, detect and assess online extremists when there are so many people talking about a second civil war or a race war, talking about killing someone?… Generally, the younger they are, the more likely they are to turn to violence. The older militia groups, while significant and worrisome, they generally like to show up, they like to protest, like to be in their gear. And 6 January was kind of an anomaly, it's property destruction and protest. But there are some violent splinters that have already come off these groups" – MSNBC contributor Clint Watts on developments in the world of right-wing and anti-government extremism, where law enforcement are following "hundreds of thousands" of leads
If you can spare a minute we'd love your feedback on our newsletters.
Join the conversation or follow us
Please do not reply directly to this email.
You are currently registered to receive The Independent's Inside Washington email.

Add us to your safe list of senders
.
If you do not want to receive The Independent's Inside Washington email, please unsubscribe.

If you no longer wish to receive any newsletters or promotional emails from
The Independent, you can unsubscribe here.
This email was sent by Independent Digital News and Media Ltd,
2 Derry Street, London W8 5HF.
Registered in England and Wales with company number 07320345.

Read our privacy notice and cookie policy.
Other emails from Have A Nice Day
May 14, 2021

The great electric vehicle parking conundrum | The Queen on climate | Winds of change off Cape Cod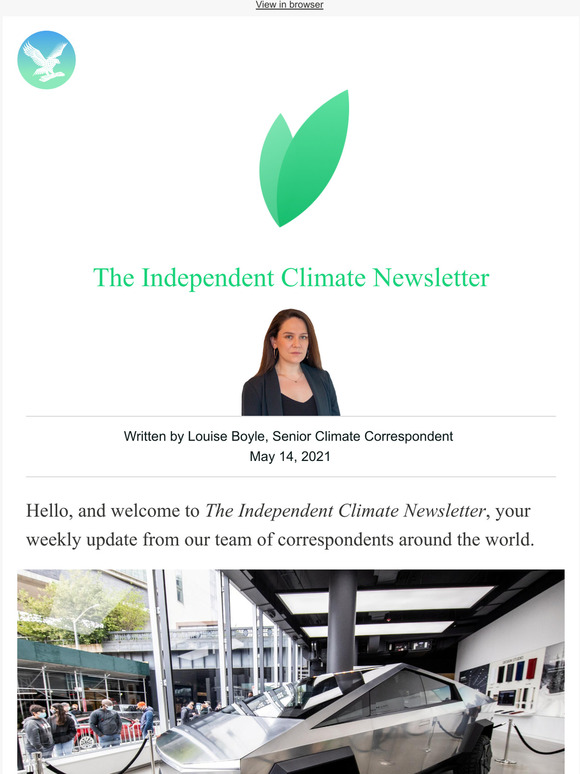 Shop without the noise.
Get our free newsletter of hand-picked sales you need to hear about from the web's best brands.