Hug with a heavy dose of caution says Boris Johnson
Email sent: May 17, 2021 3:01am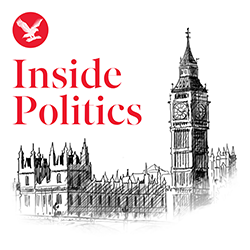 Hello there, I'm Adam Forrest, and welcome to The Independent's Inside Politics newsletter.
Hugs! Holidays! Movies! Mixing! Pints inside! A great swathe of personal freedoms returns today – but not everyone is keen to get up close and personal with others. Some British Airways staff haven't been showing up for flights to India over fears they'll catch the Covid variant. Matt Hancock wants us to be "careful" when getting close with family. But some think Hancock has been getting much too close to Tory friends looking for government contacts. Has Boris Johnson been too close to Tory donors? His MPs don't seem to care. Backbenchers feel so close to the boss they're threatening to ignore any suspension he might get in the Commons.
PS – 'The View from Westminster' newsletter from John Rentoul offers his unique end-of-play analysis at 6pm each weekday. Sign up here.
Political editor Andrew Woodcock on what to look out for today:
David Frost is set for a grilling at the European scrutiny committee at 2.30pm. The Brexit minister will be asked about his efforts to make the EU give way on the protocol. Elsewhere, polling guru Prof John Curtice assesses the spring elections gone by at a UK in a Changing Europe event at 12 noon.
What to watch out for
- Business secretary Kwasi Kwarteng on GMB at 8.30am
- Labour's London mayor Sadiq Khan on Sky News at 7.20am
MIXED BLESSINGS: Boris Johnson has urged us to enjoy our new freedoms with "a heavy dose of caution," as mixing indoors and inside visits to pubs and restaurants begin again. The PM won't decide whether to lift all restrictions next month until 14 June. Matt Hancock had good news and bad news ahead of today's big reopening. The health secretary said the government has "increasing confidence" vaccines are effective against the Indian variant – citing new data from Oxford University. But he also said the Indian variant could "spread like wildfire" among unvaccinated groups. Health officials in Bolton have ignored the government by vaccinating as many people as possible – including some as young as 17 – as they try to stop their own wildfire and avoid a local lockdown. Will surges in the variant make people cautious enough? Hancock said we should do our hugging "carefully," while the former chief scientific advisor Prof Sir Mark Walport said it was smart to do things outside "as far as possible".

IS YOUR HOLIDAY REALLY NECESSARY? Matt Hancock caused anger and confusion in the travel industry by discouraging holidaymakers from heading to countries on the amber list – Italy, Spain, France and Greece – from today. They should not go to amber countries unless it is "absolutely necessary", said the health secretary. Tim Alderslade, chief executive of Airlines UK, said: "The regulations do not say it is illegal to travel to amber so the government should not be … intimating it is. That just leads to confusion." No 10 has been forced to defend its decision not to ban travel from India until as late as 23 April. A No 10 spokesman pointed out the ban came in "six days before this variant was put under investigation". But some 20,000 passengers from India who could, potentially, have been infected with the variant entered Britain during the delay, flight data shows. Was the trade partnership with Narendra Modi's government a factor in the delay? One Whitehall source told the Sunday Times: "It's very clear that we should have closed the border to India earlier and that Boris did not do so because he didn't want to offend Modi."
BROOK NO CRITICISM: Yet more Matt Hancock news, I'm afraid. The health secretary defended his chummy communications with ex-Tory minister Brooks Newmark – claiming it was "perfectly reasonable" for him to send on a PPE proposal to officials. The government awarded a £178m contract after Hancock's aide labelled Newark's proposal "excellent" and said the minister wanted it to be looked at "urgently", according to the Sunday Times. But Hancock told Marr he just "pinged [the offer] on". Labour has demanded an investigation into claims Priti Patel breached the ministerial code of conduct by lobbying ministers over a £20m PPE contract for a Tory donor. Labour has also called on Boris Johnson to "come clean" on the cost of his Caribbean holiday, after claims it was worth more than double the £15,000 he had declared. But Tory MPs have vowed to block any suspension from the Commons over the Mustique holiday, according to the Mail. "Which Red Wall Tory MP … would accept a sanction to suspend him from the Commons?" said one.
KING IN THE NORTH: Is Andy Burnham on manoeuvres? The mayor of Greater Manchester has claimed Labour wouldn't have lost so many seats in the northern heartlands if he was in charge of the party. He also told The Observer he was interested in running for the leadership again after the next election, so long had enough support. "I still think life would have been different if I had won," Burnham said of the 2015 leadership contest (when he lost to Jeremy Corbyn). "I think we would be stronger in taking on the government." There's more post-election doom and gloom for Keir Starmer. The Tories have increased their poll lead over Labour to 13-points, according to the latest Opinium survey. The margin is the widest recorded by the pollster since Starmer took over from Corbyn. Starmer has suffered a 30-point drop in personal approval ratings among 2019 Labour voters. Opinium's Adam Drummond said: "Labour voters begin to fear that he isn't the one to lead the party back to power."
SHAMEFUL DAY: Covid rules aside, it looks like antisemitism could dominate the news agenda today. Police have arrested four men in connection with a video which appeared to show Palestinian supporters shouting antisemitic abuse from a convoy of cars tearing around north London. Footage showed the vehicles' occupants shouting about killing and raping Jews. Boris Johnson condemned the "shameful racism", while Keir Starmer called the incident "utterly disgusting". The Labour leader added: "There must be consequences." London mayor Sadiq Khan said people in the capital could expect "high visibility police patrols" in the days ahead. It comes as Labour officials share their fears that George Galloway could try to exploit the violence in Gaza at the upcoming by-election in Batley and Spen. They don't believe the former Respect MP could actually win – but might split the vote enough to hand the Tories victory. "Even if he only wins 2,000 votes, they're coming straight off our pile," one Labour official in West Yorkshire told The Times.
MARCHING SEASON DEADLINE? Brexit minister David Frost has suggested the UK could simply ditch key elements of the Brexit agreement unless the EU gives way on the protocol. Taking the moral high ground, Frost claimed Brussels must "protect the peace" in Northern Ireland. EU Commission negotiators have offered to drop checks on food products if the UK aligns itself with EU safety rules. But Lord Frost thinks this would tie the UK's hands in trade negotiations with countries like the US. One of Boris Johnson's allies told The Telegraph the protocol is "dead in the water", while government officials are said to have given the EU two months to accept greater flexibility over arrangements. One source told the paper: "The marching season is a date whereby you would want to have a material improvement." Meanwhile, Frost has been warned that the finance sector risks becoming a victim of wrangling over fish. In a letter to the minister, the Lib Dems' Treasury spokesperson Christine Jardine warned that thousands of jobs are at threat if an agreement on "equivalence" is held up by the row over Jersey waters.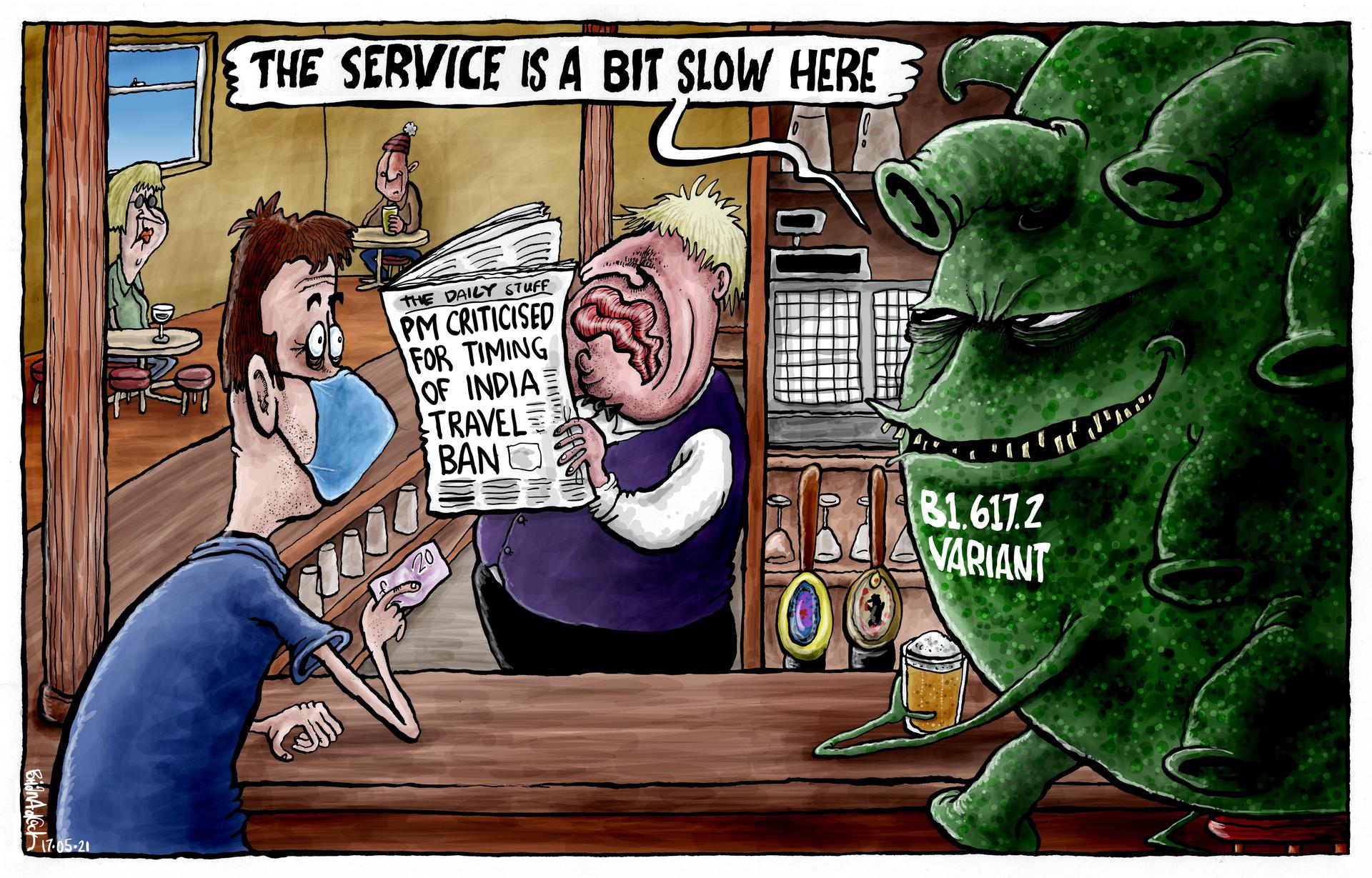 See all of The Independent's daily cartoons here
"If the Labour party, having not thought me right twice, suddenly thinks 'Well actually you probably are now' …I will put myself forward to lead the Labour party."
Andy Burnham on a theoretical bid to lead Labour.
"Matt Hancock says concerns that UK failed to close the border with India quickly enough are 'Captain Hindsight questions'. Not the case. Labour, scientists and journalists were all asking those questions at the time."
Pippa Crerar on Hancock attacking Starmer…
"I do wish Matt Hancock would stop taking advice from Captain Hindsight and realise that General Foresight has been there all along. It's very difficult to 'follow the science' if you persist in ignoring it."
…and Prof Alice Roberts says it was worth listening to General Foresight
The Independent has a 100% NewsGuard trust rating

If you can spare a minute we'd love your feedback on our newsletters
Join the conversation or follow us
Please do not reply directly to this email.
You are currently registered to receive The Independent's Inside Politics email.

Add us to your safe list of senders.
If you do not want to receive The Independent's Inside Politics email, please unsubscribe.

If you no longer wish to receive any newsletters or promotional emails from
The Independent, you can unsubscribe here.
This email was sent by Independent Digital News and Media Ltd,
2 Derry Street, London W8 5HF.
Registered in England and Wales with company number 07320345.

Read our privacy notice and cookie policy.
Other emails from Have A Nice Day
Shop without the noise.
Get our free newsletter of hand-picked sales you need to hear about from the web's best brands.