A Technique to Boost Health and Happiness
Email sent: Feb 21, 2021 7:02am

Dear Friend,

Several years ago, I met Nick Ortner—an expert in Emotional Freedom Technique, also known as EFT or Tapping. Since then, he's become a very good friend of mine who I usually talk to a couple of times per week.

Nick has also published several best-selling books with Hay House, including The Tapping Solution: A Revolutionary System for Stress-Free Living.

I have to admit, when Cheryl Richardson first introduced me to Tapping about fifteen years ago, I was a complete skeptic and wouldn't even give it a try. But years later, I became a convert—using it (with Cheryl's help) to completely wipe out seasickness on a rough cruise out of Australia with Cheryl and Dr. Wayne W. Dyer.

I couldn't believe it! After Tapping with Cheryl once before we departed and again as a tune-up during the cruise, I didn't have even the slightest feeling of being sick. Normally, I would have been in serious trouble being on a ship with 10-foot swells rocking us every which way.

Later, I saw Wayne use Tapping to eliminate severe pain from his body while working with Nick Ortner in Australia. Louise Hay also used it and promoted its benefits over the years.

By physically tapping meridian points on your body, Tapping really can help you to improve so many different things in your life.

This simple act helps to rewire your brain and bring both your body and mind back into balance. It's the perfect harmony of traditional Western medicine and ancient Eastern healing techniques.

It's been proven—both through scientific studies and anecdotal reports—to help people eliminate stress, overcome fears, eliminate pain, lose weight, and alleviate PTSD or trauma, just to name a few of its benefits.

A couple years ago, Nick was featured on The Today Show in an episode that featured a woman who'd suffered back pain for years.

This woman had tried everything—acupuncture, chiropractic treatments, even a blood transfusion to stop the pain. It wasn't until she found Nick's book, The Tapping Solution, and tried his techniques that her pain went away completely.

Thirteen years ago, Nick started an annual free event called the Tapping World Summit. Today, it's helped over two million people apply Tapping in their own lives.

This year's Tapping World Summit starts tomorrow, February 22, and you can sign up now for free.

The summit will last 10 days and explore many of the ways you can use Tapping to improve your life—such as for weight loss, pain relief, emotional healing, improving self-esteem, or helping you get "unstuck" (whether that's from stagnations in thought processes or your physical body).

This incredible system will help you clear your energy, heal your body, and attract wealth and abundance into your life.

Some of the featured speakers at this year's event include these Hay House authors:
Nick Ortner
Brendon Burchard
Dawson Church, Ph.D.
Jim Kwik
Dr. Peta Stapleton
Jessica Ortner
Iyanla Vanzant
Cheryl Richardson
Kris Carr
Margaret Lynch Raniere
Abiola Abrams
If you haven't attended the Tapping World Summit before, I hope you'll give it a try this year.

If you've attended in the past, I hope you're excited to tune in this year—because Nick and the event team have (once again) put a lot of work into creating a new and improved experience this year for returning attendees just like you.
You have nothing to lose—this online event is FREE to attend. Sign up today, so you can start watching the Tapping World Summit tomorrow.

Wishing You the Best,
Reid Tracy
CEO, Hay House
| | |
| --- | --- |
| | FREE Webinar: Connecting Neuroscience and Your Ability to Heal |
Join tomorrow's LIVE webinar with Dr. Jill Bolte Taylor—a Harvard-trained neuroanatomist, New York Times best-selling author, and one of the most popular TED Talk speakers of all time.

In 1996, Dr. Jill suffered a massive stroke and spent the next eight years recovering her ability to think, talk, and walk. However, as a brain researcher, her stroke gave her the incredible opportunity to study the brain from the inside out. And this has led her even deeper into her quest understand how you can work with your brain to promote healing.

Join her for free tomorrow to learn how to create a healthy relationship with your brain cells, so you can consciously direct your own healing ... and find peace, harmony, and connection in the process.

This fascinating conversation and LIVE Q&A with HEAL Director Kelly Noonan Gores and Dr. Jill Bolte Taylor is part of this year's Hay House HEAL Summit. You can watch FREE summit lessons now, and then come back for the LIVE webinar tomorrow, February 22, at 12:00 PM PT / 3:00 PM ET.

Other emails from Hay House, Inc.
Oct 12, 2021

Join Mel Robbins for the High 5 Habit 2-Hour LIVE Masterclass on Oct 15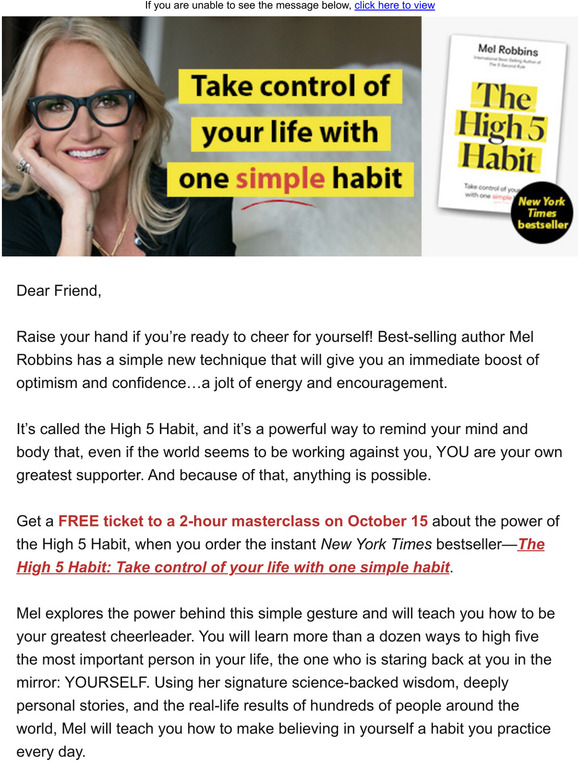 Shop without the noise.
Get our free newsletter of hand-picked sales you need to hear about from the web's best brands.