FREE High Vibe Toolkit for You
Email sent: Sep 7, 2021 7:00am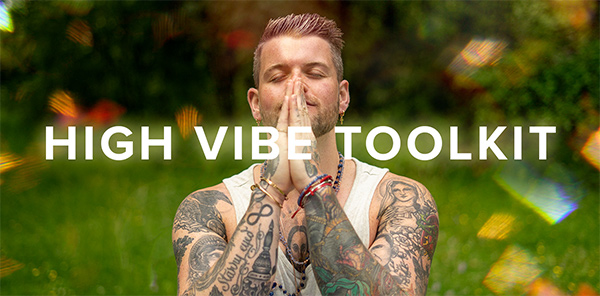 A message from Kyle about his FREE toolkit
Dear Friend,

It's your boy, Kyle Gray, here!

I wanted to reach out personally and thank you for participating in my Raise Your Vibration Challenge. I hope it inspired you to become the light that you were born to be!

As you know, raising your vibration isn't a one-time thing or a single event. It's a consistent process that we have to return to daily. It's something that requires dedication and effort, and that's why it's called "spiritual work," rather than "spiritual easy."

Raising your vibration doesn't mean that the rest of your life has to look a certain way or filled with rainbows and light and unicorns. No, it's more about creating and cultivating a practice that can hold you through the hard times, the dark times, and when you're navigating unchartered waters.

Your spiritual practice is something that you do when you're at your best and when you're at your worst. The practice is there to be this kind of first aid kit for your soul, and if you are in a challenging time, it can be there to support you, speed up your recovery, and get you feeling that high vibe again.

I've been meditating for around 18 years, but over those years I allowed my practice to slack here and there – skipping days and sometimes even weeks. When the pandemic hit back in 2020, I made a personal commitment to myself that I would make my spiritual practice and meditation non-negotiable. Something that I would do whether I was feeling up to it or not. I can vouch that it was one of the best decisions I have ever made.

I'm currently on 410 days of unbroken daily meditation!

This practice has held me through some hard times this past year. It has helped me stay elevated, strong, and resilient. But the key to the practice is to practice even if you're not up to it. I can guarantee that by the end you will feel more aligned with your soul.

That's why it's "spiritual practice," not "spiritual perfect"!

To support you in continuing this journey and building up your practice, I have created a High Vibe Toolkit to assist you on your way—and it's absolutely FREE!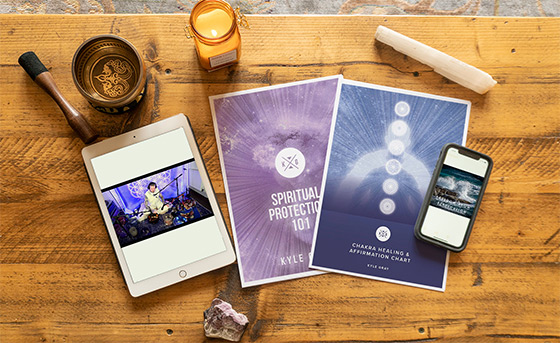 Here is what I've included in your FREE High Vibe Toolkit:

Spiritual Protection 101 Video Tutorial
To raise your vibration and open up to the support of the Universe, it's fundamental to feel safe. The method you'll learn in this video tutorial will teach you how to call in a higher protection so that you can always access divine guidance.

3 Essential Meditations
Developing a meditation practice is key to any spiritual practice. Finding the right daily meditation can be difficult, so I've included three of my favorite meditations to help you on your way. One meditation is for bedtime, one helps you call back your power, and the other is an angel meditation to connect you with Archangel Michael.

Removing Illusions Practice + Chant
I've been studying sound healing and chanting for many years. In this exclusive video, I guide you through a meditation that is dedicated to helping you remove energy blockages from your life. I share a Sanskrit chant to lead you from darkness to light, and I give you a yoga mudra (hand lock) that removes obstacles and fear-based energy from your aura.

2 Exclusive Manuals
I've created a manual explaining the Spiritual Protection 101 method step by step – with prayers and visualization techniques – plus a chakra manual to help you understand your spiritual anatomy more deeply. Inside you'll find mantras, affirmations, and intentions to help support you in aligning your energy to the highest vibration possible.

 

Remember, stay consistent and know that all the inner work you are doing is light that you are offering up to the healing of the world.

With love and high vibes,
Kyle

Other emails from Hay House, Inc.
Shop without the noise.
Get our free newsletter of hand-picked sales you need to hear about from the web's best brands.