Hurry - This Early Bird Deal Ends Tonight
Email sent: Feb 17, 2021 3:01pm

Last Chance!
Purchase Your Summit Package for 60% Off (Just $79)

Dear Friend,

We hope you're enjoying the free presentation of the HEAL Summit. Already in Series 1 and 2, there has been so much wisdom to help you awaken your inner healer and create vibrant health. And there's so much more to come!

But did you know that you can watch all 28 lessons right now, so you don't have to stick to our schedule and can revisit them again and again—whenever you need a healing boost?

How? By taking advantage of this amazing early bird discount, which ends later today!

Right now, you can purchase your HEAL Summit Package for just $79 (that's 60% off the retail price). PLUS, you'll get all three webinars and an incredible bonus package, which includes access to the entire Hay House audio library!
TODAY ONLY! These are the final hours to claim this special early bird price. Here's what you'll get for only $79:

Instant, lifetime access to 28 video lessons, three webinars, transcripts, and audios—all packed with transformational wisdom and techniques from world-renowned teachers.
Amazing bonuses to help you thrive throughout your life, including:

Radical Well-Being Online Course with Deepak Chopra, M.D. (a $199 value)
Free 2-Month Trial of the Hay House Unlimited Audio App* – so you can listen to any and every audio in the Hay House library, including audiobooks, guided meditations, interviews, lectures, and more.

Hay House's 60-day, no-questions-asked, satisfaction guarantee. If you're unhappy with your purchase for any reason, you can return it for a full refund.

There are so many transformational insights and tools still to come. You'll learn:

An important distinction between diagnosis and prognosis—with Reverend Michael Bernard Beckwith
Steps to wire your brain to new frequencies and design your own destiny—with Dr. Joe Dispenza
Four powerful plants that can switch on your immortality genes—with Alberto Villoldo, Ph.D.
How to program your mind to think positively on autopilot—with Dawson Church, Ph.D.
A 2-minute meditation to heal your body at the quantum level—with David Hamilton, Ph.D.
…and so much more.

So, whether you continue tuning in each day to watch for free or you decide you want the freedom and flexibility of owning these healing lessons forever, there's so much incredible information to enjoy.

But remember—the special 60% Off Early Bird Offer expires in just a few hours (TODAY at 3:59 PM PT).

Wishing you the best,
Reid Tracy
CEO, Hay House

P.S. The free viewing period for the Series 2 lessons also expires today at 3:59 PM PT, so if you haven't watched them, be sure to check them out here.
*The Hay House Unlimited Audio App free trial is subject to specific terms, outlined here. Hay House reserves the right to determine eligibility for free trials; specifically, existing subscribers are not eligible for the 2-month free trial bonus.

Other emails from Hay House, Inc.
Oct 12, 2021

Join Mel Robbins for the High 5 Habit 2-Hour LIVE Masterclass on Oct 15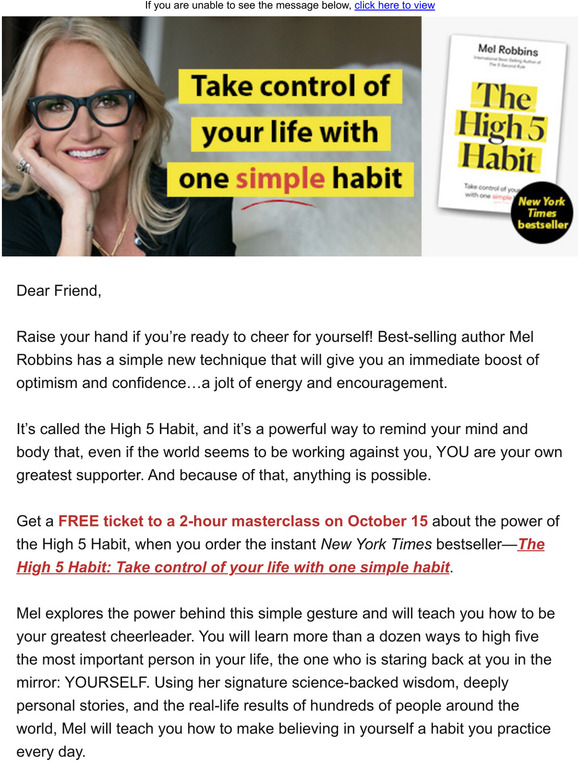 Shop without the noise.
Get our free newsletter of hand-picked sales you need to hear about from the web's best brands.