Join Mel Robbins for the High 5 Habit 2-Hour LIVE Masterclass on Oct 15
Email sent: Oct 12, 2021 7:03am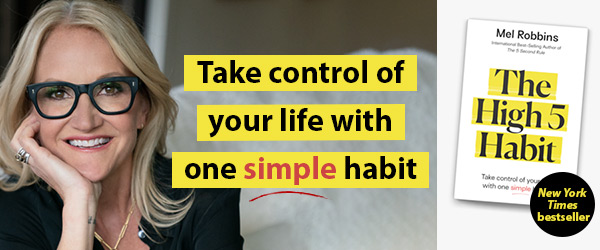 Dear Friend,

Raise your hand if you're ready to cheer for yourself! Best-selling author Mel Robbins has a simple new technique that will give you an immediate boost of optimism and confidence…a jolt of energy and encouragement.

It's called the High 5 Habit, and it's a powerful way to remind your mind and body that, even if the world seems to be working against you, YOU are your own greatest supporter. And because of that, anything is possible.

Get a FREE ticket to a 2-hour masterclass on October 15 about the power of the High 5 Habit, when you order the instant New York Times bestseller—The High 5 Habit: Take control of your life with one simple habit.

Mel explores the power behind this simple gesture and will teach you how to be your greatest cheerleader. You will learn more than a dozen ways to high five the most important person in your life, the one who is staring back at you in the mirror: YOURSELF. Using her signature science-backed wisdom, deeply personal stories, and the real-life results of hundreds of people around the world, Mel will teach you how to make believing in yourself a habit you practice every day.


Here's how Mel explains it:
"It's the old 'Put the oxygen mask on yourself first' thing.

I've heard that saying a million times, but the truth is, I never really knew how to do it in my day-to-day life. Giving myself a high five in the mirror opened my eyes: to put yourself first you need to change the destructive and unsupportive relationship with yourself.

Think about how great you are at supporting and celebrating other people. Cheering for your favorite teams, following your favorite actors, musicians, influencers… You also do a great job of supporting and uplifting the people you love in your life—your partner, children, best friends, family members, and co-workers…

But when it comes to celebrating and encouraging yourself, you not only seriously fall short—you do the opposite. You trash yourself. You look at yourself in the mirror and pick yourself apart. You tear yourself down and argue against your own goals and dreams. You bend over backward for other people and never for yourself.

It's time to give yourself the encouragement you deserve and you need.

Making it a habit to see yourself every morning and raise your hand in celebration of YOURSELF is the first step in building a new relationship with yourself. It's the most important relationship you have. It shapes every other relationship and the decisions you make. When you replace that self-doubt and self-criticism that drags you down with self-acceptance and self-love that lifts you up, your life will change.

So, how about YOU make this a habit?"
—Mel Robbins, The High Five Habit
Start TODAY by joining Mel for her 2-hour Masterclass! You will receive free access when you order The High 5 Habit, plus you'll also receive immediate FREE access to Mel's life-changing mini-course on her morning routine.

Consider these gifts Mel's way of "high fiving" you back. (And remember, everyone here at Hay House is rooting for you, too!)


Wishing You the Best,
Your Friends at Hay House


Shop without the noise.
Get our free newsletter of hand-picked sales you need to hear about from the web's best brands.