$20 off household essentials
Get set for spring cleaning 🌼
This email was sent
‌
Stock up with $20 in savings
on household essentials
‌
‌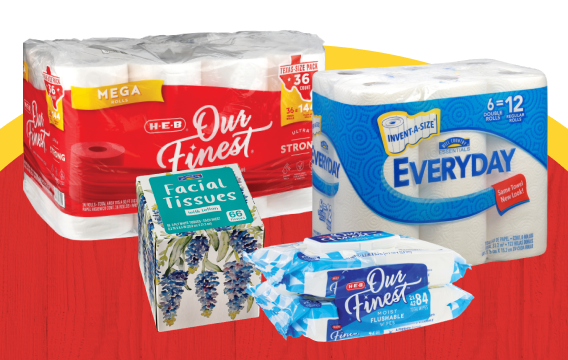 ‌
$4 off $20
H-E-B, Hill Country Fare, or Hill Country Essentials bath tissue, flushable wipes, paper towels, and facial tissue
Valid thru 5/9/23
‌
‌
‌
$5 off $30

Select paper towels, bath tissue, laundry, dish detergent or household cleaning chemicals

Valid thru 5/9/23
‌
‌
$3 off

Select Tide or Gain laundry detergent products

Exclusions apply, see coupon for details. Valid thru 5/9/23
‌
‌
$3 off

Select Downy or Gain liquid softeners or in-wash scent boosters

Exclusions apply, see coupon for details. Valid thru 5/9/23
‌
‌
$5 off $40

Heritage Ranch by H-E-B Pet food, treats, and dental sticks

Excludes 1lb. sample bags. Valid thru 5/9/23
‌
‌
Offers exclusively for -
Most offers available online and in-store. See coupon for details.
‌
‌
Bringing Texans
low prices since 1905
‌
Forgot your Digital Coupons PIN number? Text PIN to 69432 to retrieve your forgotten PIN. Digital Coupons are available in your account. Limited to your account only. Must log into select coupons. See heb.com for complete coupon policy.
‌