For The Win (1 of 3)
Email sent: Jul 25, 2021 7:02am
How to Train Like a Champion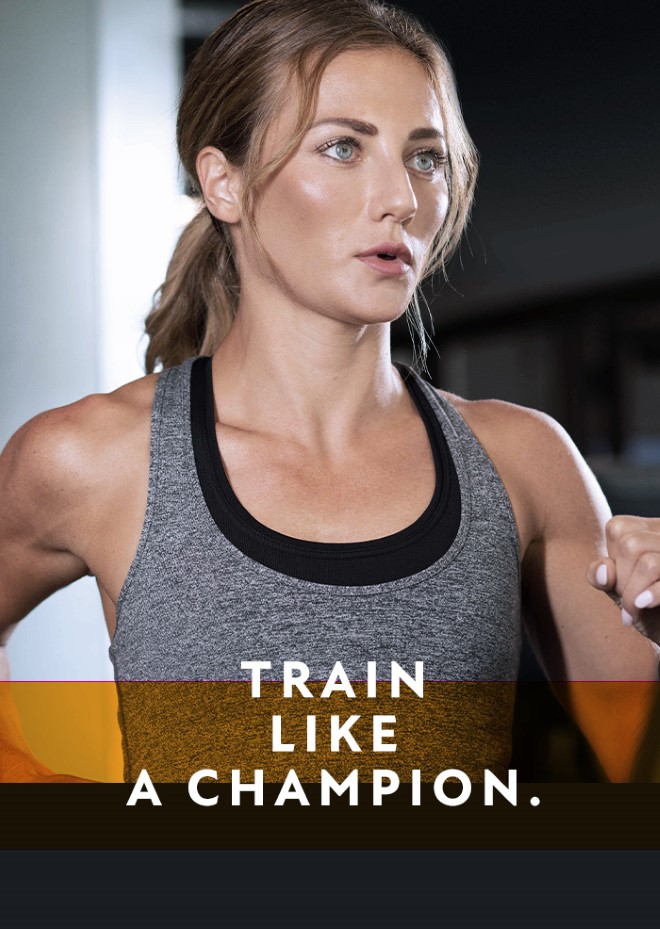 -,
Welcome to our short email series on winning. Over the next couple weeks we'll send you tips for how to train, eat and compete — all with the goal of optimizing your personal fitness.
Feeling inspired? Then stick with us for the win.
First up, how to train like a champion.
Research shows workouts comprised of short bursts of intense effort are the most effective way to train, whether your goal is weight loss, performance or longevity.
Why?
When your body reaches maximum effort, it naturally stimulates human growth hormone (HGH). Elevated levels of HGH are associated with increased lean muscle mass, decreased body fat and higher energy.
Doing HIIT efforts or sprint intervals requires you to push yourself to your limit and spend time in the anaerobic zone.
Sprint intensity is different for everybody. Know the signs so you can tell if you've crossed this "magic" threshold:
Breathless
You should be out of breath to the point where it's difficult to speak.
Muscle burn
You should feel a burning sensation as you strive to move your legs as fast as you can.
Increase in body temp
Research shows an increase in one degree is a good benchmark. An easier indicator is a lot of sweat.
These may all sound obvious, but this level of effort is hard to sustain because it's uncomfortable. Fortunately, sprints and intervals are, by definition, short. (And you should feel great after.)
How to fit HIIT into your life.
The ideal interval workout is 8 30-second sprints, each followed by a 90 second active recovery. This workout only takes about 20 minutes and shouldn't be done every day. (Make it easy with home cardio with integrated Sprint 8 programming.) Here's a sample weekly training plan that incorporates sprint workouts with recovery and strength days to round out your efforts and maximize your results.
Monday:
20 min Sprint 8 workout
15 min stretching or yoga
Tuesday:
30 min strength training
15 min walk
Wednesday:
20 min Sprint 8 workout
15 min stretching or yoga
Thursday:
30 min strength training
15 min walk
Friday:
20 min Sprint 8 workout
15 min stretching or yoga
Saturday:
30 min strength training
15 min walk
Sunday:
45 min brisk walk
People of all fitness levels have seen transformative results in just eight weeks of following the Sprint 8 program. Start training like a champion today with a Horizon treadmill. Use code WIN5 and save. 
Use code WIN5, limited time.




Offer is subject to availability and may change at any time. Offer only good on new purchases made between July 23 - August 8, 2021. Excludes all previous purchases. Cannot be combined with other offers. Offer ends Sunday, August 8, 2021 at 11:59pm CST.
Sprint 8 is designed for healthy adults at all levels of fitness. It is highly recommended that individuals get an examination by a physician before attempting any fitness training program, including Sprint 8. Individual results vary. Read the full scientific report here.
Tablet and subscriptions not included. All trademarks are property of their respective owners, are used for identification purposes only, and do not imply endorsement.
*Offer available on this purchase when charged to a Horizon Financing Account. Terms of promotion apply from date of purchase until the purchase is paid in full. Promotional offers may be based on creditworthiness. Limited time offer. Minimum purchase requirements may apply. Regular account terms apply to non-promo purchases. Standard Purchase APR: 29.99%. Click here for important information about Rates and Fees and to read the Citizens Line of Credit Agreement for full terms and conditions.  Horizon Financing account issued by Citizens Bank, N.A.
For more information about Horizon Fitness: www.horizonfitness.com
Phone 888.878.9011 | 1600 Landmark Drive | Cottage Grove, WI 53527 US
Copyright @ 2021 Horizon Fitness. All rights reserved.

Other emails from horizonfitness.com
Shop without the noise.
Get our free newsletter of hand-picked sales you need to hear about from the web's best brands.