Controlling Hunger and New Tea is Ready to Go
Email sent: Jun 14, 2020 7:18am

Hi everyone,
First, I want to say thanks to everyone - you all have been so supportive and been giving me lots of great feedback on the tea and everything else. I feel like we're a small community in a journey together, all trying to reach a goal whether its fasting, losing weight, creating better eating habits, etc. When I start going off the rails on eating, I think about how there are a lot of others/you guys making an effort and I get back on track....and then I make another cup of tea.
5 Hungers to Control Appetite
I listed to a podcast interview with Stephen Simpson (the Academic Director of the Charles Perkins Centre and Professor in the School of Life and Environmental Sciences at the University of Sydney in Australia) He wrote a book called Eat Like the Animals, where he talks about his research over a few decades has lead them to believe that there are 5 Natural Hungers that people have:
PROTEIN - FATS - CARBOHYDRATES - CALCIUM - SODIUM

When you're hungry, you're seeking out one of these things a bit unknowingly. e.g. You may be craving something savory, because your body is craving protein, but you end up eating chips but and you're left unsatisfied. So its about listening to your body and thinking more about what you're REALLY wanting. I haven't had a chance to look into his research (which he goes in to in his book) but its an interesting thought for now at least and may be worth thinking about next time you're craving something. If you just had a big last meal for the day and you're still hungry, think about what might not have been in there, and look for that. For me, I'm usually have a large plate of protein and vegetables, but don't feel satisfied until I have a small cup of yogurt (for calcium) with nuts, seeds and a little granola (for carbs)...and I usually toss in some fruit because I love fruit

If you're interested in listening to the podcast, its about 15 minutes? near the beginning - Something You Should Know
NEW TEA IS IN AND READY TO GO
Our new tea formula is ready as well as our new packaging. We removed L-Theanine and added a LOT more of the most beneficial tea, green tea, to each bag. We also increased the amount of servings you get with each box.

WANT TO SHARE? MEMBERSHIP?

If anyone wants to share their weight loss or fasting journey with us, we'd love to feature it. Every success story can be so motivating for others.
Also, we've had questions about doing a "Membership Program" where we send tea every month or every other month at a discount. If theres interest or if you have any suggestions, please let me know. Thanks!
Use SUMMER10 at Checkout for a 10% Discount
IF Tea Company
3516 Remington Dr
Plano TX 75023
United States

Other emails from IF Tea Company
Oct 27, 2020

15% Special Discount for the First 100 | Does Intermittent Fasting Work? | Affiliate Marketing for those that are interested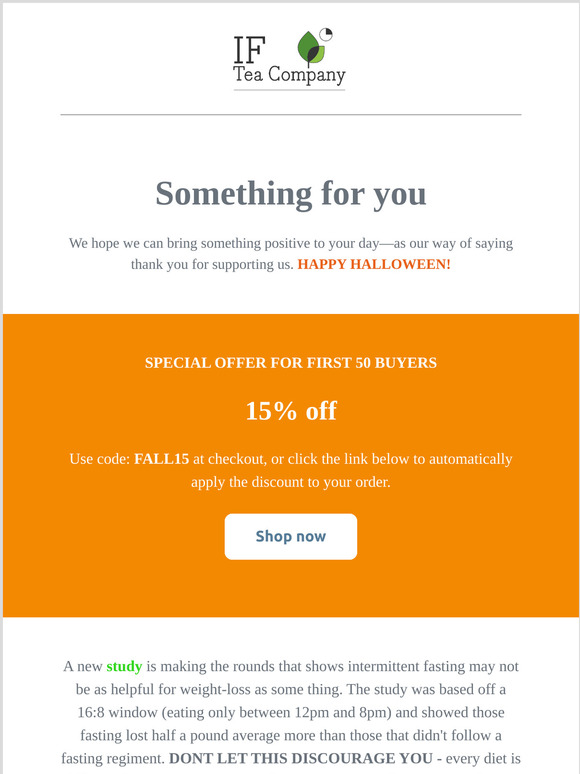 Shop without the noise.
Get our free newsletter of hand-picked sales you need to hear about from the web's best brands.