Summer nightwear: the newest of the season with the promo 50% off your 2nd piece
Email sent: Jun 22, 2021 1:02pm
Our summer nightwear collection with the promo 50% off your 2nd piece!

 ‌ ‌ ‌ ‌ ‌ ‌ ‌ ‌ ‌ ‌ ‌ ‌ ‌ ‌ ‌ ‌ ‌ ‌ ‌ ‌ ‌ ‌ ‌ ‌ ‌ ‌ ‌ ‌ ‌ ‌ ‌ ‌ ‌ ‌ ‌ ‌ ‌ ‌ ‌ ‌ ‌ ‌ ‌ ‌ ‌ ‌ ‌ ‌ ‌ ‌ ‌ ‌ ‌ ‌ ‌ ‌ ‌ ‌ ‌ ‌ ‌ ‌ ‌ ‌ ‌ ‌  ‌ ‌ ‌ ‌ ‌ ‌ ‌ ‌ ‌ ‌ ‌ ‌ ‌ ‌ ‌ ‌ ‌ ‌ ‌ ‌ ‌ ‌ ‌ ‌ ‌ ‌ ‌ ‌ ‌ ‌ ‌ ‌ ‌ ‌ ‌ ‌ ‌ ‌ ‌ ‌ ‌ ‌ ‌ ‌ ‌ ‌ ‌ ‌ ‌ ‌ ‌ ‌ ‌ ‌ ‌ ‌ ‌ ‌ ‌ ‌ ‌ ‌ ‌ ‌ ‌ ‌ ‌  ‌ ‌ ‌ ‌ ‌ ‌ ‌ ‌ ‌ ‌ ‌ ‌ ‌ ‌ ‌ ‌ ‌ ‌ ‌ ‌ ‌ ‌ ‌ ‌ ‌ ‌ ‌ ‌ ‌ ‌ ‌ ‌ ‌ ‌ ‌ ‌ ‌ ‌ ‌ ‌ ‌ ‌ ‌ ‌ ‌ ‌ ‌ ‌ ‌ ‌ ‌ ‌ ‌ ‌ ‌ ‌ ‌ ‌ ‌ ‌ ‌ ‌ ‌ ‌ ‌ ‌  ‌ ‌ ‌ ‌ ‌ ‌ ‌ ‌ ‌ ‌ ‌ ‌ ‌ ‌ ‌ ‌ ‌ ‌ ‌ ‌ ‌ ‌ ‌ ‌ ‌ ‌ ‌ ‌ ‌ ‌ ‌ ‌ ‌ ‌ ‌ ‌ ‌ ‌ ‌ ‌ ‌ ‌ ‌ ‌ ‌ ‌ ‌ ‌ ‌ ‌ ‌ ‌ ‌ ‌ ‌ ‌ ‌ ‌ ‌ ‌ ‌ ‌ ‌ ‌ ‌ ‌ ‌  ‌ ‌ ‌ ‌ ‌ ‌ ‌ ‌ ‌ ‌ ‌ ‌ ‌ ‌ 

Is this email not displayed properly? Click here

Ultrafresh Supima® Cotton and bamboo viscose with new prints with bright colours.
The nightwear that will be with you for the summer nights
30% off when buying 4 pieces: be the first to enjoy our Loyalty Pre Sale!
on selected items
Shop Intimissimi Uomo Collection
*Promo valid in-store and online, only for My Intimissimi loyalty card members, from 11/06 to 24/06 at 23:59. Log into your loyalty account to take advantage of the promotion.
To ensure delivery to your inbox (not junk folders) please add Intimissimi to your address book
You're receiving this email because you subscribed to the Calzedonia Group brands newsletter (CALZEDONIA, INTIMISSIMI, TEZENIS, FALCONERI, SIGNORVINO). To unsubscribe click here

Please find our Privacy Policy here.
Calzedonia Spa P.Iva 02253210237


Other emails from Intimissimi UK
Sep 11, 2021

Weekend surprise: free shipping to shop for our delicate embroidered lace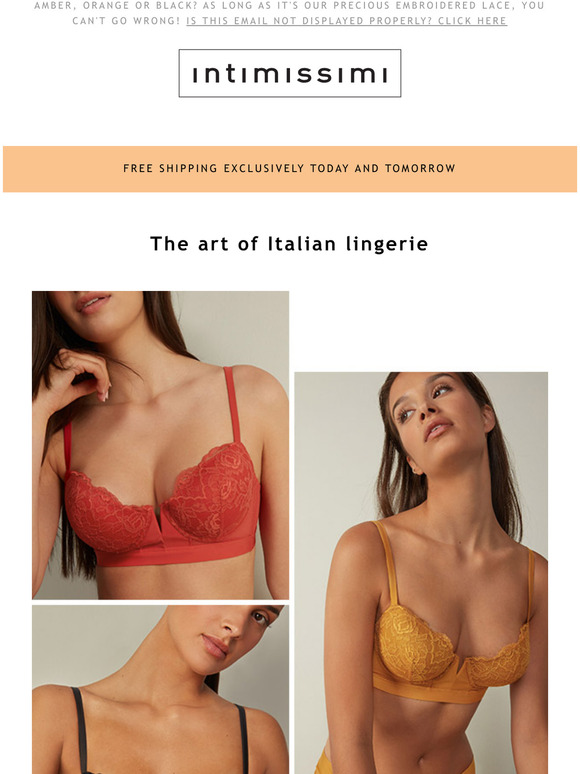 Shop without the noise.
Get our free newsletter of hand-picked sales you need to hear about from the web's best brands.