Highly Exposed
Email sent: May 4, 2021 8:19am

Image courtesy: Getty Images / Paula Marina
3/ US households exposure to equities hits record
4/ NYC tries to make an economic comeback

1/ FROM THE EDITOR'S DESK
Global equity markets are fairly muted as Asian bourses open after yesterday's holiday. U.S. futures are pointing to a relatively flat open, although tech stocks remain under pressure for the fourth day in a row. Their earnings results have been magnificent, but big investors have been shifting their heavy portfolios into more defensive areas of the market like energy and utilities. The Dow Transports continue to chug higher as the global economy strengthens and demand surges.
The record-breaking rally from March of 2020 has caused some over-exposure in U.S. households' balance sheets as their equity portfolios have become much heavier. That doesn't always translate into better returns or economic growth, but no one is complaining about their 401(k)s looking healthier (more below).
Earnings, as mentioned, have been clobbering expectations across sectors. Companies are also reporting rosier outlooks than they have in several quarters. But there is one word that keeps coming up in almost every earnings call. Inflation has yet to weigh on profit margins, but eventually, the scales will tip.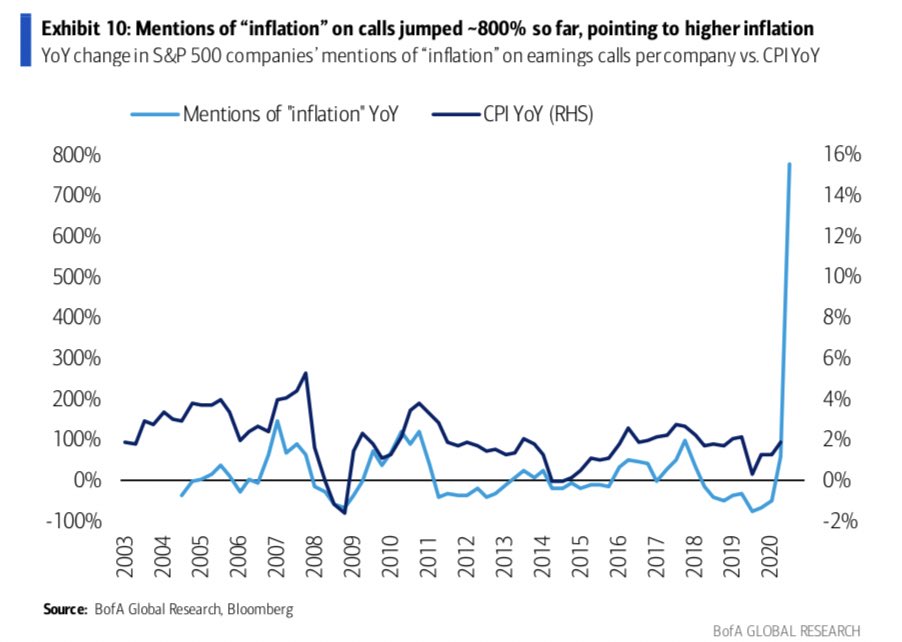 Chart courtesy BofA Research
The U.S. Food and Drug Administration is expected to authorize Pfizer's COVID-19 vaccine for young adults age 12 and older by next week, setting up shots for many before the beginning of the next school year. The announcement is set to come barely a month after the company found that its shot, which is already authorized for those age 16 and older, also provided protection for the younger group. Pfizer also announced that it plans to petition the FDA for full approval of its vaccine next month.

Maruti Suzuki India, the country's largest auto-maker, may halve its production capacity as an overwhelming surge of coronavirus infections shutters some of its sales outlets in the South Asian nation. India continues to experience a  record number of daily COVID-19 cases, with the total topping 20 million, as of today.

Oil giant Saudi Aramco reported a 30% jump in net income in a sign of a continued recovery from last year's oil market crash that saw full-year earnings for the state firm cut in half. In a release published Tuesday, the company said net income rose to $21.7 billion in the first three months of the year, up from $16.6 billion in the same period last year, beating analysts' estimates of $17.24 billion, despite lower oil production in February and March. 

The New York Stock Exchange is opening up further for vaccinated traders next week. Companies that have staff based on the NYSE floor will be permitted to raise their headcount if 100% of employees at the site can prove they're fully vaccinated, according to a memo from NYSE Chief Operating Officer Michael Blaugrund.

Bill Gates and his wife, Melinda Gates, who is co-chair of their philanthropic foundation, are ending their 27-year marriage. The couple have three children together and jointly formed the Bill & Melinda Gates Foundation, which oversees the charitable ventures to which the billionaire philanthropist couple have devoted their fortune. "We continue to share a belief in that mission and will continue our work together at the foundation, but we no longer believe we can grow together as a couple in this next phase of our lives," they said.

Amazon will take over exclusive video rights for "Thursday Night Football" starting in the 2022-23 season, a year earlier than anticipated. Initially, Amazon's deal with the NFL called for the tech giant to begin streaming games in the 2023-24 season. Current rights holder Fox Corp. agreed to exit its existing deal for the package a season early. Terms, including the cost of acquiring the additional year of rights, weren't disclosed. 

Last week, Microsoft announced a change coming soon to some of its most visible software. It will choose a new default font for its Office applications, such as Word and Excel. And that means people will no longer be seeing so much of the font that's held the default spot since 2007 — a sans-serif font called Calibri. Its replacement has not been named.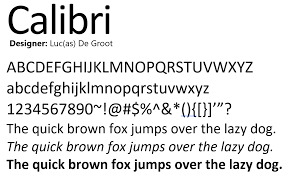 Record Exposure for Stock Investors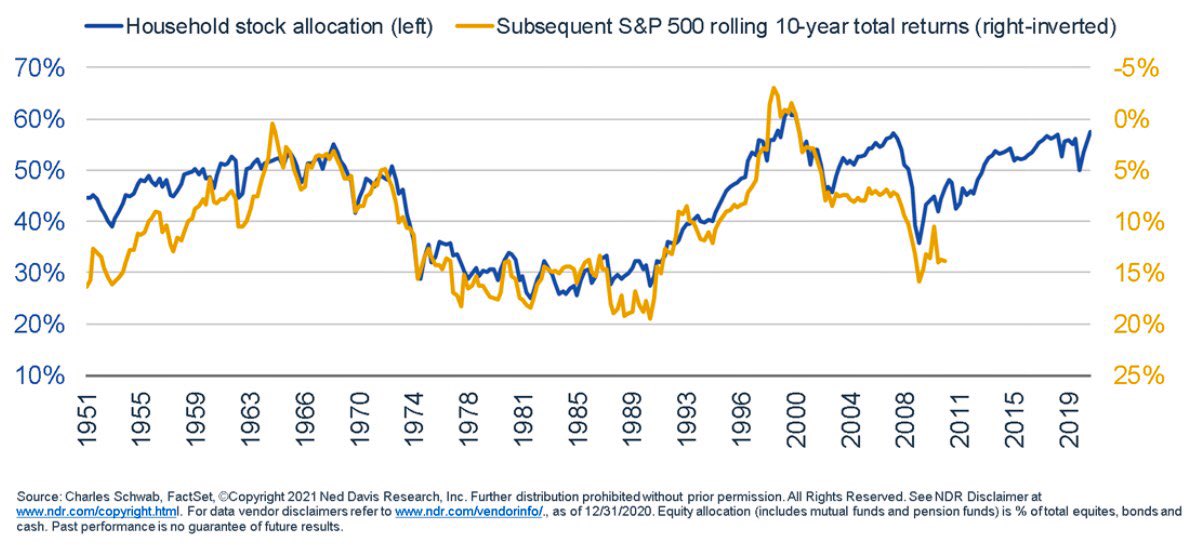 Chart courtesy Schwab/NedDavis
One of the side-effects of the 75% rally in U.S. equities since the lows of late-March 2020 is how exposed U.S. households have become to the stock market. Households' financial assets exposure increased to 41%, the highest total ever, according to JPMorgan. While that may look good on paper, the heavy exposure carries some risks with it.
If the stock market corrects or crashes, and stays low for an extended period of time, it will bring down U.S. household net worth and impact things like borrowing costs and credit worthiness. That impacts lower earning households the most.
In addition, the higher the household exposure, the lower the subsequent returns over time, according to research from Charles Schwab. Liz Ann Sonders, Schwab's Chief Investment Strategist, points out that in the highest zone of the ratio historically, the stock market has had lower annualized returns than when financial assets' exposure is in the lower zones. Economic growth—across metrics of nominal GDP, corporate profits, payroll growth and capex spending, have also been lower when exposure to financial assets are higher. 
Put a different way, when our portfolios swell, we are less apt to spend and take risks, which actually lowers growth and stock market returns. 
Too much of a good thing is sometimes just too much.

Chart courtesy Schwab Research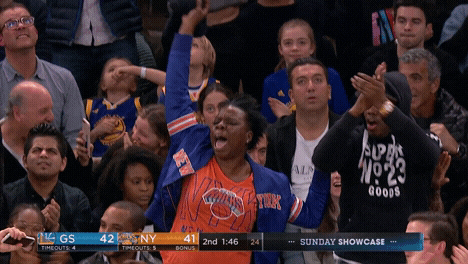 That's the latest, and highest score that the New York City Economic Recovery Index has registered since the pandemic began last March. The Index, a joint project between Investopedia and NY1, tracks the economic recovery in the City across multiple data points, including COVID-19 hospitalizations, weekly unemployment claims, pending real estate sales, rental vacancies, subway usage and restaurant reservations.
For the first week in more than 52, those data points were all moving in the right direction, and the timing could be perfect. Yesterday, New York Governor Andrew Cuomo announced that capacity limits on restaurants, theaters, museums, and stores throughout New York State will end May 19. Broadway will also be allowed to reopen, although it's not expected that the curtain will be lifted until September at the earliest. Sports arenas will be restricted to 33% capacity.
The number of visitors to the Big Apple dropped 65% last year, leading to a 75% decline in revenue and the loss of 89,000 tourism-related jobs, according to the state comptroller. It's estimated it will take several years for New York City tourism to return to pre-COVID levels.
Still, any progress is good progress.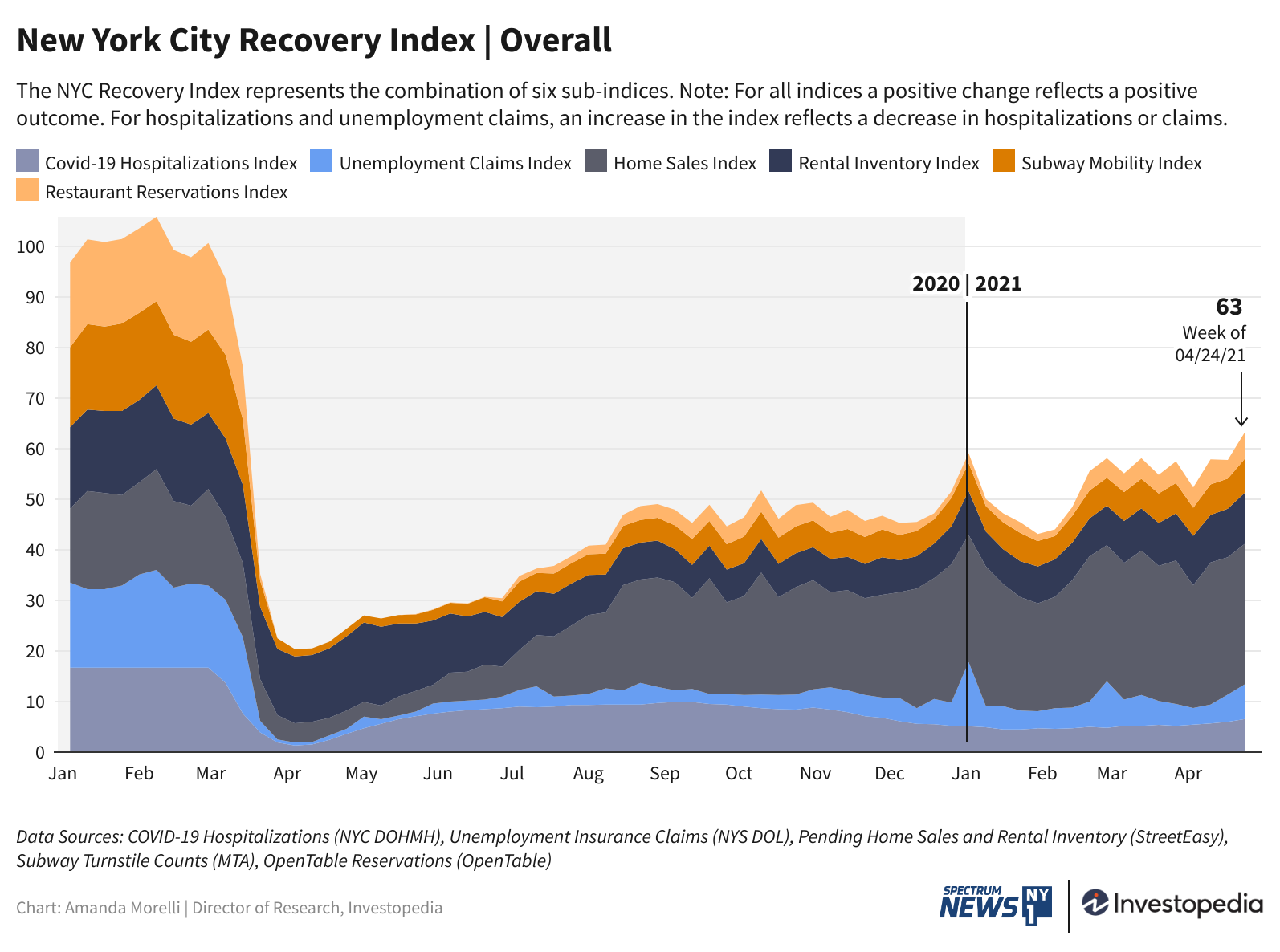 See which online brokers provide speed and reliability at a low cost. We've broken down the pros and cons of each to help you make the best decision for your day trading needs. Learn More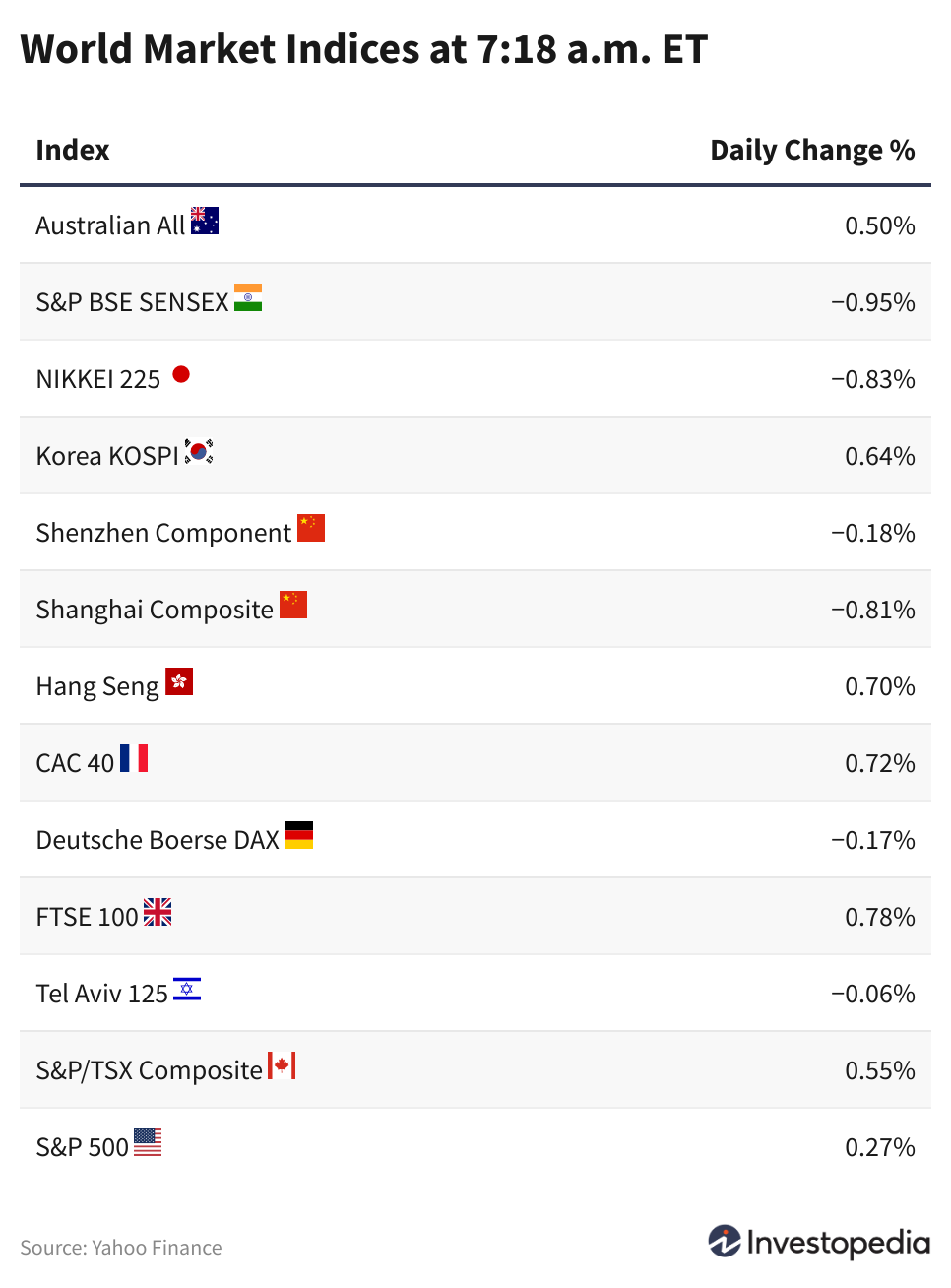 The Latest From The Investopedia Express

On this week's show, the biggest mistakes investors make. Michael Batnick of Ritholtz Wealth, and the blogger behind The Irrelevant Investor, joins the show to talk about how we get in the way of ourselves, and how it even happens to the greatest investors in the world. Plus, the U.S. economy is cooking with gas right now after the fastest quarterly GDP rise since 1984. What could slow it down? All that, and the investing term that the educated investor needs to know this week.
Other emails from Investopedia Academy
Shop without the noise.
Get our free newsletter of hand-picked sales you need to hear about from the web's best brands.