5 Signs That You Could Have Adrenal Fatigue
Email sent: Apr 16, 2021 1:11pm
FREE SHIPPING ON ORDERS OVER $50!
5 SIGNS THAT YOU COULD HAVE ADRENAL FATIGUE
By Dr. Michele Burklund
Ask yourself these five questions to find out if you have adrenal fatigue:
Do you feel tired all day even with that double tall almond milk latte?
Do you have trouble sleeping at night despite trying to relax and taking lavender baths?
Have you gained weight recently or started craving more salty and sweet foods?
Have you had to call in sick more often because you keep picking up colds?
Have you recently been experiencing more stress than usual?
What in the world are the adrenal glands and how do they affect stress?
The adrenal glands are a pair of triangular-shaped organs that sit on top of the kidneys. These glands secrete many hormones including cortisol, DHEA, adrenaline and norepinephrine which are the body's 4 major stress hormones.
When our body's are constantly in the "fight or flight" (sympathetic) mode because we are over worked and constantly under stress the adrenal glands can become under active or fatigued.
Adrenal fatigue can result in a variety of symptoms from feeling tired, trouble getting up in the morning, craving sweets, brain fog, feeling burned out, getting sick a lot, sensitivity to cold, and an inability to concentrate.
How do we support these glands?
The first priority is to remove any barriers to health such as making sure to get 8 hours of sleep a night, exercising at least 1/2 an hour daily, decreasing caffeine intake, eating fruits and veggies, and also finding ways to relax and enjoy life.
Next, get out in nature, go barefoot, and enjoy the fresh air, while practicing safe social distancing, of course! Sometimes the most simple things in life produce the largest rewards. Just be in the moment and enjoy the beauty.
There are also many supplements to take which can help support adrenal function such as B complex vitamins, adaptogenic herbs, and for extreme cases taking adrenal cortex.
Don't forget to take care of your skin as well! Keep it refreshed and supple with Mother of All Creams.
This fast-acting face and body cream goes deep into the skin for instant and lasting relief and hydration.
Try it today, worry-free! All purchases made through www.puriya.com are covered by our 6-month money-back guarantee. Buy yours today by clicking "Shop Now" below!
MOTHER OF ALL CREAMS (LIGHT PEPPERMINT)
Mother of All Creams - 2 Jar Bundle
$50.95 (Save $8.99)
SHOP NOW
The Puriya VIP Mailing List is the premier source for articles on healthy living, exclusive discounts, and new product announcements.
To make sure you keep getting these emails,
please add [email protected] to your address book or whitelist us.

Want out of the loop? Unsubscribe.

Other emails from IPC Republic, Inc.
Sep 4, 2021

Bye bye joint and muscle PAINPuriyas new vegan joint health supplement!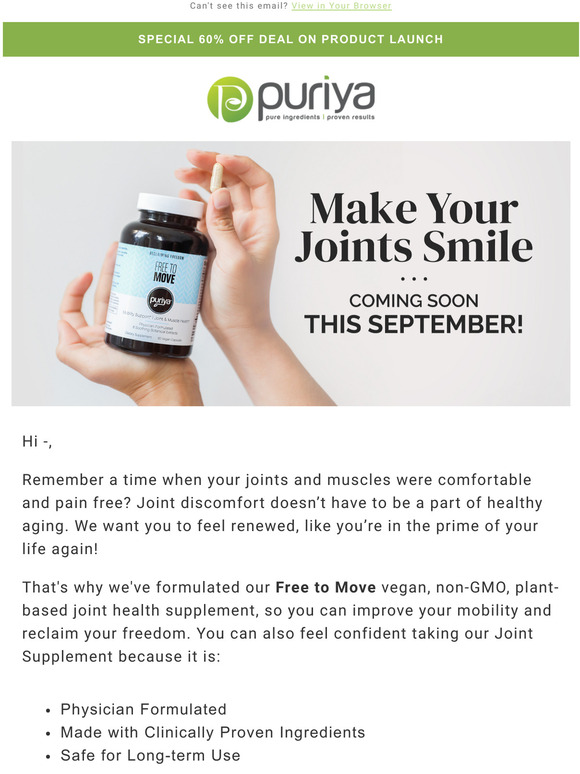 Shop without the noise.
Get our free newsletter of hand-picked sales you need to hear about from the web's best brands.