Boost Your Immune System with Infused Water! (Recipe Included)
Email sent: Apr 24, 2021 1:09pm
FREE SHIPPING ON ORDERS OVER $50!
CLEAN WATER & INFUSIONS
By Dr. Michele Burklund
Before we talk about my top two choices for infused water, we need to make sure the water you are drinking has been filtered.
Not to scare you into filtering your water, but in an unprecedented analysis of 20 million tap water quality tests performed by water utilities between 2004 and 2009, the Environmental Working Group (EWG) found that water suppliers detected a total of 316 contaminants in water delivered to the public. The Environmental Protection Agency (EPA) has set enforceable standards for only 114 of these pollutants. Another 202 chemicals with no mandatory safety standards were found in water supplied to approximately 132 million people in 9,454 communities across the country.
These "unregulated" chemicals include the toxic rocket fuel component perchlorate, the industrial solvent acetone, the weed killer metolachlor, the refrigerant Freon and radon, a highly radioactive gas.
What does this mean for us?
We as the people, must evaluate where we get our drinking water and if purchasing a good quality filtration system is necessary.
Okay, so you might already know the importance of clean water and have a super stylish water bottle, but you're simply bored of drinking water all day.
Water doesn't have to be boring! Infusing water with herbs and fruits adds a little zest while also making it super stylish and a great conversation piece. Try...
Pomegranate Apple Rosemary Infused Water
This is the perfect mix of sweet & spicy loaded with antioxidants to boost your immune system.
Ingredients:
1 gallon of water,
11 sliced apples, 
15 pomegranates, seeds only
½ cup rosemary, chopped
2 lemons, juiced in water for cylinder
20 pomegranate seeds for garnish
How to Prepare: Combine apple slices and pomegranate seeds with rosemary and water. Allow to cold steep for 6 hours. Strain through fine mesh strainer and fill a pitcher. Fill cylinder with lemon water and garnish with pomegranate seeds, apple slices and rosemary sprigs.
Ginger Pear Infused Water
This tangy beverage supports digestion while adding a hint of sweetness.
Ingredients:
1 gallon of water,
10 pears, sliced 1/8 inch,
½ cup ginger, peeled and sliced 1/8 inch
How to Prepare: Combine all ingredients in a large container. Allow to cold steep for 6 hours. Strain through fine mesh strainer. Fill container with ginger pear water. Garnish center cylinder with slices of ginger and slices of pear.
Don't forget to take care of your skin as well! Keep it refreshed and supple with Mother of All Creams.
This fast-acting face and body cream goes deep into the skin for instant and lasting relief and hydration.
Try it today, worry-free! All purchases made through www.puriya.com are covered by our 6-month money-back guarantee. Buy yours today by clicking "Shop Now" below!
MOTHER OF ALL CREAMS (LIGHT PEPPERMINT)
Mother of All Creams - 2 Jar Bundle
$50.95 (Save $8.99)
SHOP NOW
The Puriya VIP Mailing List is the premier source for articles on healthy living, exclusive discounts, and new product announcements.
To make sure you keep getting these emails,
please add [email protected] to your address book or whitelist us.

Want out of the loop? Unsubscribe.

Other emails from IPC Republic, Inc.
Sep 4, 2021

Bye bye joint and muscle PAINPuriyas new vegan joint health supplement!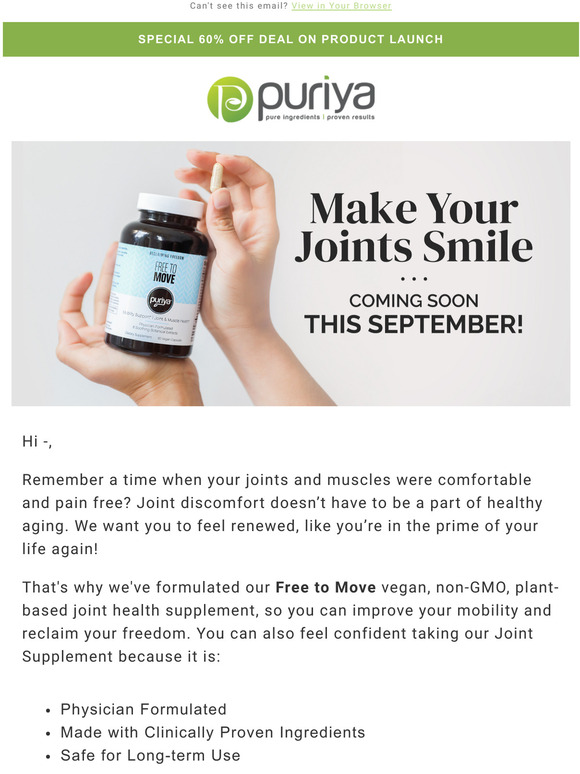 Shop without the noise.
Get our free newsletter of hand-picked sales you need to hear about from the web's best brands.