Cleanse & Detoxify with Charcoal
Email sent: Jul 9, 2021 1:01pm
FREE SHIPPING ON U.S. DOMESTIC ORDERS OVER $50!
CLEANSING WITH CHARCOAL
By Dr. Michele Burklund
Activated charcoal has been used for thousands of years to cleanse and detoxify the body. What's the difference between charcoal and activated charcoal? Well, they are almost identical – the only difference is that activated charcoal has been created solely for medicinal use. Activated charcoal is heated with a gas that causes the charcoal to expand, creating a porous surface that traps toxins.
Activated charcoal works because it chemically binds other substances to its surface and can absorb thousands of times its own weight
It also has an incredibly large surface area due to all of its pores – one cubic inch of charcoal has the surface area equivalent to a 150,000 square-foot field. This is why just a bit of charcoal can absorb so many toxins, atoms, and ions.
When applied topically, activated charcoal goes deep into your pores to remove toxins (and makeup), leaving your skin vibrant and smooth. This is easy to make face mask at home!
DIY CHARCOAL FACE MASK
Mix 1 teaspoon of activated charcoal along with 2-3 drops of your favorites essential oil (Lavender, Calendula, Tea Tree).
Mix together until it turns into a paste.
Apply topically to skin and let dry.
Rinse and enjoy!
Keep your skin refreshed and supple with Mother of All Creams!
This fast-acting face and body cream goes deep into the skin for instant and lasting relief and hydration.
Try it today, worry-free! All purchases made through www.puriya.com are covered by our 6-month money-back guarantee. Buy yours today by clicking "Shop Now" below!
MOTHER OF ALL CREAMS (LIGHT PEPPERMINT)
Mother of All Creams - 2 Jar Bundle
$52.65 (Save $9.29)
SHOP NOW
The Puriya VIP Mailing List is the premier source for articles on healthy living, exclusive discounts, and new product announcements.
To make sure you keep getting these emails,
please add [email protected] to your address book or whitelist us.

Want out of the loop? Unsubscribe.

Other emails from IPC Republic, Inc.
Sep 4, 2021

Bye bye joint and muscle PAINPuriyas new vegan joint health supplement!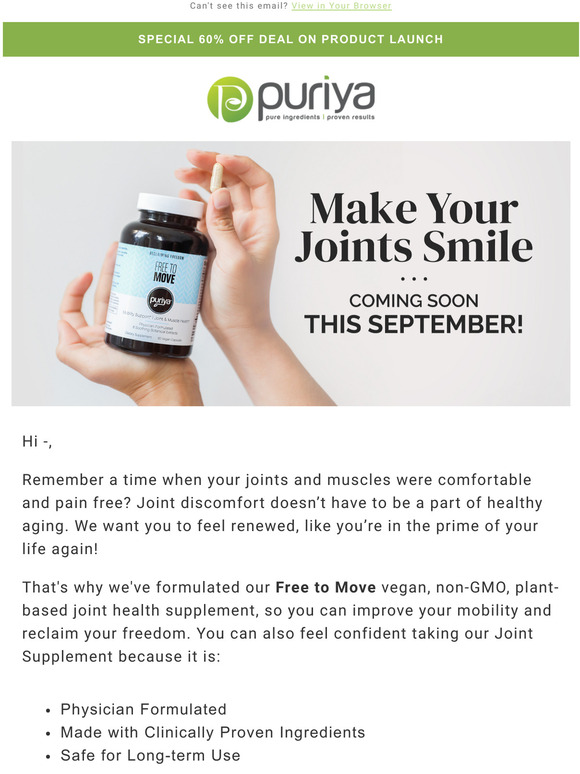 Shop without the noise.
Get our free newsletter of hand-picked sales you need to hear about from the web's best brands.