Near misses were no longer good enough for Burns | Paula Creamer gets USWO exemption
Email sent: May 4, 2021 5:02am

Good Tuesday morning,
golf fans. Let's both never discuss special exemptions into major championships (tournament discretion is tournament discretion) and always discuss them: the bickering is greatly entertaining.
1. Near misses were no longer good enough
Daniel Rapaport for Golf Digest...
Coming into this final round, Burns wasn't quite in why-hasn't-he-won-yet territory. But he wasn't far away, either, thanks to his consistently excellent play—Saturday evening marked the eighth time that Burns had led or co-led after a round in the 2020-21 season, two more than any other golfer. Before this week, the most recent time came at the Genesis Invitational, where he played preposterously good golf to lead a star-studded field by five at the halfway point. He started the final round that week at Riviera with a two-shot lead, shot two-under 69 on a major-ready golf course, and lost.
"...Burns doesn't say much, a laconic Louisianan

who says more with his eyes than his mouth. The few words he does offer suggest a steadfast belief in the Law of Averages—that if he continued to put himself in position, one of these days it's going to happen."
"You have a better understanding of what it takes," Burns said

of the near-misses. "And I think having those past chances that I wasn't able to convert, I think it got me ready for this moment. Going into the back nine [caddie], Travis [Perkins] and I just really wanted to stick to our game plan, stick to the process of just being really engaged on each shot. And we were able to do that."
2. An exemption for Paula 
Golf Channel's Brentley Romine...
"the USGA announced Monday that it had extended Creamer a special exemption to play in the 76th U.S. Women's Open, which will be contested June 3-6 at the famed San Francisco club.
"The 34-year-old Creamer hasn't played on the LPGA

since October 2019 as she's battled wrist and hand issues, though the Pleasanton, California, native will play the Pure Silk Championship at Kingsmill two weeks before her USWO start. The 2010 U.S. Women's Open champion at Oakmont missed last winter's national championship in Houston, the last year of her 10-year exemption."
3. 8,000 fans per day at the Women's PGA
Golfweek's Beth Ann Nichols...
"The PGA of American announced on Monday that the 2021 KPMG Women's PGA Championship will have approximately 8,000 fans per day onsite June 22-27 at Atlanta Athletic Club in Johns Creek, Georgia."
"We are excited by the continued upward trajectory

and vast potential of the KPMG Women's PGA Championship," said PGA President Jim Richerson. "We're thrilled to return this Major Championship to the South for the first time in over 40 years and to introduce the best women players in the world to Atlanta Athletic Club's historic Highlands Course. This is a special golf course with plenty of championship tradition and we're expecting it to provide the backdrop for a memorable competition in June."
Adam Schupak for Golfweek..."Kudos to the PGA Tour,
pushed by the yeoman's effort of Ryan French, Mr. Monday Q Info (@acaseofthegolf1), to shed light on mini-tour life, for being in Tampa last Monday to capture Visacki's heartfelt exchange with his father, just as they had captured Nick Hardy's fist pump in Phoenix. Any given Monday is the motto of those who chase the qualifying dream. As mini-tour pro Dominic Formato put it, Visacki served as a much-needed reminder to all the dreamers out there that "sometimes the light at the end of the tunnel is closer that it seems."
"Visacki feels like this year's Ho-Sung Choi,

a social media darling who capitalized on his new-found celebrity to gain other sponsor invites. (Note to Big Mike: start writing letters to tournament directors.)"
"I'm definitely going to try to do a lot more Mondays now,

now knowing this experience," Visacki said after shooting 74-71 to miss the cut. "It's eye opening and it definitely makes me want to get out here and continue to be out here. This is amazing."
GolfWRX may earn a commission of "GolfWRX Recommends" products.
5. Keegan remains confident 
Tom D'Angelo for the Palm Beach Post...
"I've done pretty well in my career when I've had a chance," Bradley said. "I just didn't hit the shots that I needed coming down the end."
"Bradley, 34, was able to put the weekend in perspective.

Yes, there was disappointment that he could not finish after an opening-round 64 and holding the lead after each round … outright after Thursday and tied with Burns following play on Friday and Saturday."
"But his game is on the upswing after that final-round 71,

mainly because of his putting. And recovering from that one bad shot enough to hang onto second place — even after missing a 4-foot par putt on No. 15 — says a lot about where Bradley is mentally…"
6. On Stewart Hagestad's third Walker Cup appearance
Golf Channel's Brentley Romine...
"At 30 years old, the decorated mid-amateur from Newport Beach, California, is a generational talent, a Tour-caliber player who never really blinked at turning pro and who still has every bit the power, touch and confidence to hang with – and beat – the young studs of the amateur and college games. Former U.S. Walker Cup captain Spider Miller, an accomplished amateur in his own right, called Hagestad "one of the best amateur golfers who didn't turn pro in my lifetime." Miller is 71."
"Hagestad still has a long way to go to catch Sigel

, and doing so, realistically, would be somewhere between extremely difficult and impossible"...
"...In the early days, legends such as Francis Ouimet,

Bobby Jones and Charlie Coe were Walker Cup regulars. But just three other players this century have competed in three Walker Cups – John Harris, Trip Kuehne and Nathan Smith – and not one of them played a fourth."
AP report…"Amy Bockerstette
is set to become the first person with Down syndrome to compete in a national collegiate athletic championship."
"The 22-year-old golfer will play

with her Paradise Valley Community College teammates at the NJCAA national championships May 10-13 at Plantation Bay Golf & Country Club in Ormond Beach, Florida."
"Bockerstette is the first person with Down syndrome

to earn a college athletic scholarship, and she became a viral sensation when she played the 16th hole at TPC Scottsdale with PGA Tour player Gary Woodland before the 2019 Waste Management Phoenix Open. She hit into the bunker on the par-3 stadium hole and got up and down for par, telling everyone "I got this" before sinking an 8-foot putt."
Check out the results of our discussions with expert fitters below.
Traditional wedges generally share similar exterior aesthetics, even though each manufacturer uses different techniques to shift mass and improve spin, along with consistency. Traditional wedges also usually come in a variety of bounce and sole grind options to help golfers pick what will work best for them based on their technique, regular course conditions, and preferred look.
Just because wedge design doesn't appear to have changed that much in the last 50 years doesn't mean you won't see a big benefit to finding the right ones for you.
Wedge forgiveness is less so tied to overall MOI (a measurement of forgiveness) and more specifically linked to helping golfers with the most difficult and frustrating shots they will face on the course. Whether it be chipping around a green or just escaping a sand trap in one shot, these game improvement wedges and their designs provide the best opportunity to help you save shots where you struggle.
9. Tour pro reimburses gamblers after marathon exchange with heckler on social media
Our Gianni Magliocco...
Talor Gooch missed the cut at the Valspar, and as a result, found himself having to deal with a heckler on Twitter. In a wild twist, however, the confrontation then evolved into a situation where Gooch decided to reimburse gamblers who had bet money on him last week."
"3 bogeys in a row u are so bad @TalorGooch,

" tweeted @VinkolaJokic to kick things off, to which Gooch replied, "Did you bet on me?
GolfWRX

|
PO Box 2765

,
Dearborn, MI 48123

Other emails from Ishikawa
May 10, 2021

Rory Rors again | Jutanugarn, too | Lynch: Monahan should do this to combat PGL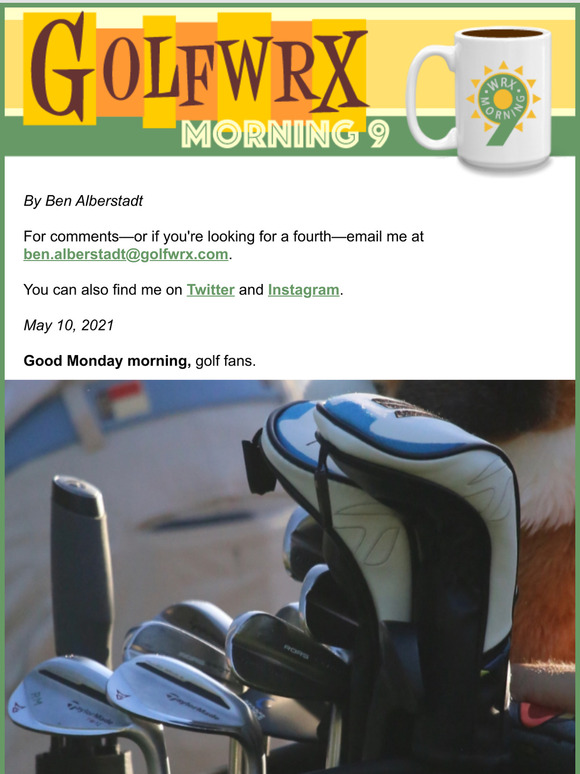 May 7, 2021

Phil's secret club | Rory switches irons | Reed was ghosted by Justine's sister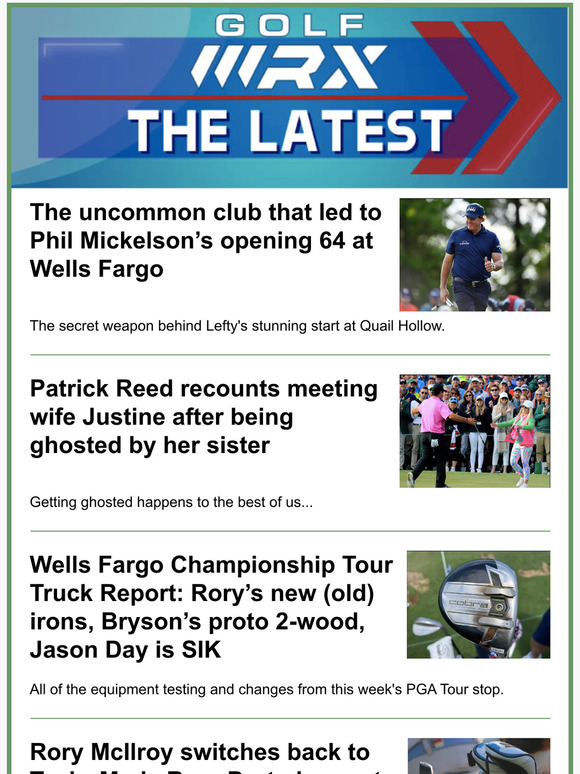 Shop without the noise.
Get our free newsletter of hand-picked sales you need to hear about from the web's best brands.