I won't back down from Donald Trump
Email sent: Jun 11, 2020 6:54pm

Friend,
Our nation is facing unprecedented crises -- and Donald Trump is failing us at each and every turn.
I'm focused on addressing the real challenges facing my state -- just like so many of my fellow governors. Which is why I was so disappointed, yet again, to learn President Trump took time out of his "busy schedule" focused on "keeping America great" to attack me on Twitter and to threaten Washington state: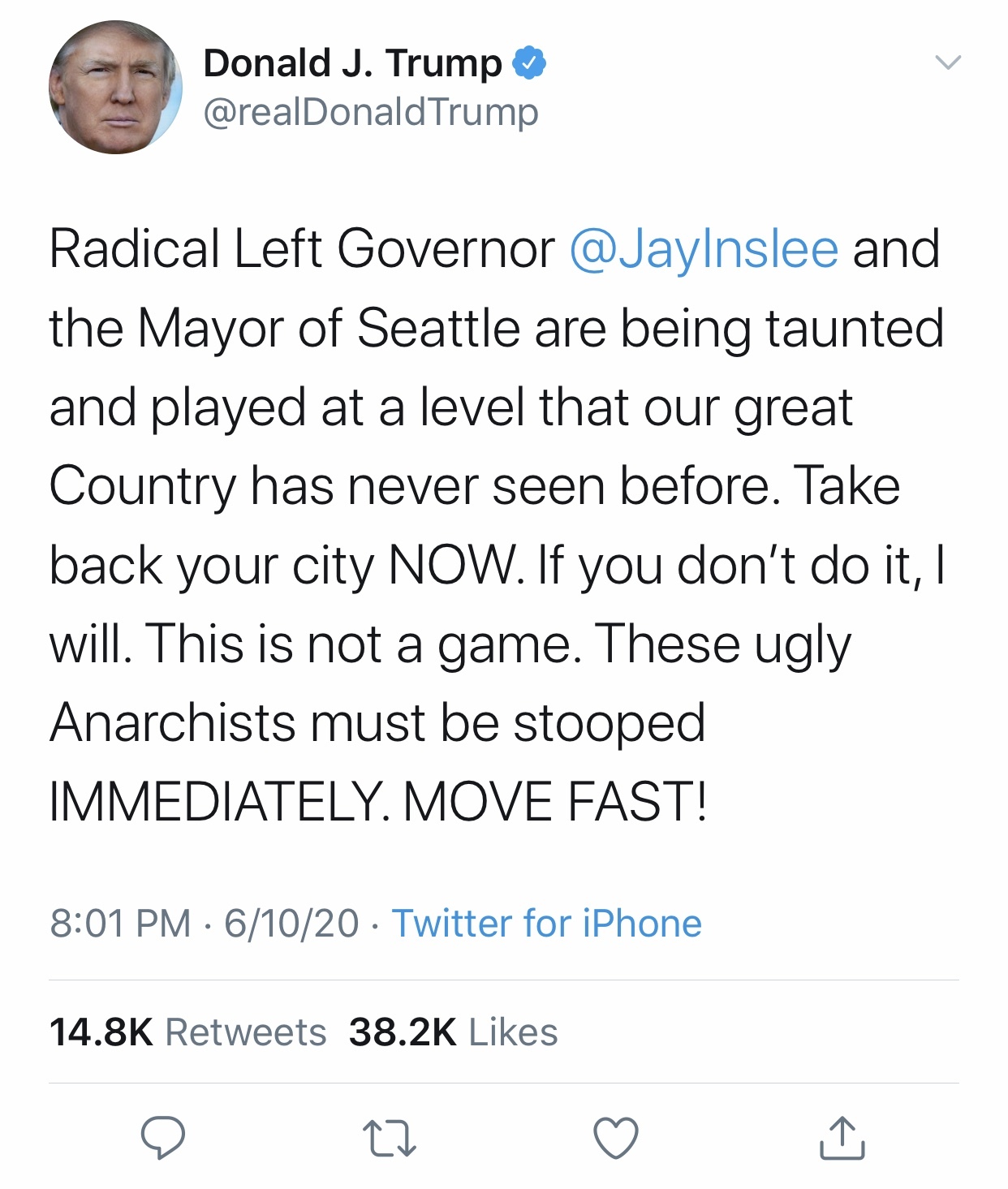 Our country needs moral, steady leadership. Not a president who would rather tweet than do his job. Here in Washington state, we are doing all we can to fight for our citizens, for our health and safety, and for justice -- it's the right thing to do. There is nothing productive coming from this White House -- just taunts and misspelled tweets. This is why our leadership matters so much: because we're making up for the serious lack of leadership at the top.
Look, I have not reached out to you in nearly six months about fundraising, despite our November election fast approaching. But this tweet from Donald Trump proves what we're up against: attacks on our state's independence, our leadership and on the very common decency we all expect from each other.
I'm not backing down. I won't -- ever. But together, we have to push back against these hateful attacks from Donald Trump. That's why I need you to stand by me.
Donald Trump won't stop tweeting nor will he stop his hateful agenda. And his Republican allies in and out of state will fall in line to attack me and all the progress we've made together. This is what we're up against, and I need your help: Donate $5 or more to support me in my fight against Trump's hateful agenda and for Washington state values right now.
If you've saved your payment information with ActBlue Express, your donation will go through immediately:
Very truly yours,
Jay

This email was sent to -. Click here to unsubscribe.
Contributions or gifts to JAY INSLEE FOR WASHINGTON (D) are not tax deductible.
PAID FOR BY JAY INSLEE FOR WASHINGTON (D)
PO BOX 21067 SEATTLE, WA 98111
All content © 2020 JAY INSLEE FOR WASHINGTON (D), All Rights Reserved

Shop without the noise.
Get our free newsletter of hand-picked sales you need to hear about from the web's best brands.