Im asking
Email sent: May 28, 2021 8:48pm
We've already made so much progress together -- and we can't afford to slow down now.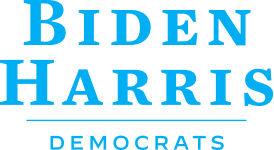 For the first time in so long, when I meet Americans across the country, they tell me that they are starting to feel hope and optimism for our future. Families are returning to work and school. Businesses are reopening. We're getting back those things we lost: hugging the people we love, catching up with friends face to face, and smiling at strangers once again.
Together, we've begun to heal our country and build it back better than ever -- but we still have more to do.
That's why Joe is so focused on the American Jobs and American Families Plans, which will help create millions of jobs, increase access to education with universal preschool and two years of free community college, rebuild our crumbling infrastructure, and so much more.
Making these kind of transformational investments in families is critical, but passing these plans is only possible if we keep our Democratic majorities and build on them. That's why I'm asking you to support the DNC before their end-of-month deadline.
Can you make a $25 contribution to the DNC? Expanding our majorities in the years to come and fighting for families means investing early in our candidates and voter education, so make a donation to support the DNC today.
If you've saved payment information with ActBlue Express, your donation will go through immediately:
The hope I felt on day one of this administration has only grown stronger and stronger. I am inspired by the heart and determination of families like yours, who have done so much to bring our country together, and we're just getting started.
Joe and Kamala are fighting day and night for you and your families, and we need more leaders in Washington who are committed to passing consequential legislation like the American Jobs and American Families Plans. The DNC is going to be integral to electing those leaders and so much more, so I hope you will stand with us and support them before their deadline.
Make a $25 gift to the DNC today. Electing Democrats at every level of government is essential to building on our progress, and the DNC is already hard at work preparing for elections to come.
Warmly,
Jill
Jill Biden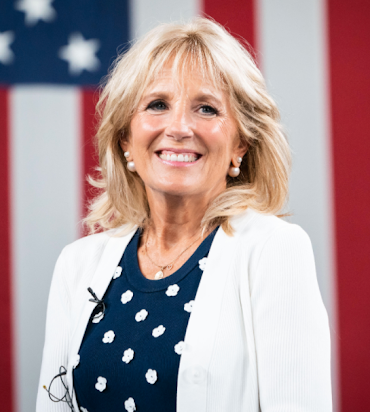 P.S. Families across the country are counting on investments in education, infrastructure, and new jobs, and only Democratic majorities in Congress will help us get there. The DNC is on the front lines of this fight, so will you chip in $25 to them before their end-of-month deadline?
This email was sent to -​​. If you would like to receive fewer emails, click here. If you would like to unsubscribe from emails like these, click here.

Folks​, thank you so much for being a supporter of President Biden, Vice President Harris, and Democrats up and down the ballot.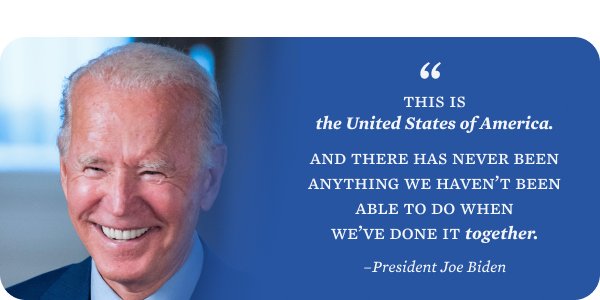 This isn't the time to start being complacent. We hope you're ready to continue fighting for the soul of this nation.

We don't want to bother you. If you'd like to only receive our most important emails, click here. If you'd like to unsubscribe from all Democratic HQ emails, you can click here.

We sincerely thank you for your help and support.
Paid for by the Democratic National Committee, www.Democrats.org, and not authorized by any candidate or candidate's committee.

Other emails from Joe Biden 2020
Jun 28, 2021

The DNC is the only committee responsible for electing Democrats at every level, which is why I'm asking for your support before this quarterly deadline: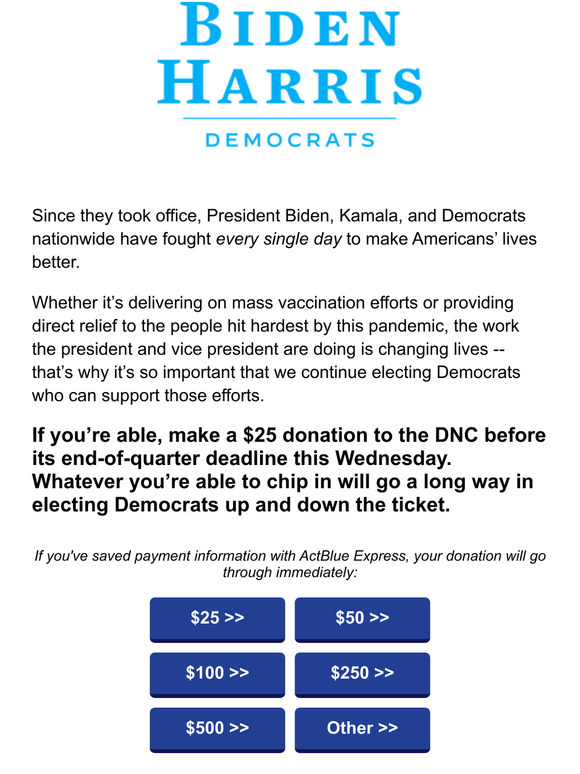 Shop without the noise.
Get our free newsletter of hand-picked sales you need to hear about from the web's best brands.