Real, lasting results—without the restrictions.
"Joining Calibrate was the best decision I've ever made." "Joining Calibrate was the best decision I've ever made."
This email was sent
"JOINING CALIBRATE WAS
THE BEST DECISION I'VE EVER MADE."
Start seeing sustainable results with The Metabolic Reset.
PERSONALIZED. GRADUAL.
SUSTAINABLE.
Part of what makes Calibrate a sustainable weight loss program is the gradual, science-backed lifestyle changes you'll make to your food, sleep, exercise, and emotional health habits—with the support of your personal accountability coach. These new habits are key to driving real results you can sustain, during and after GLP-1 medication. Our latest results are proof.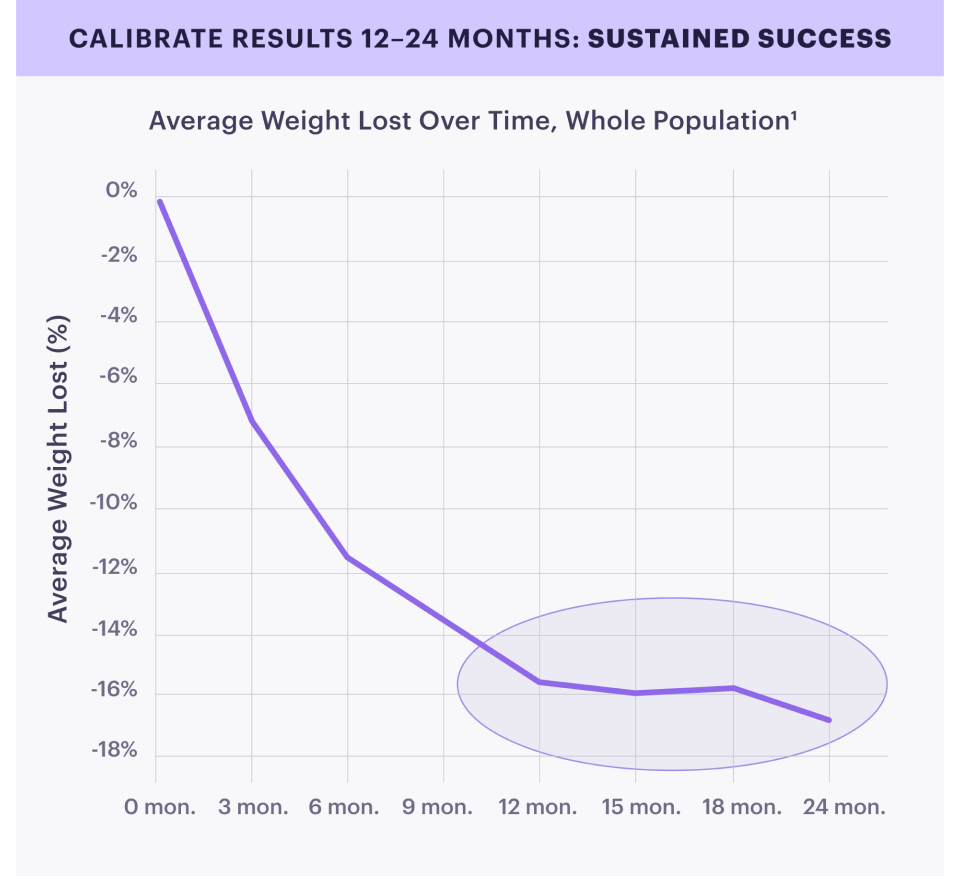 Calibrate has proven, lasting results for thousands of members: 15% weight loss on average, sustained for two years, as seen in our 2023 Results Report.
REAL REVIEWS FROM
MEMBERS JUST LIKE YOU
| | | |
| --- | --- | --- |
| | | The fact that Calibrate is an entire year really helps train your mind and mold your habits to a healthier lifestyle. Calibrate isn't just about losing weight. It's about living a healthier and longer life. I would absolutely do it again, if given the opportunity. |
| | | |
| --- | --- | --- |
| | | Your coach is always there to help make sure you're setting realistic goals as well as meeting them. They also help you practice good habits in all those important areas so those habits become a normal part of everyday life, making it easy to not only lose the weight but also maintain it. |
| | | |
| --- | --- | --- |
| | | I tried several other diets and they would work temporarily but weren't sustainable long term and I would gain it all back and then some. The program not only provides me with the food triangles and coaching, but it also gradually introduces the program so that I could work it into our lifestyle. It becomes your new lifestyle. |
Have questions? Check out our FAQ.
105 West 86th Street, Suite 514, New York, NY 10024