The weight loss program you can trust—with data to prove it.
Get lasting results. Get lasting results.
This email was sent
THE WEIGHT LOSS PROGRAM YOU CAN TRUST
—WITH DATA TO PROVE IT.
If you've seen other weight loss programs advertising 15% weight loss, they're likely citing clinical trial results—not their own. Calibrate, on the other hand, is the first and only weight loss program to prove that it drives 15% weight loss, on average, sustained for two years—see for yourself in our 2023 Results Report.
And if you're curious how Calibrate's results stack up to those reported in GLP-1 medication trials, here's your answer: Calibrate drives better long-term results than most medications alone. Let's unpack just how exciting this is…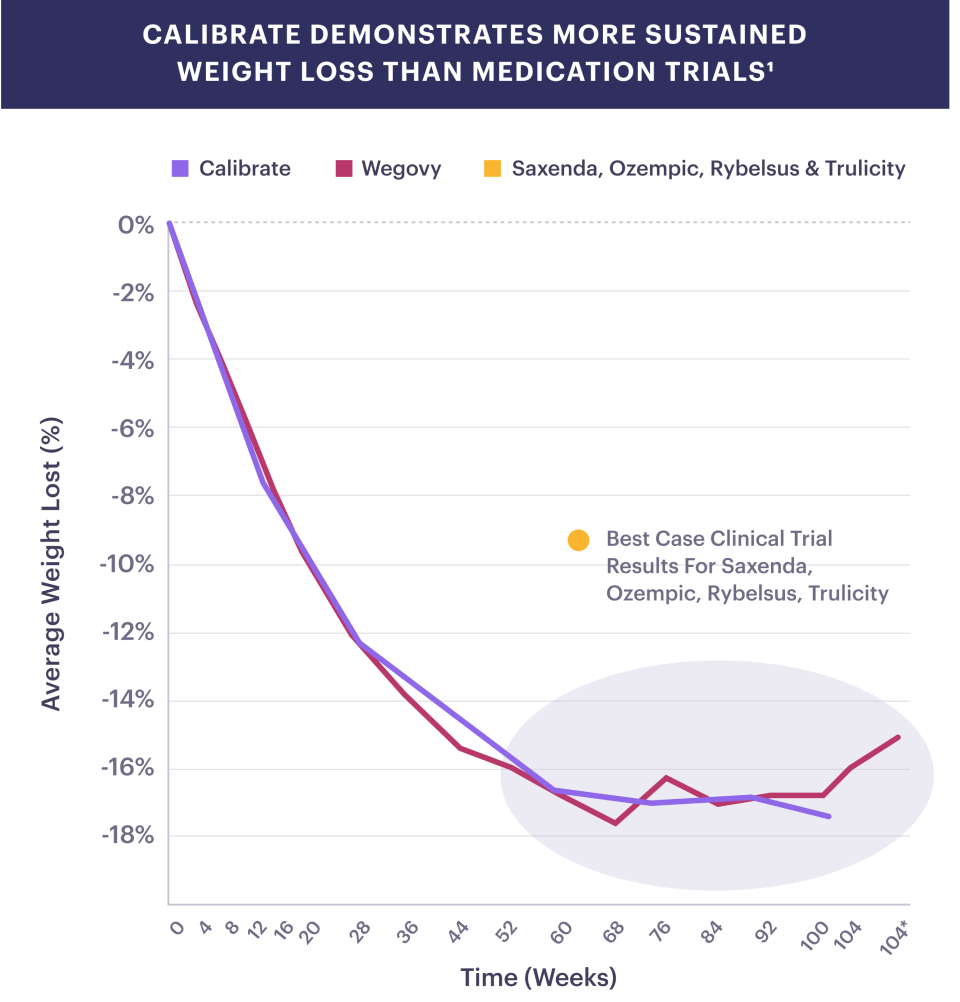 Clinical trials are highly regimented and participants are given regular doses of medication under strict protocols. While they play their own important role, clinical trials don't reflect real-world scenarios—where medication type, accessibility, and adherence are much more variable.
Calibrate's results, on the other hand, are the definition of real-world evidence: Our doctors prescribe a variety of GLP-1s, based on availability, insurance coverage, and each member's unique medical history. Even more, our members only needed to take GLP-1s for one month to be included in our data. After analyzing the results achieved by all members who completed The Metabolic Reset and beyond in 2022, the data is crystal-clear: Calibrate works. Even better? We promise results or your money back—regardless of GLP-1 access status (see terms).
| | | |
| --- | --- | --- |
| | | Calibrate is the first and only program to demonstrate 15% average weight loss, sustained for two years—in the real world—as shown in our 2023 Results Report. |
Have questions? Check out our FAQ.

105 West 86th Street, Suite 514, New York, NY 10024