You're close to a decision
Enjoy the benefits of a line of credit with the convenience of a card. Sign In Here's your status in the Kabbage application: Your business could access up to $250,000.1 The application can be finished in minutes from your computer or through our mobile app. We use advanced encryption to protect your information. Customers have securely connected more than 1.5 million accounts. If you're approved, there's no obligation to take funds. Use the amount you need when you're ready. Have questions? Call us at 888-986-8263. 1Credit lines and pricing are subject to periodic review and change, including line and pricing reductions, line and pricing increases or line eliminations. Individual requests for capital are separate installment loans. All loans are subject to credit approval. Frequently Asked Questions. This email was sent to Please do not reply to this message, as this email inbox is not monitored. To contact us, visit www.kabbage.com/support/contact. If you no longer wish to receive email from Kabbage click here. This promotional email gives you information about Kabbage products, service or offers. All Kabbage® business loans are issued by Celtic Bank, a Utah-chartered industrial bank, Member FDIC. Terms, conditions, features, availability, pricing, fees, service and support options subject to change without notice. Contact us at 925B Peachtree Street NE, Suite 1688, Atlanta, GA 30309 © 2018 Kabbage, Inc. All rights reserved. Kabbage is a registered trademark of Kabbage, Inc., used under license. Site Privacy Policy | Celtic Privacy Policy
This email was sent
Enjoy the benefits of a line of credit with the convenience of a card.
Here's your status in the
Kabbage application: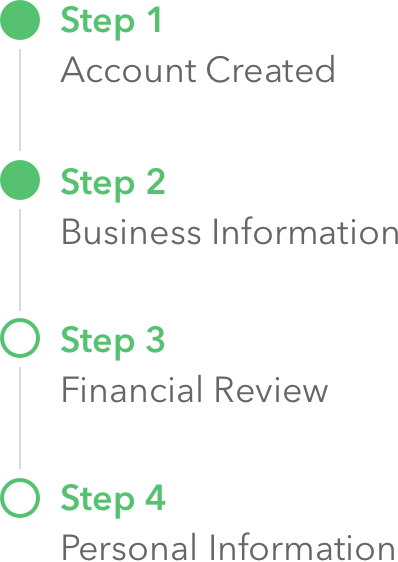 Your business could access up to $250,000.1
The application can be finished in minutes from your computer or through our mobile app.

We use advanced encryption to protect your information. Customers have securely connected more than 1.5 million accounts.

If you're approved, there's no obligation to take funds. Use the amount you need when you're ready.
Have questions? Call us at 888-986-8263.
1Credit lines and pricing are subject to periodic review and change, including line and pricing reductions, line and pricing increases or line eliminations. Individual requests for capital are separate installment loans. All loans are subject to credit approval. Frequently Asked Questions.

This email was sent to -

If you no longer wish to receive email from Kabbage

click here

.

This promotional email gives you information about Kabbage products, service or offers.


All Kabbage® business loans are issued by Celtic Bank, a Utah-chartered industrial bank, Member FDIC. Terms, conditions, features, availability, pricing, fees, service and support options subject to change without notice.

Contact us at 925B Peachtree Street NE, Suite 1688, Atlanta, GA 30309

© 2018 Kabbage, Inc. All rights reserved. Kabbage is a registered trademark of Kabbage, Inc., used under license.

Site Privacy Policy   |   Celtic Privacy Policy