5 Favorite Citrus Recipes
Email sent: May 3, 2020 10:08am
Sunday Recipe Inspiration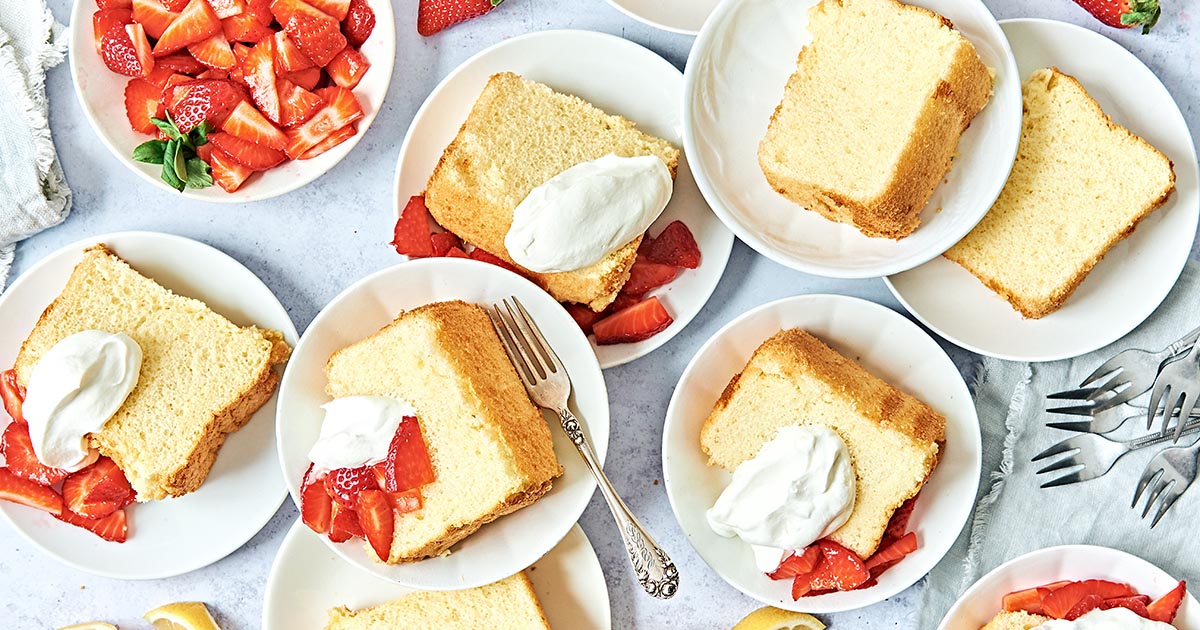 We've rounded the corner into spring, and I for one have never been so grateful for an infusion of sunshine and warmth. There's something so cheerful about brighter, warmer days — particularly this year, as a reminder that time passes and we can still rely on (and revel in) the extraordinary fact that spring always comes. Daffodils always bloom. And baking always brings joy.
Given my overabundance of enthusiasm for the reemergence of the sun, I thought we could carry the theme into our kitchens this week with the sunniest ingredient around: citrus! Not only are citrus recipes some of my favorites, but citrus is an affordable, simple ingredient that's easy to keep around for a bit, if you care to stock up in advance. Unlike berries or stone fruit, you don't have to rush to use up your lemons. Keep them on hand and reach for them when you need a little edible sunshine.
I adore this lemon chiffon cake, which has a delicate, light texture that falls somewhere between an angel food cake and a classic yellow layer cake. (You actually bake it in an angel food cake pan, but it uses egg whites and yolks, which gives it a richer flavor and slighter less airy crumb.) It's lovely on its own, but I always serve it as pictured: topped with whipped cream and sliced berries.
Of course, you can return to the best-loved hits of the citrus world: lemon squares and Key lime pie. But the recipes I'm recommending both have a bit of a twist. The lemon squares are naturally gluten-free, but the base is made simply with almond meal so it doesn't require specialty items like xanthan gum. The Key lime pie swaps crushed pretzels for the traditional graham cracker crust, giving it an addictive salty-sweet flavor.
If there 's one recipe I'd recommend you learn this year, it's this citrus scented tart dough. Sturdy and a dream to work with, it's incredibly easy to roll out and can hold all manner of fillings, from custards to fresh fruit. There's just a touch of citrus in the dough — enough to add a nuance of flavor but not so much as to upstage the filling.
And finally, for a showstopper of a dessert, go for the citrus surprise grapefruit cake. Grapefruit is such an underrated ingredient — always sidelined in favor of lemons and limes and oranges, but its tartness and bitterness is a fantastic foil to the sweetness of the frosting and cake. Armed with these recipes, we can all soak up some sunshine, no matter the weather!

Posie Brien
Content Editor
Recipes we're baking this week
 

Baking Gluten-Free?

From flourless to wheat-free, we have recipes to inspire you. Search for a classic or discover a new favorite.
A delicious bread by doing less, not more
Share the joy of baking with these video chat backdrops
How to flatten cookie dough with flair
Follow us

Baker's Hotline

Our professional bakers are here to help you through any baking challenge. Call, email, or chat online.

[email protected]
Call toll-free: 800.827.6836

Baker's Rewards

Enjoy perks like free shipping and redeemable Baker's Bucks with every qualifying order you place. The more you bake, the more you save. Frequent baker? Join today!
You are receiving this because you signed up for King Arthur Flour emails. This email was sent to -. View this email as a web page.
100% Employee-Owned,
100% Committed to Quality
58 Billings Farm Road, White River Junction, VT
© 2020 King Arthur Flour — All rights reserved.
Other emails from King Arthur Baking Company
Shop without the noise.
Get our free newsletter of hand-picked sales you need to hear about from the web's best brands.