How does your content marketing strategy stack up?
This email was sent

Strategies and tips for growing your business
Content's not just for the big dogs anymore.

Putting together a cohesive content strategy has never been more necessary--especially for small businesses looking to compete with major players in their industry. 

Our featured article this month runs through the elements you need to consider when developing a long-term content strategy.

- The Lucky Orange Team
💪 How to develop a powerful content strategy for small business
 

Content marketing means different things to different businesses.

This is the beauty of content marketing as a strategy. It can scale as quickly as you need it to–or remain agile and compact if that's best. And how you apply content to business goals can look quite different for major enterprises to startups.

So, what does a content strategy look like if your team is very small or even just you--a solopreneur? 
​
(NOTE: Don't miss the free content strategy map)
 
Read more
🎥 Using session recordings to increase e-commerce sales

Session recordings (or session replays) are a playback of an actual person's movement during their time on your site. You'll be able to see mouse movement, clicks, forms completed and any other action during the playback.

Often used for conversion rate optimization (CRO), session recordings can be an invaluable tool to increase your understanding of what visitors actually do when they visit your website.
 
Read more
🍊 Quick tip: Consider how customers arrive at their expectations

No matter how broad your customer base is, each individual person comes to you with a unique perspective on the world -- and a unique expectation for your business.

One of the best ways to deliver a better customer experience is to align your processes and messaging with this expectation as much as possible.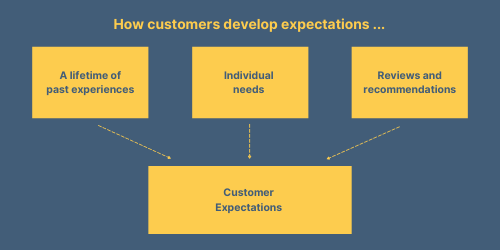 When we prioritize meeting a customer's real expectations, we can quickly close what's known as customer experience gaps. With gaps that go unresolved, customers can become frustrated and confused, and the business owners may never learn about it. Learn more here
📬 Other goodies
 
3 tips for getting more value from your landing pages
(via Unbounce)
 
"A marketer's job isn't done once a visitor converts on a landing page. Far from it. Even the landing page itself has more work to do before we can start giving ourselves a high-five for scoring a conversion.

And what about the leads that don't convert? Ignore them at your own peril."
 
How to analyze content performance with heatmaps
(via Lucky Orange blog)
 
Is your content effective? Judging on-page reader engagement can be difficult if you're only looking at the qualitative data from something like Google Analytics. 

Using Lucky Orange Dynamic Heatmaps, you can quickly see which blog posts are effective--and which could use some upgrades.

 
How to perform a content audit
​​​​(via Omniscient Digital)
"The content audit should be treated as part of the planning process of your content marketing strategy. You're looking for gaps that will help inform the planning. It's a great way to find areas for opportunity, uncover any foreseeable threats, and determine where you want to be with regards to your goals."

Recent emails from Lucky Orange LLC

See more