Win With Intentional CRO
Inside: Reserve your seat for Disrupt 2021 to hear Lucky Orange speak about the customer experience
This email was sent
June 2021 Lucky Orange Newsletter
How to be intentional
with your website optimization
---

How do you approach your day-to-day work responsibilities?

More specifically, what level of research goes into a conversion optimization idea before giving it a go in the real world? This month's featured article pushes you to act with greater focus when it comes to CRO.

We call it Intentional CRO.

This is the process of adding high-value data points to your understanding of a situation before taking it live. If you're releasing A/B tests or updates that don't seem to be making an impact, this might be a great read for you.

Happy June,

The Lucky Orange Team
 
---
The benefits of intentional CRO
Website optimization can be an efficient process filled with wins or it can be a series of guesses and misguided assumptions. The latter leaving you frustrated and confused.

We've been there and it's not fun.

By adding a touch of formality and process, you can deliver better optimization ideas that are rooted in business objectives. And when everything is tied together, your chances of success increase rapidly.
---
Lucky Orange's senior content marketing manager, Sean McCarthy, will be speaking alongside other industry experts at an upcoming digital conference, Disrupt 2021.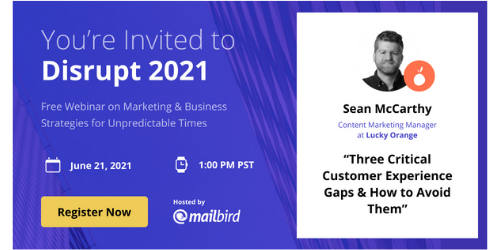 This is a great event for business leaders, marketers and strategists looking for techniques to nurture and maintain customers in unpredictable times. 
There's no cost for this great online event and we can't wait to see you there.
Learn more and signup here
---
Featured Partner:  
The Dropshipping Council
We're excited to announce a new partnership with The Dropshipping Council.

We'll be jumping into their exclusive Slack channel in the coming months to provide strategies for dropshipping businesses. We'll also be offering a website optimization masterclass to their members.

If you're in the world of dropshipping, be sure to check out The Dropshipping Council.
---

Other goodies
6 steps to start advertising on Instagram
(via BigCommerce)

This is the place to start for Instagram advertising. Just like any other social platform, Instagram has its quirks and unique processes. It also has fiercely effective advertising targeting capabilities.

This deep dive from our friends at BigCommerce does a great job of setting you on the right path for exploring the platform's advertising features.

How to write LinkedIn company page articles, and why it's a pretty big deal
(via Contently)

If your company's LinkedIn presence has gotten stale, you're in luck. Many social experts are looking for new ways to leverage the platform, and company page articles are a good step forward. 

Learn how to publish articles and see a few key points about this newly (and quietly) released LinkedIn feature.
---
What's this email?
Each month, the Lucky Orange team shares conversion optimization strategies with its global audience of growing businesses, agencies and enterprises.

Have an idea for us to discuss? Just reply to this email.


Recent emails from Lucky Orange LLC

See more