Spend the summer on the island with a vista of Rovinj
Open the email to find out more.
This email was sent
Open the email to find out more.
If you cannot see this newsletter correctly, please click here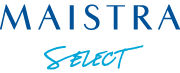 The Island of St Catherine lies only a five-minute boat ride from the romantic town of Rovinj. The island's ambience is distinguished by the former castle of Count Milewski, today an elegant hotel designed for maximum enjoyment.
 
A holiday at Island Hotel Katarina brings the best of both worlds – the vicinity of vibrant Rovinj on the one hand and the tranquillity of the island on the other.
 
Those who have visited us know that very well. What they don't know is that now you can take walks around the Mediterranean gardens, soak in the sun in secluded lagoons and savour our local specialities as part of a special offer that we have for you.
 
You can check out the offer on this link.

This newsletter is being sent to the following adress: - | To unsubscribe click HERE. | To manage subscription click HERE. | To Forward the newsletter click HERE. | To subscribe click HERE. | Read our privacy policy. | For reservations or information regarding reservation, please e-mail to:

[email protected]

. Prices valid except for typographic errors. | Lowest online rate guarantee.
© 2021 Maistra d.d. is member of Adris group



Recent emails from Maistra Hotels

See more