-Are You Single Because Youre Too Healthy And Independent?
Email sent: Mar 4, 2021 6:32pm
Hey -,
Can you relate to this at all?
From the outside looking in, you've got everything going for you. You're smart, ambitious, and attractive. Your family adores you and you have friends galore. You're even financially responsible! You came from a great home with a great upbringing and somehow managed to escape childhood with no major, life-uprooting traumas.
But you're still single. With no prospects in sight.
How does this happen? You chuckle to yourself and throw your arms up in the air. I thought only dysfunctional people and social recluses ended up perpetually single... How did I get here?
My client, Annelies was starting to ask these questions herself. Being single in her 30's during a pandemic was starting to feel like a life sentence. The subject got prickly when her aunts and her mother's well-meaning (but nosy) married friends started treating her like The Great Unwashed.
She'd had it with their squinty-eyed, up-and-down looks of disapproval! Unfortunately, her friends and family members didn't know anyone to fix her up with and she just hadn't had any luck finding real, lasting love.
It was… unexplainable.
By all outside appearances, her life was fantastic. Enviable, even. She had a great job and a great apartment in a prime spot in the city and she'd even had some decent dates. But then… Sometimes a bottle of wine just felt like better company.
The guys on the apps seemed to have values and lifestyles that were 180 degrees of hers. She prided herself on being brutally honest and she didn't think she had the energy to fake her way through a first date or "play the game" of trying to make a good first impression.
Most important of all: Annelies had been lucky enough to have outstanding male role models in her life -- a father who struck the right balance of tough and tender… a brother who looked out for her and was her partner in crime when they were kids, nephews who were growing into respectful little men and male mentors who had pushed her and groomed her in her career. This set the bar for high in selecting a man, and one thing was for certain:
She wasn't going to settle.
This is one of the biggest challenges women face: The fear that they either have to settle or be alone.
Women's emotional lives have become a bit more wrought with the stresses of the pandemic now entering the twelfth month. Here's something that may surprise you: Even the most independent, self-sufficient, queen-like woman is allowed to want some care and support. It doesn't make you weak. It makes you human.
Maybe you were blindsided by a job loss. Maybe you realized your career wouldn't be the thing you could depend on. Maybe you became depressed for the first time in your life.
You may have even started out as someone who loved being single – unencumbered! Carefree! You were used to being alone, but forced social confinement eventually made something that was comfortable… uncomfortable.
You're not alone. I'm coaching actual clients through this kind of stuff right now – as well as creating blogs and videos reflecting what's happening in my 1:1 sessions.
If you went from "Single By Choice" to "Single No Longer By Choice" during 2020, let's transform that!
Fill out the form to work with me personally, or join the Free Facebook Support group.
Speak soon,
Mark x

Other emails from Make Him Yours - How To Attract & Keep The Man You Want
Jun 9, 2021

-Biological Clock Ticking? How To Tell Your Date.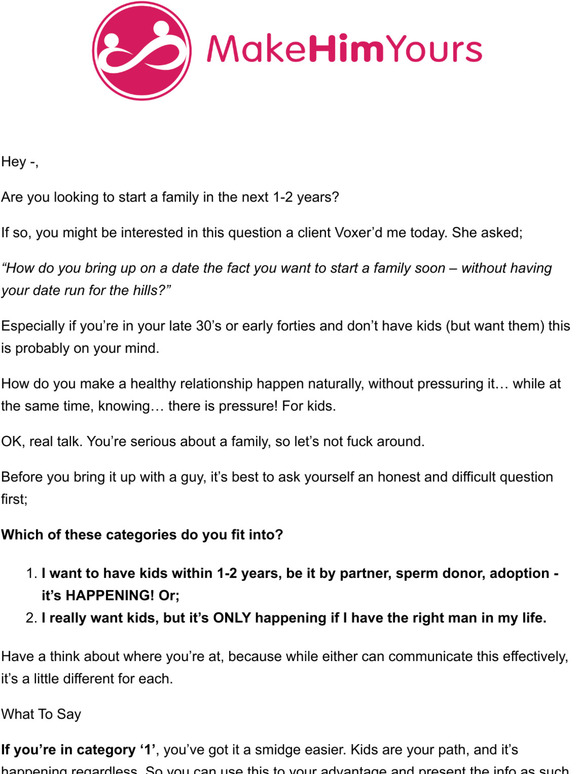 May 11, 2021

-Last Chance To Register For The Free Class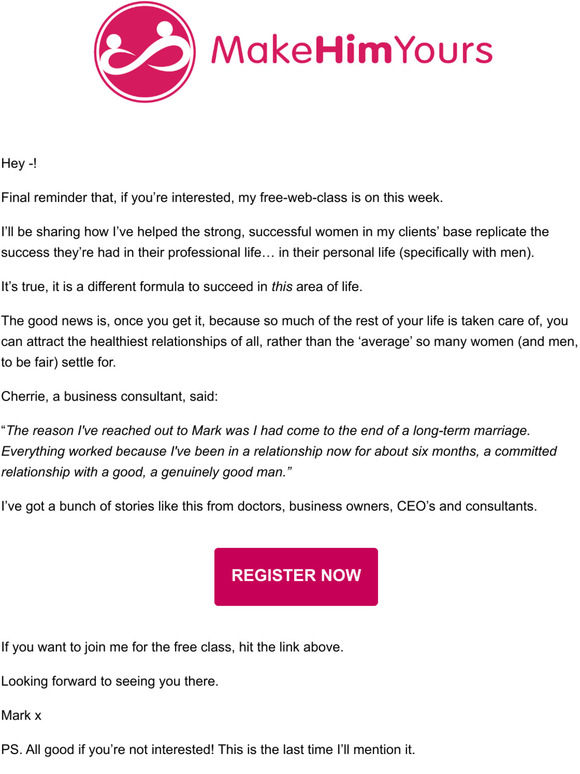 May 10, 2021

2 Days Until My Strong, Successful, Single? Web Class Kicks Off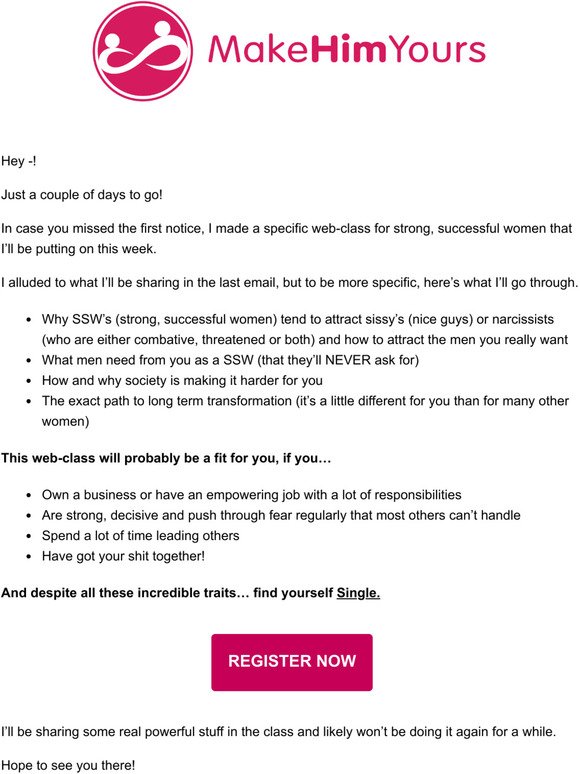 May 9, 2021

Strong, Independent, yet Single? Read this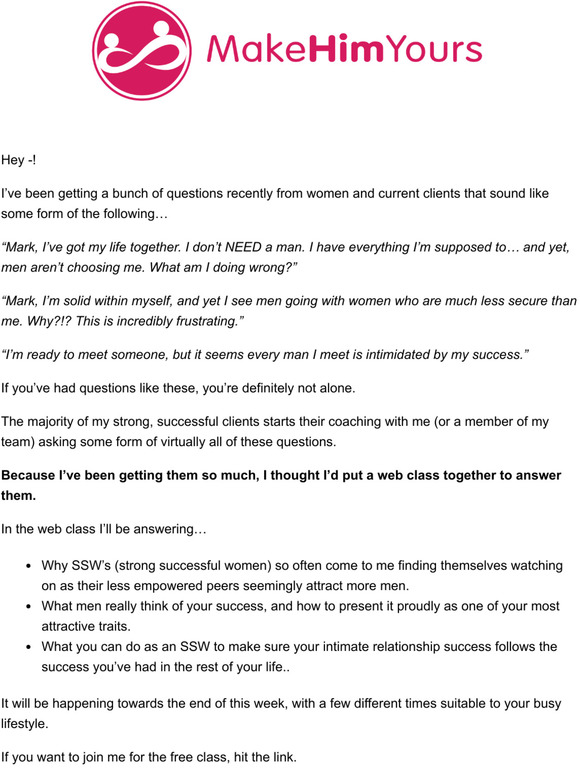 Apr 29, 2021

What Dumbledore And His Pensieve Can Do For Your Anxiety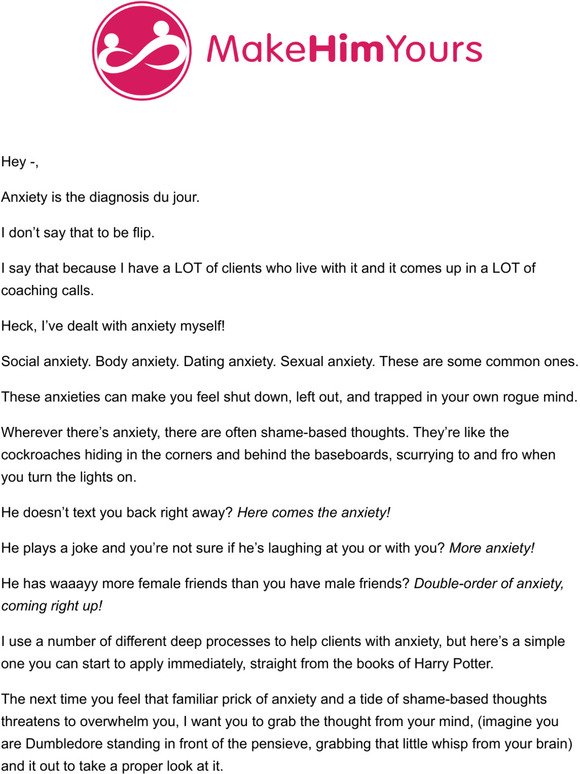 Apr 27, 2021

FREE: Magnetize the right man for you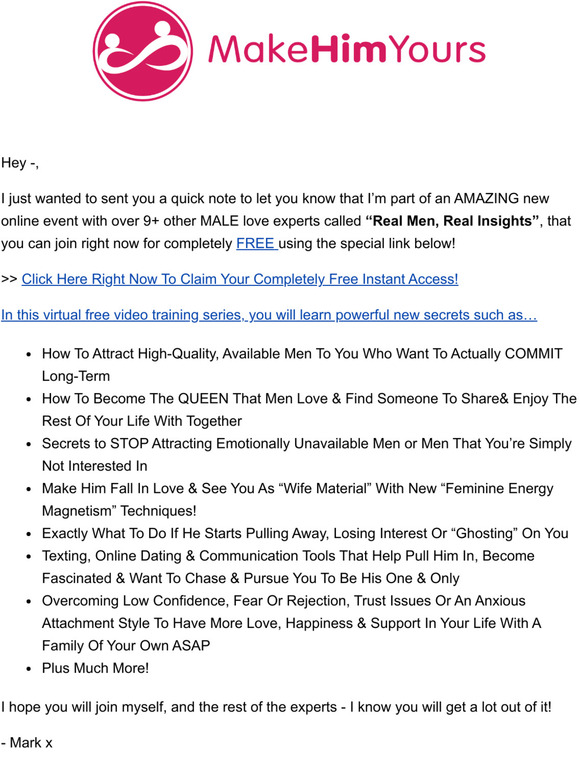 Shop without the noise.
Get our free newsletter of hand-picked sales you need to hear about from the web's best brands.