Can a timely apology get him back?
Email sent: Mar 2, 2021 2:06am
Sometimes a relationship can fortify and empower us to be able to meet the stresses of work, family, a move, and more. But sometimes a relationship competes for precious time and energy that's already in rare supply because of those outside responsibilities.

When there's tension in a relationship because one or both partners feel pulled in opposing directions, something has to give – before it breaks. Priorities are chosen. Hearts get hurt.
This happened with Alicia, a client of mine, and Roger. They had been chatting since spring and dating long-distance since summer. While developing a relationship during a pandemic presented certain obstacles, the realities of Alicia's care-taking for her dad and Roger's divorce and child visitation added to the challenges of spending time together. Yet, they made time to text, talk on the phone, and visit in person when they deemed it safe.
Whether it was because of the distance of quarantine or in spite of it, their connection felt amazing and made both of their lives better. They finished each other's sentences and riffed on each other's thoughts. They made a conscious effort to show caring and support to one another on a daily basis, even as they struggled with heavy burdens in the rest of their lives.
One night, Roger realized that although he enjoyed Alicia's company, the demands he was facing as a father didn't allow him much bandwidth to be the kind of partner he thought she wanted. Alicia, having sacrificed much of her youth and independence on taking care of family members, was also worried that there might not be room for her in his life.
Roger made the decision to end the relationship so he could focus on his kids, and so she could be free to meet someone who could put her first.
Alicia was heartbroken. She realized after they hung up the phone that Roger had been a wonderful partner – everything she'd ever wanted. She realized she hadn't uttered the words of reassurance that Roger probably wanted to hear, validating the importance to her of his relationship with his children. He had them so little anyway, she knew in her heart she wanted him to be reunited with them as often as possible. He was a good man; she was willing to share.
Moving forward from this type of situation can be difficult. No angry blow up, no line in the sand crossed. No glaring incompatibilities or infidelities. Just a hurtful misunderstanding that led to him prioritizing his freedom.
Perhaps you've at one time experienced something similar?
When we leave (or are left by) someone we love, we decide what the aftermath will look like… Will we try to be friends? Will we go no-contact? We may wonder if they're thinking of us, and if so how often? Does he miss me? and Does he regret it? are common questions.
In many situations, a sincere, straightforward apology can go far. It may or may not win your partner back, but at least it can give closure and psychological relief. I know what I did wrong and I know how to make it right should be the spirit of the apology.
Don't excessively explain yourself; too many justifications can sound like excuses. If your ex is going to forgive you or be open to revisiting the relationship, the apology must come first. Any other words, without a genuine apology, will seem like empty enticements.
Don't apologize too soon. I'm sorry; I've changed, and here's how… actually means more when it comes weeks or months after the conflict.
Don't expect that they'll come running back to you; expect the receiver only to receive. If they sense an ulterior motive, the apology is lessened. Just give the apology pure and simple. Even if your ex doesn't respond, you'll have lightened the load on your heart and have a clear signal to move on.
It doesn't always go like the movies say it should, but at the end of the day, you can rest well knowing you did all you could.
Mark x
PS. Make sure to join the free Facebook Support Group if you're looking for a community to support your relationship growth.

Other emails from Make Him Yours - How To Attract & Keep The Man You Want
Jun 9, 2021

-Biological Clock Ticking? How To Tell Your Date.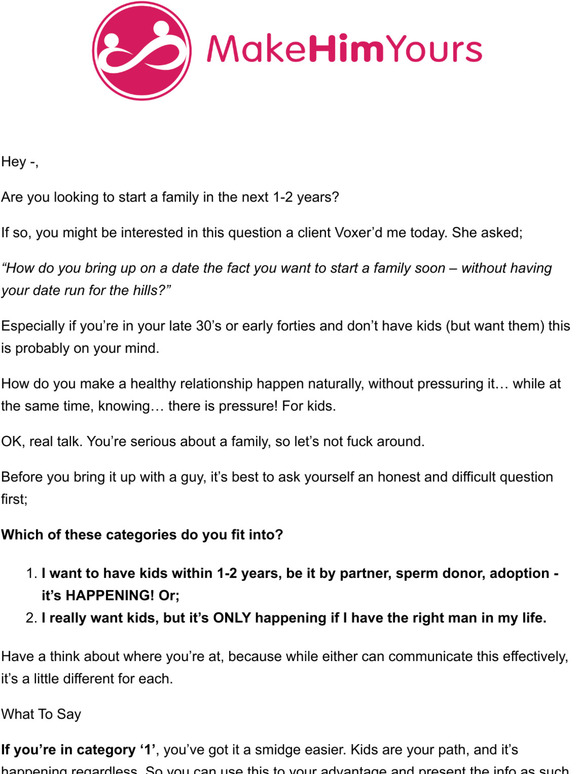 May 11, 2021

-Last Chance To Register For The Free Class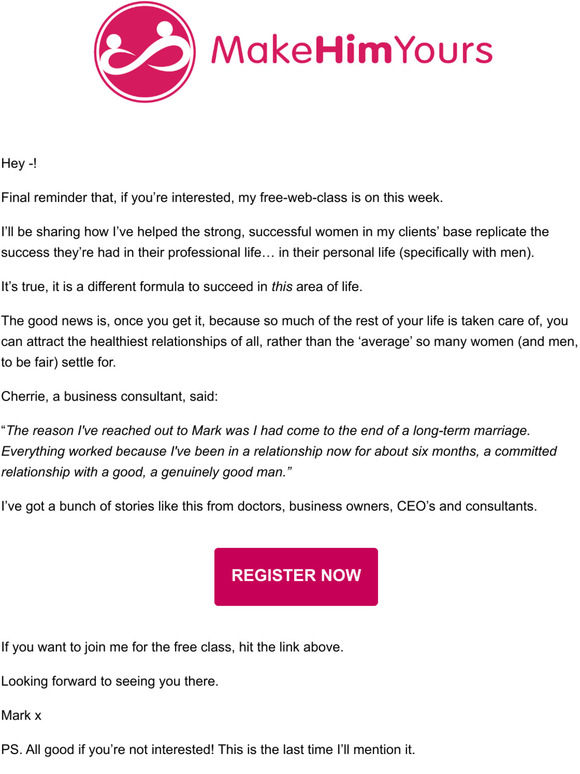 May 10, 2021

2 Days Until My Strong, Successful, Single? Web Class Kicks Off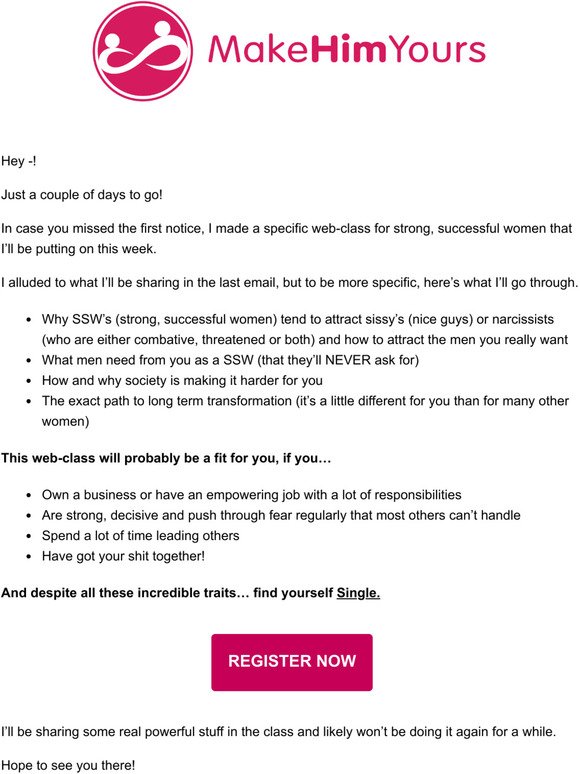 May 9, 2021

Strong, Independent, yet Single? Read this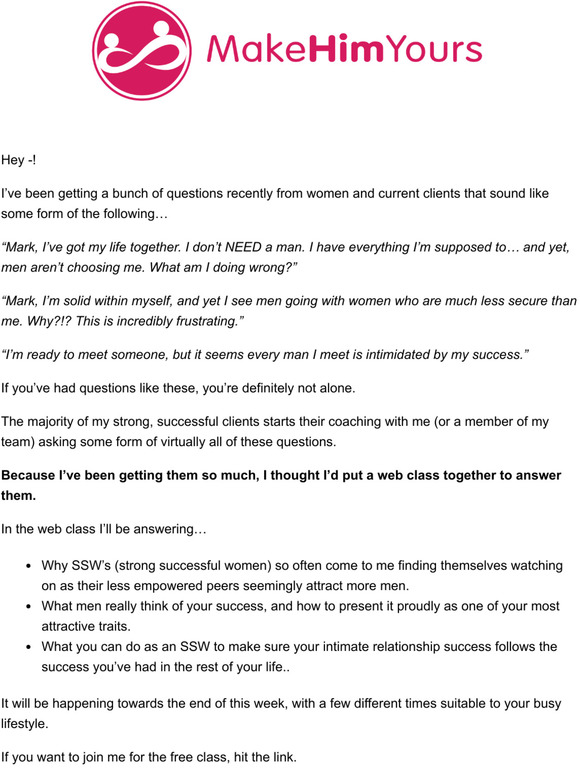 Apr 29, 2021

What Dumbledore And His Pensieve Can Do For Your Anxiety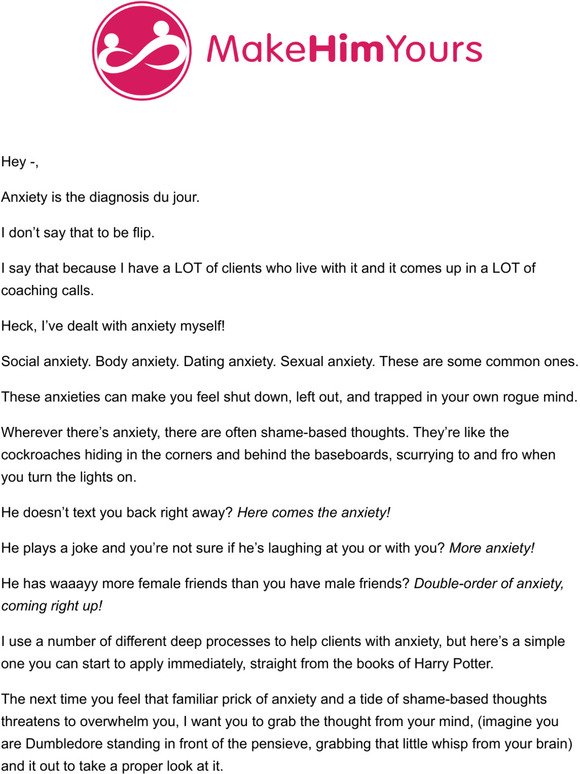 Apr 27, 2021

FREE: Magnetize the right man for you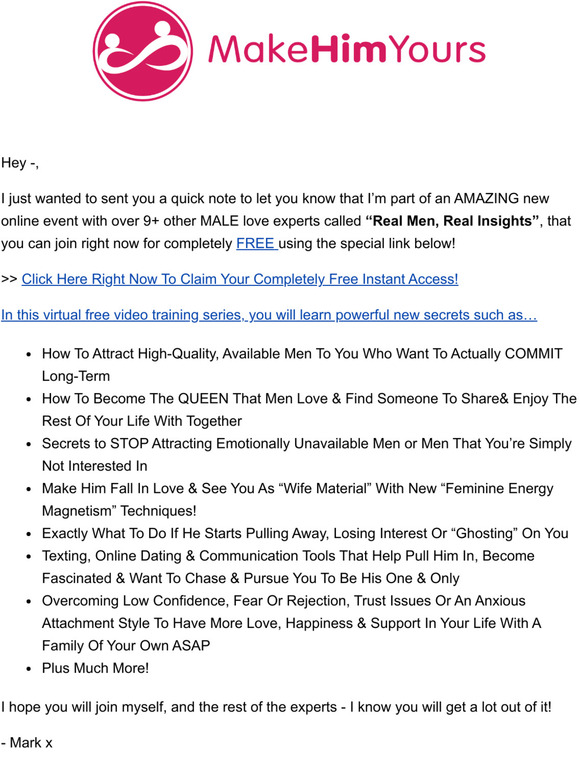 Shop without the noise.
Get our free newsletter of hand-picked sales you need to hear about from the web's best brands.